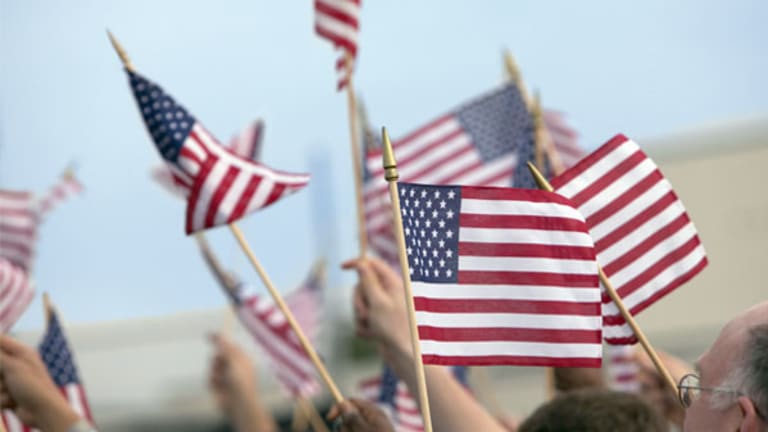 Ron Paul's VP Prospect?
Congressman Ron Paul floated former New Jersey judge Andrew Napolitano's name as a potential running mate in 2012 in a recent interview with <I>TheStreet's</I> Alix Steel.
NEW YORK (
) -- If Ron Paul were to win the GOP presidential nomination, there's a chance he wouldn't have to worry about geographical balance on his ticket.
Paul, a Texas congressman and critic of the
, mentioned a former New Jersey judge and current Fox News talk show host -- Andrew Napolitano -- as a potential running mate, in an interview with
TheStreet's
Alix Steel in Washington this week.
"If you had to pick one running mate, dead or alive, who would it be?" Steel asked the candidate.
Paul said he hadn't "thought that through ... but I sure do like Judge Andrew Napolitano."
Judge Napolitano is not only the author of books titled
Constitutional Chaos: What Happens When The Government Breaks Its Own Laws
,
The Constitution in Exile: How the Federal Government Has Seized Power by Rewriting the Supreme Law of the Land
, and
Lies the Government Told You: Myth, Power, and Deception In American History
, but he also has served as a New Jersey judge from 1987-95 and is currently a senior judicial analyst for Fox News and host of a libertarian-themed show on Fox Business News,
Freedom Watch
.
He taught constitutional law as an adjunct professor at Seton Hall Law School, and Paul has been a frequent guest on
Freedom Watch
, along with other free market thinkers like Peter Schiff.
Paul wrote the foreword for
Lies the Government Told You
, in which he said: "I am pleased to recommend this book to anyone who cares about the direction of this country and wants to understand how we got where we are, and what we need to do to regain our liberties."
Congressman Paul has railed against the Federal Reserve ever since he entered political life in 1976 and has repeatedly called it unconstitutional for the Fed to print money. Paul has called for interpreting the Constitution in a way that would support gold and silver as legal tender.
"What we participate here in Washington with the Fed is counterfeiting the money to subsidize wars and our welfare, and we're considered good politicians," argues Paul.
In the 2008 primary race, a potential Paul/Napolitano ticket was a hot item among libertarians.
Lew Rockwell, chairman of the Ludwig von Mises Institute in Alabama, promoted this partnership in the last election. The institute is a research and education center for libertarianism and the Austrian School of Economics. Popular themes are free trade, free market, balanced budgets and a gold standard.
Napolitano could not be reached for comment, but he has said in recent speeches and interviews that "there are so far few Ron Pauls in the government" and that it is "time to tame the federal beast."
Paul's office declined to comment further on the likelihood of this potential Republican ticket.
--
Written by Alix Steel in
New York.
>To contact the writer of this article, click here:
Alix Steel
.
>To follow the writer on Twitter, go to
.
READERS ALSO LIKE:
5 Things You Don't Know About Ron Paul >>
Ron Paul on the Federal Reserve's 'Addiction' >>
How Ron Paul Would Fix the Economy >>
10 Myths That Politicians Want You to Believe >>
Disclosure: TheStreet's editorial policy prohibits staff editors and reporters from holding positions in any individual stocks.