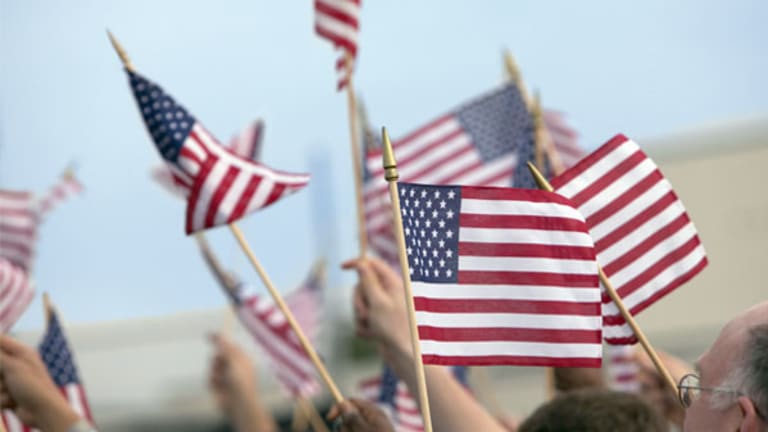 Romney's Tax Dilemma: His Own Darn Fault
Mitt Romney brought this tax ordeal on himself.
NEW YORK (
) -- Mitt Romney brought this tax ordeal on himself.
It's quite simple, really: Romney burst out of the gates when he entered the race and touted himself to conservative Republicans as an accomplished businessman who adored capitalism and revamped floundering companies like
Steel Dynamics
(STLD) - Get Report
and
Staples
(SPLS)
. That was easy.
What's difficult now is that the former Massachusetts governor's opponents have decided to roll with the mantra Romney created and relentlessly use it against him.
Reviewing a public figure's tax returns should be quite harmless. House and Senate lawmakers must disclose their financials every year, and President Obama and Vice President Joe Biden
released their tax returns in April.
If anything, the practice is a symbolic gesture of openness to the American people who put candidates into office.
Romney said in December that he wouldn't release his tax returns, which didn't elicit much of a reaction at first. At the time, Romney likely didn't think he would emerge from South Carolina in January tied with Newt Gingrich and Rick Santorum in the number of states won.
A close race has made the disclosure of tax returns an ordeal.
Gingrich was quickly approaching a win-or-go-home juncture, and he started to sense a humongous momentum swing ahead of the South Carolina primary.
Republican voters likely were clear on Gingrich's and Romney's positions ahead of the Jan. 19 debate as the two candidates had faced each other in 19 previous debates. Gingrich needed a distinction to catapult him ahead of the front-runner. So Gingrich, who had refrained from negative attacks in the Iowa caucuses, turned to character attacks on Romney and masked it with the clever rhetoric of "accountability and transparency."
Gingrich also knew he was headed to states that had suffered heavy unemployment resulted from 2008's economic collapse.
Romney worked in private equity, where the nature of his work sometimes
resulted in job-cutting. Gingrich and the other opponents knew this to be the case, and they also knew that the topic of jobs had been a sensitive issue among voters in this election cycle.
Gingrich had said on
NBC's
"Meet the Press" on the Sunday before South Carolina's primary that he would release his tax returns. ""I'm going to try to set the example to provide the leadership to do the right thing," Gingrich said. Using words like "right" and "accountability," Gingrich framed the issue of tax return disclosures around moral rhetoric.
The irony of this tactic was that Gingrich was about to encounter a question of moral character regarding an interview with his ex-wife. But Gingrich managed to parlay the issue when a
CNN
moderator opened the Jan. 19 debate with a question about it.
In one moment Gingrich had discarded the potentially damaging interview and next he managed to spin Romney's tax returns as the issue of the evening.
Then, in the middle of the Jan. 19 debate,
CNN
announced (as it was about to break away to commercial) that Gingrich had released his tax returns. The camera panned across the candidates' faces while Gingrich curled his lips into a smile and stared in Romney's direction.
After the break, Romney struggled to put together a coherent remark about when he would release his own taxes. From that point until Tuesday morning, the nagging questions that hovered over Romney's campaign weren't so much about job creation and the economy as they were about why Romney had withheld his taxes.
Gingrich didn't spend his days begging for Rick Santorum's taxes, nor did he press Ron Paul on the issue. It was just Romney, and the message resonated with voters.
Barack Obama's 2008 election campaign used this same strategy against Hillary Clinton. When it was clear that the two former senators had entered a deadlocked brawl, Obama released in March 2008 his tax returns from 2000 through 2006 and framed Clinton as a politician who had called herself transparent, but was
dragging her feet on "something as basic as her annual tax returns."
Shortly after Obama's smack, Clinton
released her tax returns from the identical 2000 through 2006 time period.
What the public found in Clinton's and Obama's disclosures didn't matter as much as the fact that Obama had won perception among the Democratic electorate that he was possibly the more transparent, honest politician.
Romney's hesitance could trigger a red flag (the same way it did to Clinton in 2008) in the minds of voters who wonder why Gingrich, who had a potentially contentious consulting job with
Freddie Mac
and a vague history of work around Washington since leaving Congress, would be more than willing to release his tax returns before Romney, who not only freely touted his work in private equity but embraced it as part of his rationale for being a successful president.
If Romney has anyone to blame for uproar surrounding his taxes, he should look no further than the mirror.
-- Written by Joe Deaux in New York.
>Contact by
.
>Follow Joe Deaux on
. Subscribe on
.