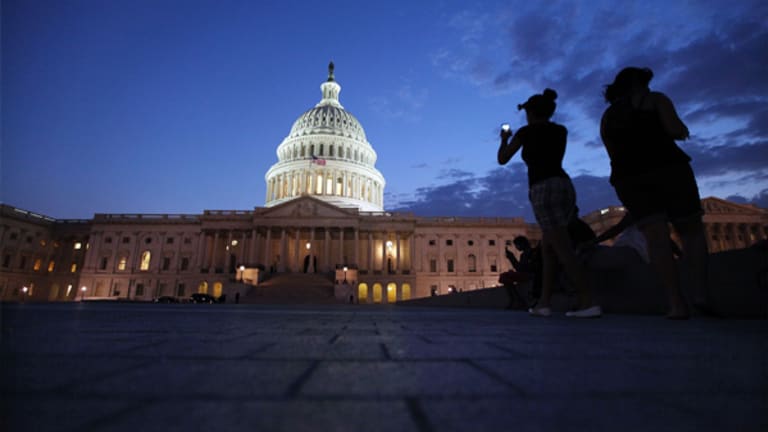 Romney's Struggle to Make Michigan About the Economy
Mitt Romney is losing Michigan, despite having the resume to speak to a state's struggling economy.
NEW YORK (
) -- Michigan's primary election next Tuesday is about jobs and the economy and Mitt Romney is losing in his own backyard.
The Republican presidential hopeful unveiled his tax plan on Wednesday and then geared his debate message that night towards jobs and the economy -- issues that have driven the statewide conversation in Michigan since the 2008 financial crisis.
"America is not seeing robust economic growth because such growth is impossible in the policy environment created by President Obama," Romney said Wednesday in a statement on
his tax plan.
Romney's "bold, pro-growth tax cut proposal" seems like a presidential step for a presumed nominee, but he finds himself in a bitter battle to win the state where his father was governor and where he grew up.
Rick Santorum's campaign
officially dropped into Michigan last week and
stormed to the top of the polls. He has since cooled down, but this is a state Romney was firmly winning before Feb. 7 by 15 percentage points.
"I realize that Michigan is a big deal right now for Romney, and, quite frankly it should have been a slam dunk," said Barbara VanSyckel, Macomb County GOP chairwoman. Part of the reason Romney has struggled, VanSyckel said, could be down to Santorum's momentum out of his Colorado, Minnesota and Missouri victories.
Santorum's campaign decided to push a hybrid message of social issues and the economy ahead of Super Tuesday, March 6, and it seems to have resonated with voters in Michigan.
In Macomb County, for instance, Santorum spoke to a crowd of about 1,000 people -- only 300 were expected. VanSyckel said a large number of attendees happened to be part of the two tea party groups from the area, and that most of them came to hear Santorum's message on religious freedom.
Part of Santorum's surge could be circumstantial. President Obama's
contraceptive mandate
sparked outrage among conservatives, First Amendment hawks and persons of faith. Critics have hit the former Pennsylvania senator in the past for his opposition to contraceptives as archaic, but he has used the platform to directly say that Obama is someone
who has challenged freedom of speech and religion.
Santorum's wheelhouse often comes back to social issues as he has constantly referenced a relatively conservative congressional voting record to connect with evangelicals. But Santorum has expanded his reach in recent weeks to more tea party supporters by arguing the freedom of speech and freedom of religion angle.
Which leads one to wonder if Santorum has ridden a temporary pivot of voter interest to Obama's controversial mandate.
"He's dropped back a little bit in the polls the last couple days because of the ads that Romney's playing now," said Dennis Pittman, Oakland County GOP executive director. "Santorum's being characterized for his 16 years as a representative and a senator raising taxes multiple times, raising the debt ceiling multiple times -- if you spend 16 years
in Congress you're going to take some votes that are going to come back to haunt you, and Romney's being very effective at making sure everybody knows what his record is."
Indeed, since the weekend Santorum and Romney have fallen within the margin of error in most of the major Michigan polls.
Romney's campaign launched a two-pronged effort against Obama and his Republican opponents when he announced the new tax proposal. First, Obama unveiled his own tax proposal on the same day, which Romney saw as an opportunity to be the single Republican with a contrasting option. Second, he went back to economic fundamentals in an effort to shift the focus to employment and voters' bank accounts during difficult times.
Though many Republican Party officials in Michigan acknowledge Santorum is winning the state, despite a thinner ground presence, they also point out that there's a whole week for Romney to scramble back to the top.
"My observation is that it's a Romney-type electorate and in talking with the people ... is that he will probably succeed in getting Michigan," said Al Heilman, Kalamazoo County GOP chairman. "Remember what happened with each of the other
candidates, they all came to the top and then they all went by the wayside; so we're back to two people and Rick is up there very strongly, but on the other hand the last 72 hours makes a difference.
Michigan voters, according to Michigan Republican Party officials, are concerned about beating Obama and about jobs and the economy, but another reason Santorum spiked and Romney lulled could be as basic as how familiar state voters are with the candidates.
"There's another whole group of people who say, 'Look, I'm not really going to pay too much attention until it's our turn,'" said John Clark, chairman of the political science department at Western Michigan University. "For one thing, they don't know who the candidates are going to be by the time you get to that particular state; and for another thing, the candidates aren't paying attention to a state like Michigan until it's our turn."
Beat reporters, political junkies, academics and active voters who have followed the Republican primaries since May 2011 likely know the final four candidates' platforms and voting records, but it's unlikely that all working-class Americans have spent time fretting about Romney's tax returns, Newt Gingrich's ex-wife, Ron Paul's foreign policy or Santorum's legislative history on earmarks.
"The spots that get magnified: one of those spots is on some of the social issue stuff," Clark said. "That's not speaking to the concerns of Michigan voters and yet that's where we've seen the campaign go nationally; Michigan is just the next stop on that campaign."
If that's the case, Romney can hope to connect in the next week with the broad number of Michiganders who are concerned more about their paychecks than anything else.
-- Written by Joe Deaux in New York.
>Contact by
.
>Follow Joe Deaux on
. Subscribe on
.