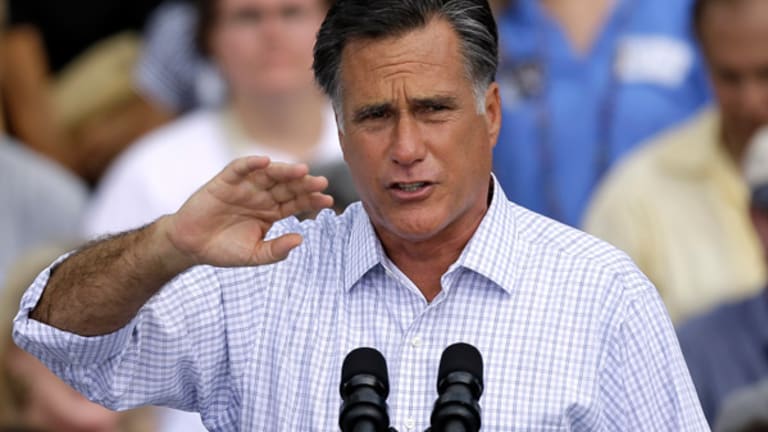 Romney Hits GDP Revision to Stem Dive in Polls
Mitt Romney hits the president for Thursday's downward revision to GDP as he tries to shake of a recent slide in polls.
NEW YORK (
) -- Mitt Romney's campaign was out with multiple emails Thursday that projected doom and gloom over the most recent downward revision to U.S. GDP as the Republic presidential candidate attempted to reverse a slide in the polls.
The Commerce Department revised real GDP growth in the second quarter of 2012 down to 1.3% from the previous 1.7% estimate. Equities shrugged off the news of continued sluggishness in the U.S. economy as approval of Spain's 2013 budget and reports of more Chinese stimulus offset those worries.
Romney was on the campaign trail Thursday citing the downward revision, as he used the latest weak economic news to reinforce his message that Barack Obama's policies have failed to bring a strong recovery since the financial crisis.
Previous GDP revisions hadn't elicited the hefty response that the Romney campaign launched Thursday, but the move came as new polls have revealed the president widening his lead in national surveys and in battleground states.
Tuesday night, Romney reiterated that his campaign is about the economy. It's a message the Republican presidential nominee had strayed from recently as he has done damage control because of a ubiquitous video of Romney telling donors that 47% of Americans are dependent upon the government.
The move to hammer the GDP revision would keep Romney on message, while also allowing him to use fresh economic indicators to claim that the economy isn't strengthening, despite Obama's assertions to the contrary.
Thursday's GDP number may not be the best sticking point with voters, as it didn't seem to be the main news driving the broader markets during the day.
"Today's revisions didn't really change anyone's views that we're in an economy that's stuck in the woods," said Brian Gendreau, a market strategist at Cetera Financial Group. "There's been a lot of economic research showing that after the bursting of a bubble that it's typical ... for periods of slow growth to last -- particularly for debt to rise in periods of slow growth -- for several years afterwards."
According to an average of national polls collected by
RealClearPolitics
, Romney now trails Obama by 3.4 percentage points, while he tracks lower against the president in Ohio by 4.8 percentage points, Virginia by 2.8 points, New Hampshire by 3 points, Florida by 1.4 points and Iowa by 2.5 points, among others.
Romney leads the president in North Carolina, where Democrats held their National Convention, by 0.8 percentage points.
The Obama campaign did not immediately respond to an email that asked for comment on Thursday's downward revision.
-- Written by Joe Deaux in New York.
>Contact by
.