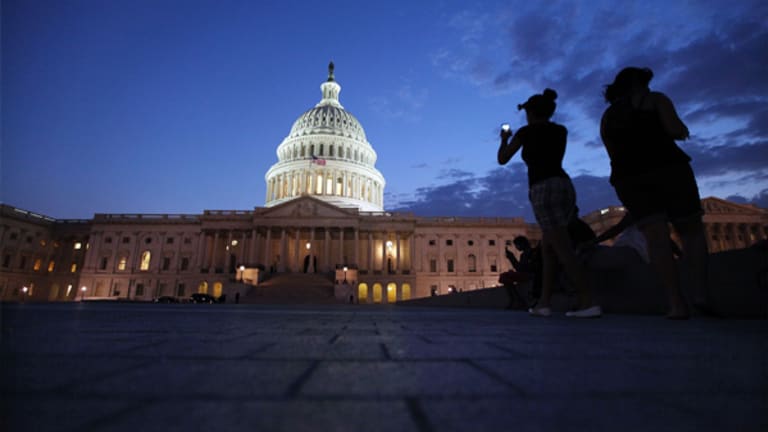 Romney Built This Convention But Work's Not Done
The GOP presidential candidate's talent for organization may have got him this far but the work is far from over.
TAMPA, Fla. (
) - Mitt Romney may have built this convention but his work his far from done.
Tropical Storm Isaac forced Republicans to scatter from convention events on Monday, but when Romney takes the stage Thursday evening it will have been his exceptional organization and politicking that brought party members of all stripes to unite behind the moderate candidate.
The former Massachusetts governor struggled at times during the primaries to cast himself as the stalwart conservative, while opponents gobbled up the evangelical Christians, blue collar workers and voters in the South.
The tide turned when it became clear Romney had won over Republicans living in so-called purple suburbs and metropolitan areas. Locations like southern New Hampshire, Palm Beach, Fla., Denver, and Detroit all ultimately leaned toward Romney to ultimately hand him an insurmountable delegate lead.
Questions remain, of course. Romney is still working to shake an elitist image summed up by a quip from former Republican presidential hopeful and Arkansas Gov. Mike Huckabee, who said Romney looked "like the guy who fired you." And there are still doubts that he will ultimately be able to motivate evangelicals, Ron Paul supporters and blue collar workers to turn out and support him on Nov. 6.
So while Romney's deft organization may have carried him this far, there is still a lot riding on what transpires in Tampa this week and it looks like the Republican party is positioned to address these weaknesses.
For example, former Pennsylvania Sen. Rick Santorum is slated to speak later this week in a scheduling move made weeks ago that should give the candidate, who owned the evangelical base during this year's primary race, an opportunity to convince voters that Romney is a true conservative with family values and a pro-life agenda.
In fact, a television special about Romney that aired Sunday on
CNN
painted the image of a family man who is an active member of the Mormon faith, the patriarch of a massive family of children and grandchildren and a devout partner to wife Ann, who encountered life threatening health scares during some of his most rigorous years in private equity.
Though Ron Paul hasn't been noisy about his support of Romney -- Paul hosted his own rally of some 10,000 in Tampa on Sunday -- Sen. Rand Paul (R., Ky.), his son, is slated to speak at the convention. Some Republicans have suggested that this move would allow the younger Paul a chance to receive the national political spotlight from his father as the Texas Congressman retires from office.
"If people think that Gov. Romney has overly organized going into this, I would say that is nothing more than a sign of a good candidate," said Patrick Arnold, a Republican strategist in South Carolina.
One consultant said it was President Barack Obama's "you didn't build that" comment that has given Romney the narrative that may carry him through this convention and into Election Day.
"It's one phrase Mitt Romney can reference that helps him connect with working class and small business owners," said Andrew Boucher, a political consultant and former national political director for Rick Santorum's presidential campaign. "Every small town in America has a billboard that reads, 'I built this.'"
Republicans have even decided to title Tuesday's convention activities as "We Built It," according to the Order of Business re-released Monday.
Summer polling showed Obama's Bain Capital attacks hurt Romney among voters in swing states, and there has been some doubt as to whether the presumptive nominee's relentless attempts to make 2012 a referendum on the president's economic record would distract voters from getting to know Romney better as a candidate.
Part of what conventions allow challengers to do is craft themselves in a favorable image to a vast number of Americans who have waited for the autumn to begin following the elections.
"One of the stickiest points for voters has got to be that: you know what, say what you want about the president, he's had four years and we're not seeing a whole lot of results," said Arnold. "It's not condemning somebody who did vote for President Obama in the last election."
Whether it's shoring up the base, appearing as a caring family man or persuading independents to consider the past four years of the economic cycle, Romney and his organization built this convention narrative.
All that's left to do is successfully play it out in front of a national audience.
-- Written by Joe Deaux in Tampa, Fla.
>Contact by
.