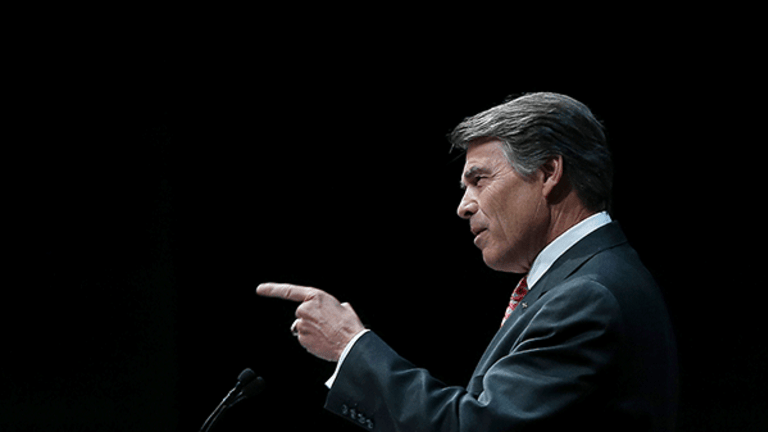 Rick Perry Resigns From Boards of Dakota Access Pipeline Companies
Rick Perry resigns from the board of two companies, but other Trump nominees face the same conflict of interest.
The former governor of Texas and current energy secretary nominee, Rick Perry, has resigned from the boards of Energy Transfer Partners (ETP) and Sunoco Logistics Partners (SXL) , two companies with stakes in the Dakota Access Pipeline project.
According to SEC filings filed on Thursday, Perry resigned from the boards, effective Dec. 31, 2016. His decision to do so was "not due to any disagreement with the Company or the Partnership relating to operations, practices or policies," the filings stated.
Perry's resignation leaves a seat at the table for a new director just as the board will undergo a makeover due to Sunoco Logistics acquiring Energy Transfer Partners. Because the two companies are merging, Perry's position will likely be filled by another board member from Energy Transfer Partners: CEO Kelcy Warren, Ted Collins, Jr., Michael Grimm, Matthew Ramsey or David Skidmore.
Calls to both Sunoco Logistics Partners and Energy Transfer Partners were not immediately returned.
The move immediately removes any conflict of interest for Perry because as energy secretary he cannot receive outside earned income, as stated on page 39 of the Office of Government Ethics' (OGE) Guide for Nominees.
There are, however, a handful of other nominees who are directors for public and private companies, including General James Mattis, Donald Trump's pick to be secretary of defense. If he does not take the necessary steps to resolve this conflict of interest, he would violate the specific regulations regarding compensation restrictions for board members as laid out in the Code of Federal Regulations, title 5, part 2636.306:
A covered noncareer employee shall not receive compensation for serving as an officer or member of the board of any association, corporation or other entity. Nothing in this section prohibits uncompensated service with any entity.
Mattis, who just resigned from the board of Theranos, remains on the board of General Dynamics (GD) - Get General Dynamics Corporation Report and serves on the Finance and Benefit Plans Committee as well as the Nominating and Corporate Governance Committee. While the company does not list how much Mattis earns as director in its annual SEC filing, General Dynamics does have an equity compensation plan in place for its non-employee board members. The retired Marine Corps General currently owns 1,790 shares, which have a market value of $315,290, according to Bloomberg data.
But Mattis is not the lone Trump nominee with ties to a board.
Wilbur Ross and Todd Ricketts, the president-elect's top two men in the Commerce Department, are both board members. Ross currently serves on 15 boards, per Bloomberg. Ricketts is a director at TD Ameritrade, the company his father, Joe, founded. He is also a co-owner of the Chicago Cubs.
Trump's Treasury secretary pick, Steven Mnuchin, is also connected to three boards, according to data from TheStreet's subsidiary BoardEx, which analyzes corporate relationship patterns. He's listed as a director at CIT Bank NA, Sears Brands LLC, which is a subsidiary of Sears Holdings (SHLD) , and Dune Capital Management. (But his board positions may be the least of his concerns after reports on Wednesday said there was "widespread misconduct" his bank, OneWest.)
Now, there are five ways in which these men could resolve this conflict of interest, according to the U.S. Office of Government Ethics:
An exemption
Establish a qualified trust (either blind or diversified)
Divest the conflicting property
Recuse from the matter
Receive an individual waiver
The Office of Government Ethics has granted exemption before when financial interests are "too remote or too inconsequential to affect the integrity of an employee's service to the Government."
The men could also establish a trust, which requires the government employee to turn over management of the trust assets to a trustee approved by the OGE. But, putting a director position to a blind trust would be far more difficult, even impossible, to do, unlike leaving stocks in a blind trust.
For those holding stock, they may be instructed to divest, if it poses a "substantial conflict."
The seemingly easiest option for them would be to recuse themselves as director, like Perry did, as it eliminates any conflict.
However, they could also be granted an individual waiver, "only if an exemption does not remedy the conflict of interest and neither recusal nor divestiture are reasonable options." Yet, this is unlikely as both recusal and divestiture are sensible ways to remove the conflict of interest.
Employees of TheStreet are restricted from trading individual securities.