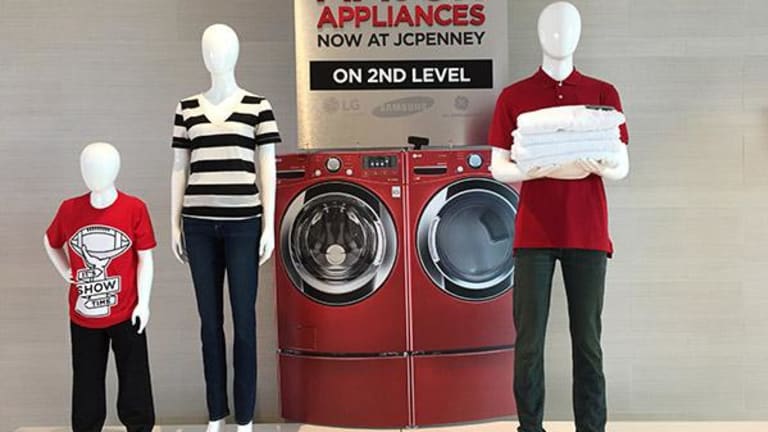 Retail CEOs Head to Washington to Talk Taxes with Congress, Trump
Retail CEOs will descend on Washington on Wednesday to meet with lawmakers and the president to talk taxes, including the increasingly-contentious matter of border adjustability.
Repeats story published Feb. 14.
Retail CEOs will descend on Washington on Wednesday to meet with lawmakers and President Trump to talk taxes, including the increasingly-contentious matter of border adjustability.
Chief executives of AutoZone (AZO) - Get AutoZone, Inc. Report , Tractor Supply (TSCO) - Get Tractor Supply Company Report , Jo-Ann Fabric, Target (TST) - Get TheStreet, Inc. Report , Best Buy (BBY) - Get Best Buy Co., Inc. Report , Gap (GPS) - Get Gap, Inc. (GPS) Report and J.C. Penney (JCP) - Get J. C. Penney Company, Inc. Report will be in attendance, according to people familiar with the matter. Walgreens Boots Alliance (WAG) will join the group for a meeting at the White House but will not take part in meetings with Congress.
While tax reform is the broad agenda, conversations will hone in on the border adjustment tax, a measure that essentially taxes imports and exempts exports. Retailers have voiced strong opposition to the tax, arguing it would put retail jobs at risk and raise consumer prices.
The border adjustment tax has been pushed by House Republicans as part of the "Better Way" platform put forth by House Speaker Paul Ryan in the summer of 2016. Representative Kevin Brady, the Texas Republican at the helm of the Ways and Means Committee, is the leader of the initiative's tax reform efforts.
The retail CEOs will meet with Brady on Wednesday to discuss how the GOP's "'Built for Growth' tax reform blueprint will benefit all sectors of our economy and create jobs across America," committee spokeswoman Emily Schillinger said in an email. Brady "looks forward to meeting them and hearing their feedback" on the plan, she said.
The group will also meet with Republican Senator Orrin Hatch from Utah, chairman of the Senate Finance Committee.
The White House confirmed the meeting with the president would take place in the morning.
"Given that retail is the largest private sector American employer, retailers support sound policies that spur economic growth and job creation," said Brian Dodge, spokesperson for the Retail Industry Leaders Association, in an email, adding that discussions will entail "pro-growth policies that will benefit both American consumers and job creators."
As friendly as it all sounds, talks could get contentious.
RILA has come out in fierce opposition to the border adjustment tax. Association president Sandy Kennedy slammed the tax as "harmful" and "untested" in a statement in February, warning it would "put American retail jobs at risk and force consumers to pay as much as 20% more for family essentials."
RILA joined more than 120 other trade associations and businesses to launch Americans for Affordable Products, a campaign against the border adjustability tax.
Border adjustability is among the primary issues Republicans have to come to a consensus on before passing comprehensive tax reform, which they've said is a high priority on the agenda. The Trump administration has yet to take a firm stance on the matter.
Representative Devin Nunes, a member of the Ways and Means Committee, told CNBC on Tuesday that there will be no tax reform bill without border adjustment.
"I don't know any other way to do it. We've long looked at this. We've had exhaustive hearing after hearing after hearing for eight years," the California Republican said. "The only way we can get our tax code into the 21st century and make America the most competitive place on the planet is to move to a full consumption-based system."