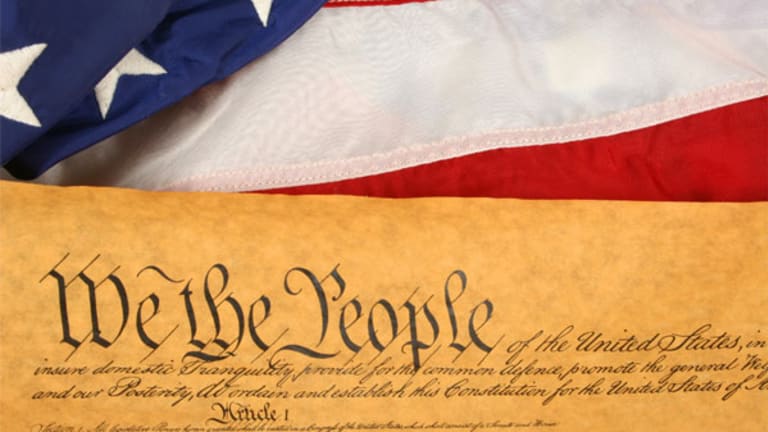 Republicans Offer Unpopular Solutions for Housing Fix
The Republican race for the White House heads to Florida, bringing the nation's housing crisis to the fore.

NEW YORK (TheStreet) -- The Republican race for the White House has headed to Florida to bring the nation's housing crisis to the fore. While jobs and tax reform have dominated the primaries so far, voters in Florida -- one of the states hardest hit by plummeting home values and the foreclosure crisis -- will be looking for more out of the candidates.
The claws have already emerged as Mitt Romney and Newt Gingrich spar over Gingrich's past work as a consultant for Freddie Mac -- an issue that dominated discussion on housing between the two front-runners during Monday's Republican debate in Tampa.
While debate between Romney and Gingrich fell into an argument on semantics (was Gingrich a consultant or a lobbyist), the housing market has become one of those sticky issues where Republican fundamentals, including the ideals of small government, clashe with the public interest.
Many Republicans would love to see institutions such as Fannie Mae and Freddie Mac done away with, or to curb the power of the Federal Reserve to shrink the U.S. government. But many Americans now view the efforts of such institutions as necessary, according to a recent USA Today/Gallup Poll.
The poll found 58% of Americans believe the government should do more to help people keep homes -- such as expanding efforts to make existing mortgages more affordable, compared with 34% who say it would be better to limit government intervention and let foreclosures push prices to a bottom.
Homeowners who have suffered for five years as they watched the value of their homes, the consummate investment, drop lower and lower would rather not forgo government intervention to see just how low prices will go. And with 90% of new mortgages now guaranteed by Fannie Mae and Freddie Mac, it seems getting a mortgage may become even harder if that guarantee were removed.
"House prices have fallen an average of about 33 percent from their 2006 peak, resulting in about$7 trillion in household wealth losses and an associated ratcheting down of aggregate consumption," Fed Chairman Ben Bernanke wrote to Congress on Jan. 4. "Currently, about 12 million homeowners are underwater on their mortgages -- more than one out of five homes with a mortgage."
With the Florida primary around the corner, these problems are even more troubling. In Florida, about half of all mortgage borrowers owe more than their house is worth according to the Fed. That is a lot of voters.
TheStreet
is tracking the Republican candidates' stances. Click through to see what Gingrich, Romney, Ron Paul and Rick Santorum have said so far...
Next>
NEWT GINGRICH
Newt Gingrich, when not fighting accusations that he was a lobbyist for one of the mortgage-financing giants blamed by many Republicans for causing the housing crisis, has remained consistent in placing blame for the crisis on the Dodd-Frank Act.
Signed into law in July 2010, the Dodd-Frank Act was passed with the aim of financial regulatory reform after the 2008 $700 billion bailout of Wall Street in response to the subprime mortgage crisis. However, according to Gingrich, the act is also responsible for everything from crushing small businesses to enlarging the country's biggest banks. In fact, Gingrich believes a repeal of Dodd-Frank could magically provide instant relief.
"If they would repeal it tomorrow morning, you'd have a better housing market the next day," Gingrich said Monday night during the Republican debate in Tampa.
"Dodd-Frank has led the biggest banks to get bigger. It is crushing independent banks. It has an anti-housing bias. Federal regulators are slowing down and making it harder to make loans for housing and it is crippling small business borrowing," Gingrich said.
And so the solution of the 5-year long housing crisis is simple, he says. Just repeal Dodd-Frank.
Next>
MITT ROMNEY
Mitt Romney's approach to addressing the housing market has been more devious. Recognizing that a solution to the housing market's woes is more difficult than any of the candidates can really address in a debate, Romney has gone into deflection and diversion mode.
Recognizing that Florida homeowners who are underwater on their mortgages may not take kindly to his previous expressions of a free-market solution, Romney has portrayed himself as being sympathetic and sharing their distress and anger.
Romney's campaign released its
first fully negative ad last weekend targeting Gingrich
and his past work with Freddie Mac. "While Florida families lost everything in the housing crisis, Newt Gingrich cashed in," the ad says. "Gingrich was paid over $1.6 million by the scandal-ridden agency that helped create the crisis."
During Monday's debate, Romney spent enough time portraying himself as sympathetic to the "suffering" of Florida families while bashing Gingrich that when the debate turned in earnest to the mortgage crisis, Romney had 30 seconds in which he expressed the same free-market views he'd expressed in the past, suggesting the market must regulate itself and be allowed to hit bottom.
"We've got to get the government out of this mess; the government created this mess," he said. He also said the overall economy must recover before housing does. "We have to get the economy going again with people having jobs. You're not going to get housing recovered unless you get jobs going again," he said.
However, Romney's economic advisers disagree. While his adviser Glenn Hubbard, the dean of Columbia Business School, has argued for the reduction of interest rates on home mortgages to strengthen the market, Gregory Mankiw, an economics professor at Harvard University, agrees with the Fed's efforts to ease monetary policy.
Romney also has had a change of heart since the last presidential election, when he faced off with John McCain in Florida for the Republican nomination.
"Helping reverse the housing crisis is critical," Romney said Jan. 24, 2008. "And that's why expanding the
Federal Housing Authority's loan requirements -- or, excuse me, if you will, loosening those requirements and expanding the ability of FHA to help out homeowners will make a big difference."
As president, would Romney stick to his current free-market stance? Or fall to the influence of his advisers and return to his past stance that government intervention is necessary?
Next>
RICK SANTORUM
Rick Santorum has been a far more open advocate of free market principles than Romney, and was an unabashed supporter of removing government support of the housing market in Monday's debate.
"Let capitalism work," Santorum said. "Allow these banks to realize these losses and create an opportunity for folks who have houses to realize these losses."
However, the former Pennsylvania senator wasn't completely heartless and wished to offer some relief for homeowners underwater in the form of a tax credit. Santorum suggests helping homeowners by allowing them to claim a tax deduction for the value of losses taken during the sale of a home.
"This is something I think is important temporarily to put in place to allow people the freedom to go out and get out from underneath those houses that they are holding onto and at least get some relief from the federal government for doing so," he said in Tampa Monday.
With Santorum as president, America would see the Federal Reserve would fall into the background with tax breaks taking center stage.
Next>
RON PAUL
For Ron Paul you cannot mention the housing crisis without mentioning the Federal Reserve. While Congress and the Treasury were supporting actors in the building of the housing bubble and the ultimate financial collapse, the Federal Reserve was the main cause, Paul says.
Paul's campaign website proclaims, "There is no greater threat to the security and prosperity of the United States today than the out-of-control, secretive Federal Reserve," comparing the central bank to "spendthrift teenagers out each weekend for a night on the town with credit cards."
"The whole bubble was easily seen and the consequences were anticipated. It was all government manufactured," Paul said Monday night. "The best thing you can do is get out of the way because you want the prices to come down so that people will start buying them again, but the politicians can't allow that to happen."
Paul has not offered any suggestions on how to relieve the pressure felt by homeowners underwater on their mortgages, who he would see as standard victims of a free market.
For Ron Paul, fixing the housing market is a one-step solution: end the Fed.
-- Written by Kaitlyn Kiernan in New York.
>To contact the writer of this article, click here:
Kaitlyn Kiernan
To follow the writer on Twitter, go to
.
>To submit a news tip, send an email to:
.