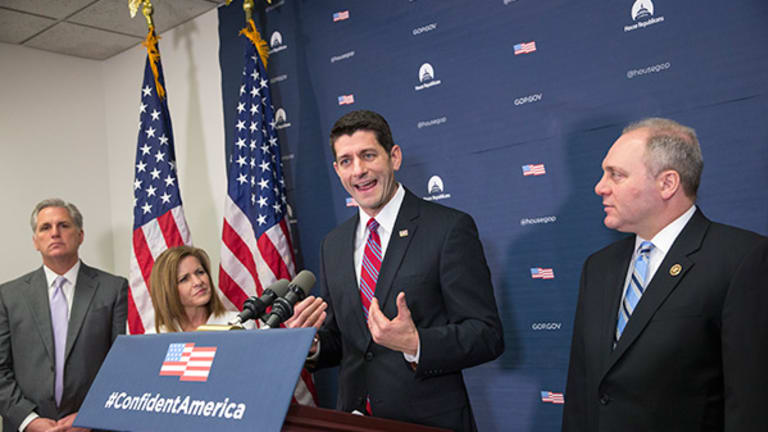 Republicans Can Save Themselves on Obamacare by Tackling Tax Reform Instead
President Trump has given Republicans an opening to kick the can down the road on the Affordable Care Act by saying a tax reform plan is on the way soon.
Editors' pick: Originally published Feb. 14.
President Trump has given Republicans an opening to kick the can down the road on the Affordable Care Act by saying a tax reform plan is on the way soon.
Trump said in a meeting with U.S. airline executives last Thursday that his administration is "way ahead of schedule" on taxes and would have something "phenomenal" to announce in two to three weeks. His remarks caught many -- including members of his own party -- by surprise. The GOP mantra on the Hill has generally been healthcare first, tax reform later, but as Republicans continue to struggle to come up with a plan to replace Obamacare, tackling taxes instead might give them at least a temporary out.
Republican lawmakers have promised a swift repeal of the Affordable Care Act once in power, the idea being to use a tool called budget reconciliation to dismantle much of former President Obama's signature healthcare law.
Speaker of the House Paul Ryan in an appearance on Fox News' "Fox and Friends" on February 2 said repealing and replacing Obamacare would be the GOP's first order of business and that it would deal with tax reform, likely also through reconciliation, second. One of Trump's first executive orders gave federal agencies authority to undo ACA rules.
But a lack of a clear plan on how to replace the ACA has caused consternation among many in the GOP.
"We're firing with real bullets now," Republican Senator Jeff Flake of Arizona told Bloomberg.
The president and party leaders have said a replacement will be lower-cost, provide better coverage and leave no one behind, all without a specific blueprint for a plan. Obamacare has become increasingly popular among Americans in the face of a potential repeal, and angry constituents are popping up in town hall events across the country demanding explanations from lawmakers.
"Given where they are on the Affordable Care Act, they could begin to say, 'Should we consider moving tax reform?'" said Dean Zerbe, former counsel to the Senate Finance Committee and national managing director at Alliantgroup. "I think they need to move something now."
New administrations have a short window of opportunity to move agendas forward -- hence the attention often on the president's first 100 days.
The GOP does not want to arrive at the spring without clear advancement on any major legislative front, and as midterm elections in 2018 approach, they will only be harder pressed to show voters results.
"The party is unified in wanting to remove [the ACA], but they're obviously having some birthing pains about what follows," said Zerbe. "On tax reform, the Republicans are certainly in agreement on wanting to get a tax system that's more encouraging of growth and more internationally competitive, that's got a broad appeal in the party."
To be sure, Republicans don't have a full consensus on taxes.
Trump campaigned on a more generous corporate tax rate than House Republicans. His proposal eliminates certain exemptions and filing statuses that would raise taxes for some in the middle class, something other plans avoid. Major questions about a border adjustment tax, which appears in Ryan's "A Better Way" blueprint, persist.
More broadly, Republicans pushing tax cuts that would most benefit the wealthy will have to determine how to sell it to the Rust Belt voters who put them into power. And, they'll have to figure out how much deficit increase, if any, they are willing to stomach.
The Washington, D.C.-based Tax Foundation estimated the House GOP plan would reduce federal revenue by $2.4 trillion over a decade on a static basis (meaning it doesn't take into account a potential for tax cuts spurring economic growth). The right-leaning think tank found Trump's plan would slash revenue by $4.4 trillion to $5.9 trillion, depending how it treats pass-through businesses.
Zerbe said he expects a $2 trillion tax cut plan, though he acknowledged the GOP will face pressure to craft a something that is revenue-neutral, like the proposal put forth by former Congressman Dave Camp in 2014. Even deficit hawks say a revenue neutral tax plan is unlikely to succeed.
"A lot of stakeholders are going to come out of the woodwork here," said Bill Hoagland, senior vice president at the Bipartisan Policy Center and former director of budget and appropriations for former Senate Majority Leader Bill Frist.
Not to mention the cries of hypocrisy sure to come from Democrats who watched Congressional Republicans resist any and all legislation that might increase the deficit under the Obama administration.
Still, the obstacles to a consensus on tax reform are shaping up to be much more surmountable than those related to repealing and replacing Obamacare.
The Washington Post in January published a recording to Congressional Republicans in Philadelphia fretting over the politics of tackling healthcare reform.
The House Freedom Caucus, the conservative coalition that in 2015 ousted former House Speaker John Boehner, on Monday initiated a push to immediately appeal the legislation without a replacement, further complicating the matter.
"It's clear that it's one thing to say repeal and replace and not know what you're replacing it with, and a lot of Republicans are finding out that this is not as simple as they first thought it would be," Hoagland, former vice president of public policy for CIGNA (CI) - Get Cigna Corporation Report , said.
But when one door closes a window opens, and in this case, Trump's off-the-cuff comment on taxes has opened up a window for the GOP to put off Obamacare a little longer.