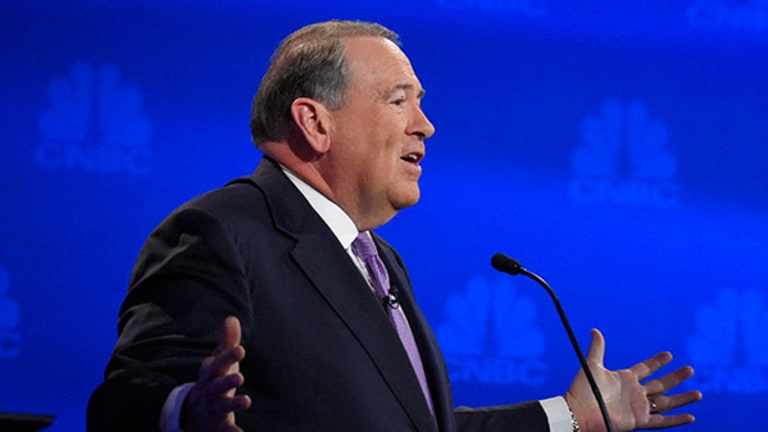 Republican Candidates Don't Want You to Retire Until 70 #GOPDebate
Candidates say a later retirement age will help solve shortfalls in Social Security.
If you are 27 today, the contenders for the Republican Presidential nomination don't want you to retire until you're 70.
At least, that's what would happen if Jeb Bush's plan to address Social Security, released Tuesday, were enacted into law. Bush's would increase increase the current retirement age of 67 by one month every year starting in 2022.
At the Wednesday CNBC Republican Presidential debate, Social Security and the retirement age was one of those hot button issues that had the candidates baring their fangs.
Former Arkansas Governor Mike Huckabee accused the other candidates of trying to "rob seniors of their benefits."
New Jersey Governor Chris Christie piled on to the robbery theme. "If somebody already stolen money from you, you're going to give them more?" he said. "Or are you going to deal with the problem by saying, I'm going to give people who have done well in this country less benefits on the back end."
And nearly all of the Republican candidates have proposed gradually raising the age of retirement. 
Social Security is estimated to have $26 trillion deficit and 60 million beneficiaries received benefits just last year, according to the Social Security Administration.
Christie has proposed the most aggressive plan, where the social security benefits would be cut for anyone making income over $80,000 and eliminated for those making over $100,000. 
Huckabee, in keeping with his ministerial background, presented the situation as being one for a higher authority.
"This is matter not of mathematics, this is a matter of morality," Huckabee argued. "If this country does not keep its promise to seniors then what promise can this country hope to be trusted to keep? The fact is none of them."
Huckabee said that through the repeal of the Affordable Care Act, and through his Fair Tax plan, eliminating tax on all wages and income, he would be able to continue the benefits afforded to seniors at their current levels. 

Carson proposes a gradual increase in the age at which Social Security benefits are disburse. He also doesn't want government to spend money that's been set aside for benefits. Both Trump and Carson want to decrease Social Security for wealthier Americans.
The budget deal that just passed in the House, includes a 20 percent decrease to the Social Security Disability Insurance (SSDI) program and stops the Medicare B premium increase for seniors. The deal would cap spending at $80 billion, which included changes to Medicare and Social Security
Ted Cruz wants to gradually increase the retirement age, grow benefits at the rate of inflation, and have some of social security funds to go to a personal account.
Flat tax also figures into some of the candidates proposals, as it would address the Social Security FICA tax, with Huckabee and Rand Paul being the main proponents.