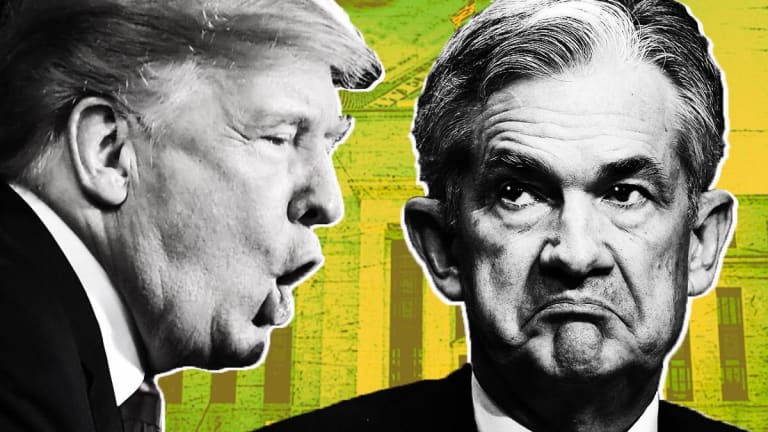 Report: Trump says Fed Is 'Biggest Threat' to the Economy
In an interview with the Wall Street Journal, the president continues his criticism of Federal Reserve Chairman Jerome Powell.
President Trump said in an interview published Tuesday that the Fed is "the biggest risk" to the economy because it's raising interest rates too fast, and that "maybe" he regrets nominating Federal Reserve Chairman Jerome Powell.
In a story in the online edition of The Wall Street Journal, Trump was quoted as saying Powell "almost looks like he's happy raising interest rates."
The Journal reported that in an interview in the Oval Office, Trump also talked about the possibility of a second round of tax cuts, his former attorney Micheal Cohen, tariffs, and the death of Saudi journalist Jamal Khashoggi.
The report said that in response to "an open-ended question about what he viewed as the biggest risks to the economy," Trump replied: "the Fed."
The president was quoted in the story as saying: "To me the Fed is the biggest risk, because I think interest rates are being raised too quickly."
The Journal also stated Trump said it was "too early to tell, but maybe" he regrets nominating Powell. The story said that Trump, in response to a question about the circumstances under which he would remove Powell, said he didn't know. And Trump was then quoted as saying "I'm just saying this: I'm very unhappy with the Fed because Obama had zero interest rates."
A spokesperson for the Federal Reserve could not be reached late Tuesday for comment on the report.
The Federal Reserve released its September minutes Wednesday, Oct. 17. The minutes showed the Fed's determination to remain hawkish and hike rates one more time before the year ends.
From Real Money, read Jim Cramer: The Fed Will Blink...but the China Situation Continues to Escalate.