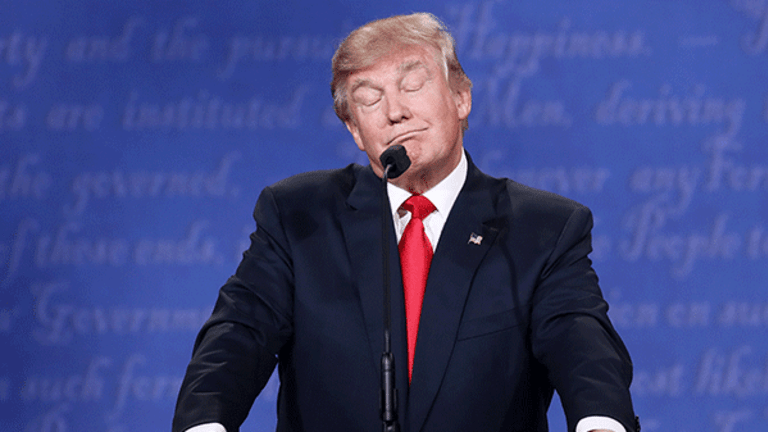 Reminder: Donald Trump Presidency Would Be Terrible for U.S. Economy, Markets
It's prudent to remind you that a Donald Trump presidency promises to cripple the U.S. economy and drive global equity markets down by at least 10%.
In case you're wondering what might happen to your money after the U.S. election on November 8, it's prudent to remind you that a Donald Trump presidency promises to cripple the U.S. economy, drive global equity markets down by at least 10% and potentially spark trade wars.
Trump's opposition to the Trans-Pacific Partnership and insistence America renegotiate or pull out of trade deals like NAFTA could harm U.S. transportation companies, according to a recent note from Deutsche Bank. Many trucking and rail companies have exposure to U.S.-Mexico trade. Nearly $40 million worth of product was transported between the U.S. and Mexico via truck and rail in the month of May, and Trump's proposals like imposing tariffs and building a wall at the border could hinder that.
But the horse race buzz heading into Election Day overshadows an important element of the cycle: the adoption of Trump's policies, most of which are as yet unexplained, herald severe losses for investors.
Markets rallied Monday in the wake of FBI director James Comey's Sunday letter to Congress saying a reinvigorated investigation into Hillary Clinton's emails has yielded no new information suggesting criminal charges should be filed. The news heartened investors wary of a Trump presidency, and the S&P 500 snapped a nine-day losing streak, one of its worst in decades. 
Markets fell sharply following Comey's first letter to Congress on October 28, and Clinton's prediction market win probability declined by about 6 to 8 percentage points. Stocks fell around 0.7%, the Mexico peso declined 1.8%, and the VIX futures market, which measures market volatility, climbed about 0.5 points. The Canadian dollar, the South African rand and the South Korean won fell, as did oil. Gold and treasuries rose. After the initial shock and as it became clearer the FBI had no smoking gun, the markets bounced back tepidly, undoing about a third to half of their initial reaction.
"The sharp decline in the stock market confirmed just how much markets dislike the prospect of a Trump presidency," said Justin Wolfers, a University of Michigan economist who has studied the markets' response to the presidential election. "In both cases, you see stocks responding to the shifting likelihood of a Trump victory, and in both cases, in a way that is consistent with markets believing that stocks are worth about 10% to 12% less under Trump than Clinton."
Global markets have reacted positively to the increased probability of a Clinton win this election cycle, climbing during the first presidential debate, which the former first lady was regarded as having won, and after the "Access Hollywood" tape leak.
The lead-up to the 2016 election has seen an elevated level of uncertainty, as major news items and swinging polls have kept investors guessing as to who will win. But what is more important is uncertainty about what will happen after Election Day, especially if Trump prevails.
"Having Trump on one side and Clinton on the other, there is tremendous uncertainty as to what direction the country will take," said Gregory Daco, head of U.S. macroeconomics at global forecasting firm Oxford Economics. "And having Trump on the ballot means you're not even sure what specific policies he's going to put in place."
Clinton has faults, but policy specificity is not one of them. The former secretary of state has laid out thousands of pages of detailed plans on her website. Trump, on the other hand, has provided very little detail on what he might do. He says he'll repeal Obamacare but not what he'll replace it with. He says he'll bring back jobs but not how. He says Mexico will pay for his border wall but forgot to bring that up when meeting with the country's president.
"It keeps us, even once we know who the president is, in that environment of uncertainty," said Daco.
The policies Trump has outlined could be disastrous to the economy, a number of economists believe. Daco estimates Trump's policies would lead to a recession by the end of 2017 and cause the U.S. economy to contract by 2% in 2018. An analysis from Moody's Analytics finds that the self-described billionaire's plans, if taken at face value, would send America into a "lengthy recession," cause a 2.4% drop in GDP, increase unemployment to 7.4% and result in the loss of 3.4 million jobs.
The Tax Policy Center, a Washington, D.C.-based think tank, estimates Trump's tax proposals would lead to a $6.2 trillion decline in federal revenue over the course of a decade by significantly reducing tax rates, especially on corporations and the highest earners. It calculates Clinton's tax platform would increase revenue by $1.4 trillion over the same period.
The conservative-leaning Tax Foundation estimates Trump's tax platform would reduce federal revenue by between $4.4 trillion and $5.9 trillion, depending on how he treats pass-through business income. The Committee for a Responsible Federal Budget calculates Trump's plans would increase the amount of debt added by $16 trillion over 20 years, while Clinton's proposals would reduce it by about $500 billion.
Trump insists his policies would be good. Speaking at the New York Economic Club in September, he pledged to deliver 3.5% annual growth and create 25 million new jobs. His campaign called the Tax Policy Center's analysis "fraudulent," and two of his economic advisers, business professor Peter Navarro and billionaire investor Wilbur Ross, in September released a whitepaper predicting a booming economy under Trump.
A group of 370 economists signed a letter published by The Wall Street Journal opposing Trump this week, warning he "promotes magical thinking and conspiracy theories over sober assessments of feasible economic policy options."
"If elected, he poses a unique danger to the functioning of democratic and economic institutions, and to the prosperity of the country. For these reasons, we strongly recommend that you do not vote for Donald Trump," the letter concludes.
Jim Cramer, founder of TheStreet, in an interview at the New York Stock Exchange called Monday's surge "the Comey rally," referencing the FBI director.  "The futures traders clearly believe that Hillary's better for the stock market, so the moment that the Comey news comes out, the futures explode," he said.