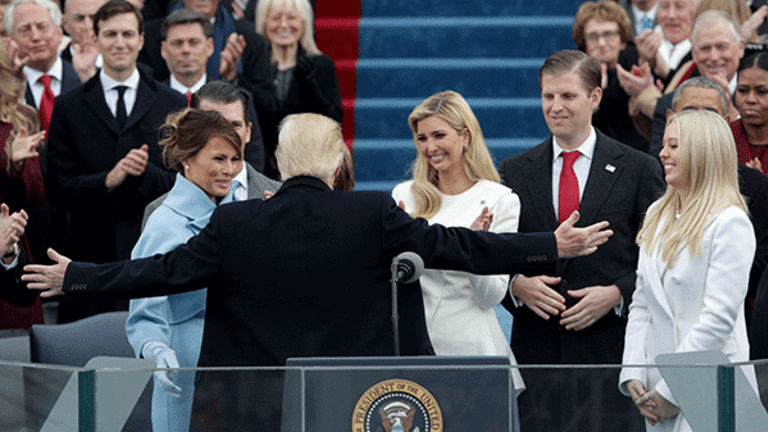 Questions About Trump's Business Interests Linger into First Days of Administration
If President Donald Trump is worried about violating the Constitution with his business interests, he's not showing it.
If President Donald Trump is worried about violating the Constitution with his business interests, he's not showing it.
Trump brushed aside claims made in a lawsuit alleging his business dealings violate the Constitution's Emoluments Clause, telling reporters the suit is "totally without merit" while signing executive orders from the Oval Office on Monday. The suit, filed by D.C. watchdog group Citizens for Responsibility and Ethics in Washington (CREW), seeks to stop Trump from what the group says is a violation of the Constitution in receiving payments from foreign governments.
"It was our hope that President Trump would take the necessary steps to avoid violating the Constitution before he took office," said Noah Bookbinder, executive director of CREW, in a statement announcing the lawsuit. "He did not. His constitutional violations are immediate and serious, so we were forced to take legal action."
A number of big names in ethics law have signed onto the suit, including former Obama ethics lawyer Norm Eisen, former Bush ethics lawyer Richard Painter, Constitutional law scholars Erwin Chemerinsky, Laurence Tribe and Zephyr Teachout, and Gupta Wessler PLLC's Deepak Gupta.
"Never before have the people of the United States elected a President with business interests as vast, complicated, and secret as those of Donald J. Trump. Now that he has been sworn into office as the 45th President of the United States, those business interests are creating countless conflicts of interest, as well as unprecedented influence by foreign governments," the lawsuit, filed in the Southern District of New York, reads.
CREW alleges Trump is in violation of the Emoluments Clause of the Constitution, which bars the president from taking any type of "emolument" (compensation for labor or services) from foreign governments. The group points to a number of Trump entities that evidence the president is in violation of the clause, including the Trump International Hotel in Washington, D.C., Trump Tower in New York and business endeavors in China, India and Turkey.
It even pinpoints "The Apprentice," of which Trump is an executive producer, which earns royalties for distribution and spinoffs in other countries.
Among the number of legal hurdles CREW faces is proving that it has standing to bring the lawsuit in the first place, notes ABC News. Bookbinder told the outlet it does have standing because the president's violation has forced his organization to divert all of its resources to this fight rather than other issues and is therefore harming it. Some legal experts dispute the claim.
The Trump camp has refuted any suggestions his business dealings put him in violation of the Emoluments Clause.
Trump lawyer Sheri Dillon argued at a January 10 press conference that the clause has never been interpreted to apply to fair-value exchanges. "No one would have thought when the Constitution was written that paying your hotel bill was an emolument," she said.
Even so, she said that Trump will voluntarily donate all profits from foreign government payments made to his hotel to the United States Treasury.
ProPublica reported on Friday that officials in Florida, Delaware and New York (where Trump has registered a number of his companies) had not yet received paperwork from the president indicating he had, in fact, stepped away from his businesses.
Trump spokeswoman Hope Hicks told CNN's Jim Acosta on Monday that the president had, in fact, resigned.
Press Secretary Sean Spicer made the same assertion at a press briefing on Monday afternoon. "He has resigned from the company, as he said he would, before he took office," he said.