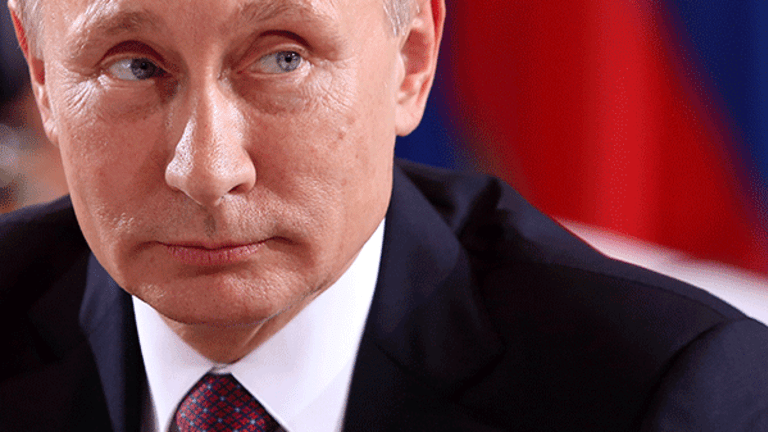 Putin to Expel 755 U.S. Diplomats
The move by Putin follows near-unanimous Congressional support for a new Russian sanctions bill, which gives lawmakers oversight on the president's ability to roll back restrictions.
Russia will reduce the number of U.S. diplomats by 755, Vladimir Putin said in an interview with a Russian television station Sunday, a move that follows a near-unanimous vote by the U.S. Congress to impose greater sanctions on Russia and prevent President Donald Trump from rolling back any current restrictions.
The move by Putin will bring the number of U.S. diplomats in Russia to 455, the same number of Russian diplomats in the U.S., and could be followed by other moves, he said.
During the interview with Russian-state television station Vesti, Putin spoke about the areas of cooperation between the U.S. and Russia, including counter-terrorism and space exploration, but added that Russia may limit cooperation in areas that would be sensitive for the U.S., but didn't specify.
President Trump Really Enjoys Tweeting About the Surging Stock Market
The statements by Putin come as President Trump is presented with a bill that received overwhelming bipartisan support in the U.S. Senate and House of Representatives. The bill gives Congress oversight of President Trump's implementation of current sanctions against Russia and allows for harsher sanctions to be imposed. Although the president had called for changes to the bill, the White House has said the president plans to sign it.
In a statement Saturday, U.S. Secretary of State Rex Tillerson said that the sanctions bill "represents the strong will of the American people to see Russia take steps to improve relations with the United States.We hope that there will be cooperation between our two countries on major global issues and these sanctions will no longer be necessary."
That interpretation differs somewhat from statements by lawmakers about the bill's message. 
Rep. Kevin McCarthy, R-Calif., said in a Tweet last week, referencing the bill, that those threatening the U.S. should take note "your actions have consequences."
The bill also imposes sanctions on Iran and North Korea.
Don't Miss These Weekend Reads on TheStreet:
How Birchbox Took on Macy's, J.C. Penney and the $500 Billion Beauty Counter