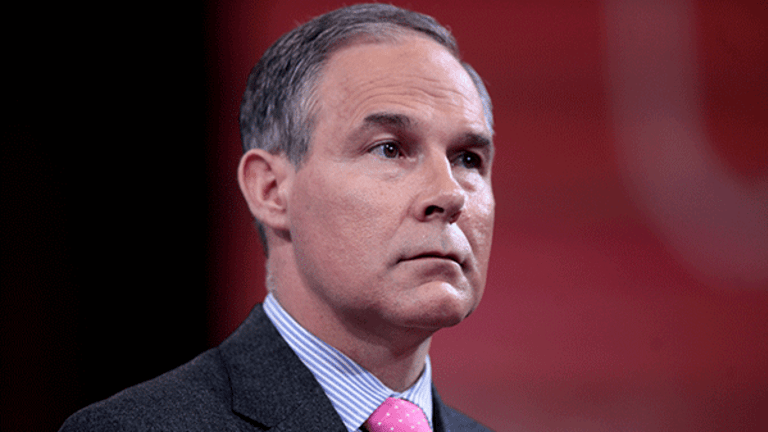 Pruitt, Tillerson a One-Two Punch on Climate Change in Trump Cabinet
If Scott Pruitt and Rex Tillerson wind up in the Trump administration's presidential cabinet, it won't be the first time the pair's paths have intertwined.
If Scott Pruitt and Rex Tillerson wind up in the Donald Trump's cabinet, it won't be the first time their paths have intertwined -- the former has defended the latter from accusations his company swept climate change information under the rug.
Pruitt, the attorney general of Oklahoma, came to the defense of ExxonMobil (XOM) - Get Report , of which Tillerson is chairman and CEO, when the oil and gas giant came under fire for hiding information on environmental impact research.
The 48-year-old Pruitt joined forces with Alabama Attorney General Luther Strange in March of this year to push back against allegations an investigation launched by New York Attorney General Eric Schneiderman, former Vice President Al Gore and other state attorneys general into whether fossil fuel companies, including Exxon, quashed research on climate change and misled investors.
Pruitt and Strange called it "inappropriate" for their fellow state attorneys general "to use the power of their office to attempt to silence core political speech on one of the major policy debates of our time."
They also appeared to call into question the existence of climate change. "Reasonable minds can disagree about the science behind global warming, and disagree they do," they said.
Multiple studies show that 97% of actively-publishing climate scientists agree that climate change trends are the result of human activity.
Pruitt is slated to become the next head of the Environmental Protection Agency, which he is now suing. And Exxon's Tillerson has been tapped to become the next Secretary of State.
Pruitt and Tillerson's past connection on Exxon's alleged climate change cover-up don't raise any ethics red flags, said Kathleen Clark, professor of law and expert on legal ethics at Washington University Law. But that might not help those concerned about the environment sleep much better at night.
"They are compatriots. They are big oil and gas," she said.
In his LinkedIn profile, Pruitt, 48, characterizes himself as a leading advocate against the EPA's "activist agenda." It is highly unlikely he will seek to increase any regulations on energy or environmental policy at the helm of the agency, whether renewables, fracking or otherwise.
"I think you'll be looking at an 'all-of-the-above' formula for sourcing energy," said Christopher Carr, chair of the environment and energy group at international law form Morrison & Foerster.
Tillerson's ExxonMobil has taken heat over concerns it violated securities laws by misleading shareholders, regulators and the public on risks posed to the company by climate change and regulatory responses to it.
Attorney General Schneiderman issued a subpoena in November 2015 demanding years of financial records, emails and other documents from the Irving, Texas-based firm. Over the next several months, Exxon produced thousands of pages of documents in response until the spring, around the same time Republican Congressman Lamar Smith of Texas launched a Congressional investigation demanding Schneiderman and Massachusetts Attorney General Maura Healy turn over their documents on Exxon. Exxon subsequently sued Healy's office in a federal court in Texas in a move that would shut down the investigation.
The Wall Street Journal reported in August that the Securities and Exchange Commission had launched an investigation into Exxon and that Schneiderman was pursuing the same issue as part of his investigation. Exxon moved to have Schneiderman added as a defendant in the Texas case, which remains ongoing, as do the investigations.
When Schneiderman first launched his investigation, Tillerson called the charges "pretty unfounded" and "without any substance at all."
Alison Grass, senior researcher at Food and Water Watch, likened nominating Pruitt and Tillerson to the presidential Cabinet as "inviting climate chaos."
"Pruitt's appointment signals that the EPA will be taking an even more hands-off approach to environmental pollution and regulation, which is exactly what we do not need," she said, and Tillerson's nomination "puts the largest oil and gas company in control of U.S. foreign policy."
While Pruitt, Tillerson and the Trump administration may not be keen to add new environmental or energy regulations, they may not be able to roll back existing regulations so easily either, Carr advised.
"There are impediments to completely reversing course on existing regulations and regulatory programs, but there are processes they would have to go through that are arduous and long," he said.
Even if regulations were rolled back and the Trump administration helped to lift any scrutiny on Exxon, it might not help the oil and gas giant that much anyway, said Stewart Glickman, analyst at CFRA Research.
"To the extent that the incoming administration can make life easier when it comes to enabling access to reserves and things like that, then I guess that's maybe a mild positive," he said. "But the bigger issue is it's just not a growth stock. It hasn't been a growth stock forever."
Exxon is a value stock that does a good job of generating free cash flow and returning value to shareholders via buybacks and dividends. "Those are likely to continue regardless of who is in office," he said.
If Tillerson is confirmed, he will likely have to sell all of his estimated $141 million in Exxon shares. He would also need to either forfeit his unvested stock or, if he were to retain it, recuse himself from any negotiations that could affect Exxon. (Unless the president issues a waiver, which Clark said would be "hard to do with a straight face," even for Trump.)
Exxon has a mandatory retirement age of 65, which Tillerson will reach in March, and his successor has already been in place for quite some time: Darren Woods, a 24-year veteran at the firm.
"Nothing in that culture is going to change," Glickman said.
That includes their tenacity in fighting investigations. "In the past, they've had at least two instances where Exxon was faced with litigation, and their history is they do not settle these kinds of things," said Glickman, pointing to the Exxon Valdez spill in 1989 and its more recent $1.6 billion dispute with Venezuela.
As Exxon continues to fight its latest battle, perhaps the best news for it is that the Trump administration won't be kicking up more dust anytime soon.