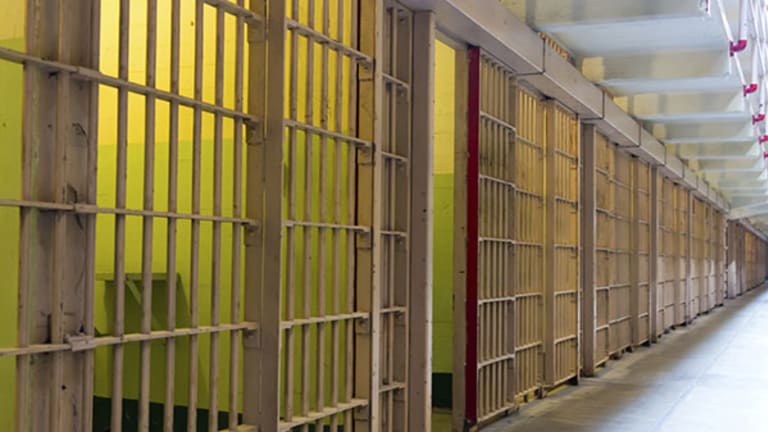 Private Prison Stocks Plunge on DOJ's Plan to Kill Contracts
Corrections Corp. and GEO are sinking to new lows for the year as the Justice Department outlines plans to eliminate use of private facilities.
Shares of private prison operators have plunged to new lows for the year on steep declines Thursday following the Department of Justice's decision to effectively end contracts with those companies.
Shares of Corrections Corp. of America (CXW) - Get CoreCivic, Inc. Report have tumbled more than $6 to just over $21 a share, a loss of 19% in Thursday's trading, sinking to a new 52 week low. Meanwhile, shares of GEO Group (GEO) - Get GEO Group Inc Report have lost more than $7, falling to $25, a decline of 22%, and hard by the low for the year of just over $24 a share.
The losses have pared stocks that were already trading at a significant discount to the market. Shares of GEO, for instance, were trading Wednesday at a price-to-earnings ratio of 13, while Corrections Corp. have been trading at a P/E of just 12.
Neither company figures to weather this storm very easily, as they don't have any significant brand extensions that insulate them from their primary business of providing correctional facilities for the government. In 2015, for instance, 45% of GEO revenue came from the Federal Government. However, these companies also operate state penitentiaries, which should not be directly affected by the DOJ's action.
The pullback in the share prices comes after the Justice Department announced plans to end its use of private prisons, an initiative sketched in a memo from Deputy Attorney General Sally Yates that said the government's goal is "reducing -- and ultimately ending -- our use of private operated prisons."
The initiative to eliminate the use of private prisons couldn't come as a complete surprise. The Justice Department's Inspector General issued a critical report a week ago that concluded that privately operated prisons incurred more safety and security incidents than those run by the federal Bureau of Prisons.
In published news accounts, Yates was reported to have said that Justice Department officials and Bureau of Prison officials have been talking for months about the need to eliminate the federal government's use of private facilities.
These stocks have also been battered by statements on the campaign trail. When then-Democratic primary hopeful Hillary Clinton tweeted that the U.S. should end the use of private prisons in October 2015, stocks of GEO and Corrections Corp. fell 4% and 6%, respectively. 
GEO is also part of TheStreet's Donald Trump stock portfolio, which is made up of stocks that should have tailwinds if Trump wins the White House in November. Should he win and deport 11 million undocumented immigrants, it's a good bet that they will need to be processed in some way before removed from the country, meaning that GEO and Corrections Corp. could see increased businesses from the Federal Government. 
Tracking shares through the Trump portfolio, GEO was basically flat in the week prior, as Trump tried again to reset his campaign. The portfolio as a whole was down 0.07%. 
There could be some pushback on the part of prison operators, and their contracts aren't being summarily terminated. However, the long-term prospects of what once seemed like a promising industry figure to be dim.