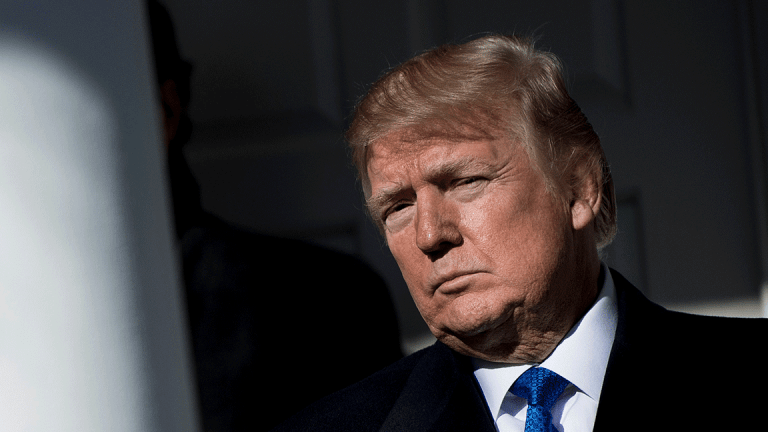 President Trump Unveils Plan to Lower Drug Prices, Drug Companies Spared
President Trump and HHS Secretary Alan Azer rolled out a plan to lower out of pocket costs for consumers when it comes to drug prices. Now comes the hard part.
Standing in the Rose Garden before a banner reading "Lower Drug Prices for Americans," President Trump and Health and Human Services HS Secretary Alex Azar spoke in generalities about how to bring down prescription drug costs.
One of the most interesting ideas came from Azar, who said he will ask the Food and Drug Administration to require drug companies advertising medicines on TV to include the price of the medications along with the side effects. However, in a fact sheet released by the White House following the speech, that idea was softened. The fact sheet called for the idea to be evaluated.
The FDA will also be asked to speed the approval of over-the-counter medicines to stimulate more competition.
Trump spoke of reforming how drug patents are used to decrease competition and to keep generic drugs out of the marketplace.
The president spoke about removing the "gag rules" from Part D Medicare contracts that prevent pharmacists from telling consumers how they can save on prescriptions at the time of purchase.
Azar talked about increasing private sector negotiating -- as well as competition in the private sector -- but gave no details as to how the government might accomplish those goals nor how they would impact drug pricing.
Prior to the speech, there was speculation that pharmacy benefit managers could be in the Trump administration crosshairs. And while in the speech Trump said that he intended to get rid of " middlemen, the very rich middlemen," the fact sheet released by the White House only said, "Requiring Pharmacy Benefit Managers to act in the best interests of patients." Along these lines, the Trump administration wants a simpler way to deal with rebates and how the money saved is distributed.
There were no further details about how the White House might convince Express Scripts Holding Co. (ESRX) , CVS Health Corp. (CVS) and UnitedHealth Group's (UNH) OptumRX to put patients ahead of both clients and shareholders.
In a press briefing following the speech, Azar said the new plan to knock down drug costs will focus on increasing competition and negotiating and limiting out of pocket costs. He said it adds incentives to lower list prices. Azar called the new plan "big and bold" but warned it would take time to implement the changes.
Jeffery Loo, a healthcare analyst with CFRA, said that he expects the market to react favorably to drug companies but there may be downward pressure on pharmacy benefits managers (PBMs).
Nielsen Hobbs, executive editor of Informa Pharma Intelligence, said that after watching the speech, he thought that if the Trump administration followed through regarding PBM reforms, incentives in how prices were formed could change and that pharmacy benefit managers could end up seeing their business model altered.
But Hobbs said he didn't have much faith in the government succeeding in forcing drug companies to include medication prices in TV ads. "What I found more interesting was the idea that doctors would have to tell patients the cost of a drug. That would certainly water down the potency of drug marketing."
Dave Fitzhenry, managing partner at life science consultant Trinity Partners, said ,"The vast majority of the "Immediate Action" items are picking at the margins for innovator life science companies, with minor impacts to end-of-lifecycle strategies or contract negotiations. The items with more teeth - the ones that would have meaningful impact to the current system - fall into the "Further Opportunities" category. Examples include restricting the use of rebates under the Anti-Kickback statute, or considering fiduciary status for PBMs. Both of these actions would have a more dramatic effect but will likely be years out before any consensus is reached on revising legislation."
RBC analyst George Hill said he saw no immediate threat to PBMs or the drug supply chain.
Lindsay Bealor Greenleaf, a director at ADVI, a healthcare and life science advisory, praised the Trump administration for wanting to take on the middlemen and being "willing to get down into the weeds on this." She said that the Obama administration wanted to point the finger at drug companies, but Trump is willing to wade into the supply chain, that she called "messy and complicated."
Greenleaf said that the plan seems to be focused on the idea of lowering out of pocket expenses and doing so by having HHS and the FDA handle as much in house as possible. "The political reality is that a republican controlled White House, Senate and congress was unable to repeal and replace Obamacare. The tone here is to do things within the authority of the administration."
Since his election Trump has talked tough about the pharmaceutical industry and drug prices that were too high. He has famously said on at least two occasions that "drug companies are getting away with murder." But that rhetoric has not evoked any actions by Trump.
In the days leading up to the May 11 speech, remarks by Azar and FDA Commissioner Scott Gottlieb softened the ground for Trump in terms possible policy introductions. The White House also pointed at 30-page document from the Council of Economic Advisers released in February called "Reforming Biopharmaceutical Pricing at Home and Abroad" as representative of some of the possible changes being considered.
Some of the proposals that are tied to the HHS can be moved along quickly by design because they do not require congressional approval.
Azar said Friday that one idea is to allow seniors covered by Medicare who qualify for the catastrophic period to forego out of pocket costs.
One idea that was ruled out before the speech was that Medicare would change its policy and negotiate directly with drug companies over medicines, though Trump had backed such a policy change while campaigning for the Oval Office.
The FDA and Gottlieb are focused on making generic drugs and biosimilars more competitive with name brands in order to create more competition and drive prices lower.
Jim Cramer and the AAP team hold positions in UnitedHealth Group for their Action Alerts PLUS Charitable Trust Portfolio. Want to be alerted before Cramer buys or sells UNH? Learn more now.