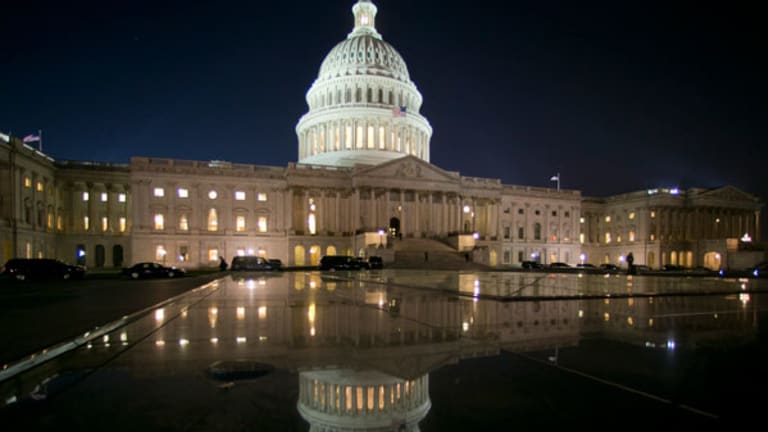 President Obama's State of the Union Keeps Jobs as Central Theme
President Obama delivered the State of the Union address Tuesday in the House of Representatives, saying the U.S. economy is on track to continue adding jobs
NEW YORK (TheStreet) -- President Barack Obama Tuesday night on the floor of the House of Representatives delivered his fifth State of the Union address, in which he told the American people that the U.S. economy was poised to continue adding more jobs.
The president noted the rebounding housing market, the manufacturing sector adding jobs for the first time since the 1990s, the country having produced more of its own oil than from abroad for the first time since the Ronald Reagan administration and large cuts in the deficit.
"After five years of grit and determined effort, the United States is better-positioned for the 21st century than any other nation on Earth," Obama said.
The speech comes more than five years after the financial crisis triggered the worst recession since the Great Depression and as the unemployment rate sits at its lowest level since October 2008.
The president said he would ask Congress to raise the minimum wage for federal contract workers to $10.10, a move that comes as Democrats at the beginning of 2014 have highlighted minimum wage as a central discussion of the income inequality debate.
Obama, when addressing manufacturing jobs growth, said manufacturers are "thinking" of in-sourcing jobs from abroad,
Part of a familiar argument the president repeated in 2012 on the campaign trail, Obama said he would direct Vice President Joe Biden to make sure programs are training individuals for jobs in high demand by employers and that are well paying.
The President said he would convene chief executive officers to support best practices to hire the long-term unemployed. The so-called U-6 unemployment rate -- a rate calculated by the Labor Department that includes people marginally attached to the work force and part-time employed -- sits at 13.1%.
In the penultimate moment of the President's speech, Obama thanked an Army veteran -- Sergeant First Class Cory Remsburg -- who had served 10 deployments and was badly injured by a roadside bomb in Afghanistan.
"My fellow Americans, men and women like Cory remind us that America has never come easy," Obama said.
All present in the House of Representatives, including the Supreme Court justices and Joint Chiefs of Staff who rarely partake in standing ovations at the State of the Union, stood and applauded Remsburg for some two minutes.
"[W]e have put those things aside and placed our collective shoulder to the wheel of progress -- to create and build and expand the possibilities of individual achievement," Obama said after the ovation.
-- Written by Joe Deaux in New York.
>Contact by Email.