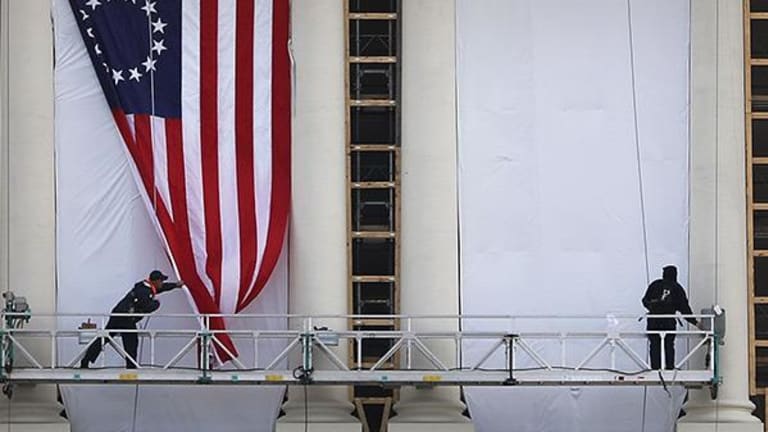 President Obama's First Inauguration Cost Double Donald Trump's
Donald Trump's inauguration will be bigger than President Obama's in 2013, but it won't eclipse Obama '09.
Editors' pick: Originally published Jan. 20.
Donald Trump's inauguration will be bigger than President Obama's in 2013, but it won't eclipse Obama '09.
Trump will be sworn in as the 45th President of the United States in Washington, D.C. on Friday in what he said will be an "astronomical" event. Among the thousands of people expected to be in attendance will be former Presidents Bill Clinton, George W. Bush and Jimmy Carter as well as the Obamas and Trump's former Democratic rival Hillary Clinton.
"From what I'm hearing, the numbers are going to be astronomical," Trump told Fox News' Ainsley Earhardt in an interview earlier this week.
Washington's expenses for the inauguration are expected to be about $30 million, said an official with D.C. Homeland Security, with anticipated crowds of 800,000 to 900,000 attendees.
That's big, but only about half the size of Obama's inauguration in 2009.
President Obama's first inauguration cost Washington, D.C. a total of $63.4 million, according to the city's Department of Transportation. The event drew a crowd of 1.8 million, due in large part to the historic nature of America swearing in its first black president.
Trump's inauguration will be closer in size and cost to Obama's second ceremony in 2013, which drew 800,000 people and had a $20.8 million price tag.
The lead-up to Trump's inauguration has been unusually controversial. Politicians, performers and other figures have declined to attend the event, citing the president-elect's incendiary rhetoric and divisive positions.
Representative John Lewis, a civil rights hero, has declined to attend the inauguration, in a recent interview with NBC News saying he does not see Trump as a "legitimate president." Staying true to form, Trump has responded to the remarks on Twitter, in one instance accusing the revered civil rights leader of being "all talk, talk, talk -- no action."
Lewis, a Georgia Democrat, won't be alone in playing inauguration hooky on Friday -- according to ABC News, some 65 Congressional Democrats plan to skip the event.
"Obviously we'd love for every member of Congress to attend, but if they don't, that's some great seats that other folks can hopefully partake in," Trump spokesman Sean Spicer told reporters on Tuesday.
While some Congress members and celebrities are objecting to Trump's presidency with their absence, much bigger crowds will do so with their presence. Hundreds of thousands of people are expected to flood into the nation's capital this week and over the weekend to protest Trump.
"This will definitely be one of the inaugurations with more protests," said Princeton University historian Julian Zelizer.
President Richard Nixon faced sizable protests at his 1969 and 1973 inaugurations due to objections to the Vietnam War. George W. Bush saw protests at his 2001 inauguration as well after losing the popular vote to former Vice President Al Gore in 2000.
Trump's inauguration will follow that tradition.
"Not only are there people there to celebrate the new president, but there are a lot of people, if not as many people, who are there to protest the president, protest the election and use this as a moment of opposition," said Zelizer.
Three times as many bus parking permits have been requested for the Women's March on Washington scheduled for Saturday than for the inauguration, according to multiple reports.
The Trump camp has said the president-elect is doing the bulk of the speechwriting work himself, with the help of advisers like Steve Bannon and Kellyanne Conway.
Trump told Earhardt this week that his first line will be "thanking everybody, all of the presidents," specifically the Obamas.
The speech is expected to last about 20 minutes, which is in line for most inaugural addresses.
"It's a short speech, not heavy on substance," said Zelizer. "You're trying to capture the essence of who you are and how you're going to govern with a few words and in front of a massive audience."
President John F. Kennedy said, "Ask not what your country can do for you, as what you can do for your country." President Franklin D. Roosevelt said, "The only thing we have to fear is fear itself."
It is unknown whether Trump, who has a well-known disdain for scripts and Teleprompters, will produce such a line. He'll always have, "Make America great again."