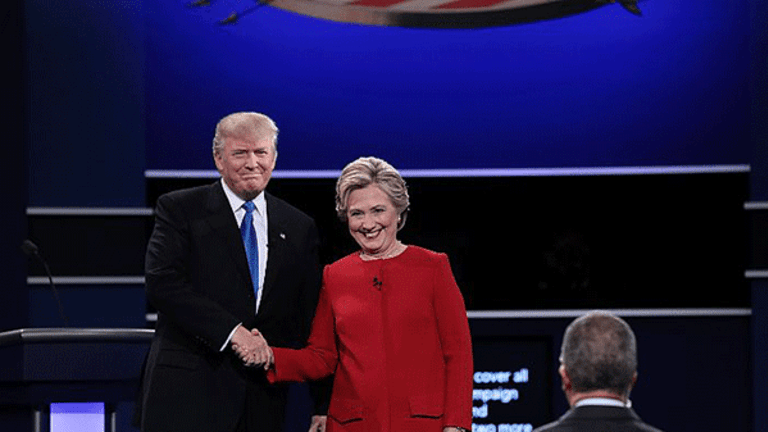 Preparation Pays Off for Clinton, Trump on Defensive at First Presidential Debate
"I think Donald just criticized me for preparing for this debate. And, yes, I did," said Hillary Clinton at Monday's debate. It showed.
"I think Donald just criticized me for preparing for this debate. And, yes, I did," said Hillary Clinton at the first presidential debate against Donald Trump. "And you know what else I prepared for? I prepared to be president, and I think that's a good thing."
Her preparation for Monday's clash at Hofstra University paid off, with several sources giving her the win, including online betting markets, network polls and investors in Asia, whose market movements TheStreet has tracked to the debate. 
Clinton and Trump clashed on a wide range of topics, including jobs, the economy, race, policing and the Federal Reserve. Even pop culture figures Howard Stern and Rosie O'Donnell were name-checked.
As anticipated, Clinton fielded the first question of the night, which was on jobs, the economy and putting more money into the pockets of American workers.
"The central question in this election is really what kind of a country we want to be and what kind of future we want to build together," she said, noting that Monday was her granddaughter's second birthday. "We have to build an economy that works for everyone, not just those at the top. That means we need new jobs, good jobs, with rising incomes."
Trump responded to the same question with his darker message on the economy.
"Our jobs are fleeing the country," he said, giving mention to some of the companies he often sights on the campaign trail as examples of these America-abandoners -- Ford (F) - Get Ford Motor Company Report , United Technologies'  (UTX) - Get United Technologies Corporation Report Carrier and Mondelez's (MDLZ) - Get Mondelez International, Inc. Class A (MDLZ) Report Oreo (he did not mention the cookie company by name). "We have to stop them from leaving," he said.
It wasn't just public companies that were on the agenda, private companies came up, too -- namely, those run by Trump. The real estate magnate found himself on the defensive on more than one occasions regarding his practices in the private realm.
Clinton hit him for rooting for the housing crisis. In 2006, Trump said he "sort of" hoped the housing market would crash because people like him would "go in and buy." The former first lady emphasized the devastation the collapse caused. "That's called business, by the way," he interjected.
She also attacked his business bankruptcies, which she said were six but he clarified were four. "We used certain laws that are there," he said, repeating a defense he invoked during the Republican primary debates last year.
Trump's tax practices also came up for discussion. The self-described billionaire has repeatedly declined to release his tax returns -- a practice followed by presidential nominees for the last 40 years -- arguing that because he is under audit he cannot disclose them. (By law, he can.) Clinton theorized all the negative reasons why he may be reluctant to let voters know what's in his taxes. "First, maybe he's not as rich as he says he is. Second, maybe he's not as charitable as he claims to be. Third, we don't know all of his business dealings," she said. "Or maybe, he doesn't want the American people to know, all of you watching tonight, to know that he's paid nothing in federal taxes."
He insisted that "you don't learn that much from tax returns," pointing to his financial disclosures filed with the Federal Election Commission. He also pledged to release his taxes if Clinton released her deleted emails.
Trump also insisted he has a much better temperament than his Democratic rival -- an argument she met with a chuckle.
As to how all if this will play with the American electorate, it remains to be seen, though the early signs appear to point in Clinton's direction.
A CNN/ORC snap poll shows 62% of respondents saying Clinton won the debate, while 27% said Trump came out ahead. The Asia markets bounced early Tuesday, perhaps in reaction to higher hopes for a more market-friendly (or at least predictable) Clinton presidency.
U.S.-based prediction market PredictIt, whose Andreas Katsouris joined TheStreet for the debate, saw a shift in Clinton's direction as well. Pivotal swing states like Ohio, Pennsylvania and Florida swung significantly during the showdown, as did the odds of who will come out ahead in November. Overall, the investment market for a Clinton win shifted by five-to-eight points for the election and in swing states.
When the debate began, online better market PredictIt gave Trump a 38% change at the White House. By the end, his odds had dropped to 31%. Clinton's odds, on the other hand, climbed to 69% from 64%.
"It's a deep and liquid market. For it to move that significantly suggests that, collectively, traders think something important happened today," said Katsouris.
Trump also appeared to have a bit of a case of the sniffles.