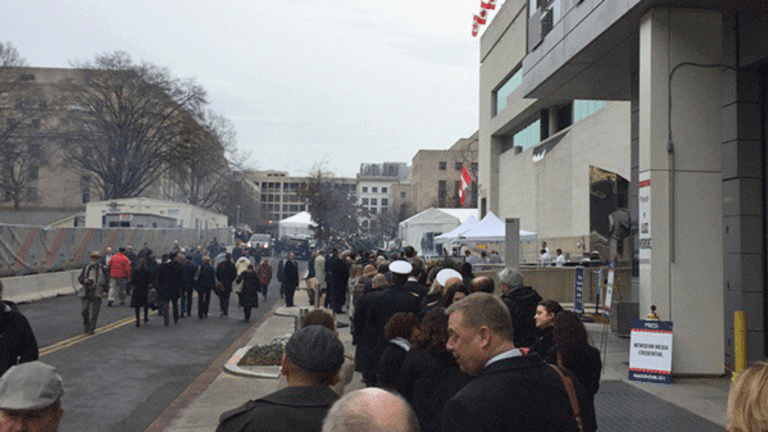 Poutine, Nafta and Molson at Canadian Embassy Trump Party
One former Obama Administration mused that the embassy could give out Canadian visas to Americans as party favors.
As Donald Trump was being sworn in as the 45th president of the United States, Canadians, Americans, Brits and others gathered Friday at the Canadian embassy in Washington to watch the inauguration parade and celebrate -- or commiserate -- over tourtiere burgers, steak-bites and Molson (TAP) - Get Molson Coors Beverage Company Class B Report Canadian beers. 
Not many Canadians appear to be rejoicing over the inauguration -- 62% told an Angus Reid survey in November they were upset with the Trump victory.
Nevertheless, with the prime location -- the only embassy right on the procession route -- hundreds of people -- about 1,800 -- were estimated in attendance at the Canadian event. There weren't many celebrities, although Trump's long-time adviser, Newt Gingrich, and his wife Callista showed up. 
The embassy set up photo booths and buffets amid several party rooms and posted amusing signs for attendees to choose, such as "Trust Me: I Work in D.C." and "I'm Aboot Canada." 
And while "Make America Great Again" hats were visible in large numbers on parade-goers' heads outside of the embassy, the mood inside was more somber. In one party room, attendees snacked on the iconic Canadian French fry dish, Poutine butno, while clapping or cheering could be heard immediately after Trump's speech.
One former Obama Administration in attendance mused that the embassy could give out Canadian visas to Americans as party favors.
A frequent subject of conversation involved comparing the 2009 Obama inauguration and the significantly smaller crowds and diminished enthusiasm, at least, early on Friday morning.
Anita Mosner, partner at a Washington law firm and a U.S. citizen attending the event, said D.C. was a "ghost town" compared to the crowds that descended on Washington for the Obama inauguration. She pulled out her cell phone to show photos of deserted sections of Georgetown and other parts of the city earlier in the day when she was commuting to the party. "There are a thousand empty parking spots in Georgetown," Mosner said. "Parking was no issue, getting down here was no issue, there was no one on the [Smithsonian] mall."
The future of the North American Free Trade Agreement also was a frequent subject of conversation. Canadian Prime Minister Justin Trudeau alluded to the trade issue in a congratulatory statement Friday, noting that "together" Canadians and Americans benefit from robust trade and investment ties that support "millions" of jobs on both sides of the border. However, earlier this week Trump's pick for Commerce Secretary, private equity mogul Wilbur Ross, said that one of the first things he will tackle if confirmed is renegotiating or axing Nafta.
One embassy party-goer, who works for a large U.S. dairy company, said he was excited about the prospects of renegotiating Nafta because he hopes it would make it easier for American dairy farmers to export to Canada, which has protectionist policies designed to block U.S. imports. "I hope they don't kick me out of the embassy," he said with a sheepish smile.
A legal attache with the British Embassy's defense staff said the party was a great networking event for him. However, he said he was not so sure Nafta would be renegotiated anytime soon. "There are many things people say in campaigning and then you have to get down to governing," he said. "I believe in free trade."
The attache added that when it came to British-U.S. trade, he viewed Trump's election as an opportunity. "If you think about the special relationship and the foundations of our common understanding they go back to the Magna Carta 800 years ago... We've got lots of history between us," he said. "There are opportunities here. There is guarded enthusiasm and a business-like approach for both sides to deliver."