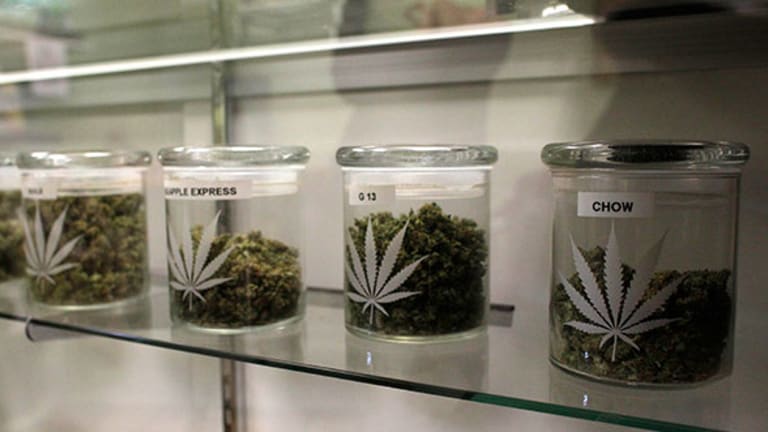 Pot Is on the Ballot in Election 2016, but Investors Should Proceed With Caution
Marijuana is on the ballot in several states this election cycle, and its approval could be a boon for those in the business -- though obstacles remain.
The $7 billion legal marijuana market could more than quadruple in coming years as voters in states including California, Nevada and Massachusetts decide next month whether to permit authorized consumption by adults, potentially setting the stage for federal legalization and boosting cannabis-related companies.
Arizona and Maine will also be voting to legalize the use of recreational marijuana in November, while Arkansas, Florida, Montana and North Dakota will consider medical marijuana initiatives. California alone could be a $10 billion annual market, while some estimates peg Massachusetts as worth $7 billion and Nevada worth $4 billion.
The approval of some or all of the initiatives would have a major effect on the growing marijuana industry, including cannabis-focused agriculture company Terra Tech (TRTC) , lawn-care product maker Scotts Miracle-Gro (SMG) - Get Scotts Miracle-Gro Company Class A Report, and British biopharmaceutical company GW Pharmaceuticals (GWPH) - Get GW Pharmaceuticals PLC Sponsored ADR Report, said Leslie Bocskor, president and managing member at Electrum Partners, a cannabis advisory firm, and board member at cannabis technology company Growblox Sciences (GBLX) .
"You're starting to see some well-run publicly-traded companies," Bocksor said. "It is absolutely historic in scope."
Scotts spokeswoman Molly Jennings declined to comment.
"We see a huge opportunity to pivot away from the medical market and really start to market and brand products for adult-use consumers," said Terra Tech CEO Derek Peterson, who noted his company is positioned in California and Nevada, where it stands to make the most gains.
California, Maine, Massachusetts and Nevada are regarded as having a good chance of seeing recreational initiatives approved, while Arizona is more of a toss-up. Including Colorado, Oregon, Washington, Alaska and Washington, D.C., where such initiatives have already been passed, that would mean a quarter of the country's population lives in a state that has adult-use access for cannabis, said Nick Kovacevich, CEO of marijuana packaging maker Kush Bottles (KSHB) .
"That would be huge, it's a big tipping point for the industry," he said.
California is considered the biggest prize. Besides the sheer size of the potential market, observers say marijuana legalization there could tip the scales for action federally.
"Everything starts and finishes with California," said Dan Humiston, president of the International Cannabis Association.
In California, the first state to authorize a medical marijuana program in 1996, Proposition 64 would legalize and seek to regulate recreational marijuana for people 21 and older. A late September poll from KPIX5/SurveyUSA found 52% of respondents favored the passage of the proposition, while 41% opposed it. Still, regulation is in flux, even after Governor Jerry Brown in October 2015 signed the Medical Marijuana Regulation and Safety Act (MMRSA) to create an agency to oversee dispensaries, cultivators and producers starting in January 2018.
"It's taking all the regulatory agencies and all the stakeholders longer than anticipated to roll out all the fine print and all the actual rules," said Kenny Morrison, CEO and founder of cannabis-infused products manufacturer VCC Brands.
Having the regulation wheels already in motion with MMRSA will help push the regulation process along for recreational should Prop 64 pass, but the timeline will likely be extended another year, Morrison said.
In Massachusetts, a recent poll by WBUR in Boston found 55% of respondents support legalizing recreational marijuana and 40% of oppose.
It isn't necessarily Massachusetts itself that excites the industry but instead its location, Kovacevich said. Residents of neighboring states such as Connecticut, New York and New Hampshire will be able to travel to Massachusetts to buy cannabis, though they won't legally be able to take it back to their home states. Massachusetts will keep the tax revenue, and legalization there could push neighboring states to consider similar initiatives.
"It's going to be a catalyst for the whole Northeast," he said.
He estimates the Massachusetts market to be worth $7 billion and Nevada to be worth $4 billion. The current market for legal marijuana in the U.S. could reach $7.1 billion this year, according to cannabis market research firm Arcview Market Research. The Nevada marijuana initiative has 51% support and 40.4% against, according to a Ballotpedia average of polls.
To be sure, it takes months, if not years, to go from voting for legal marijuana to actually buying and consuming it. Colorado took 14 months from the legalization vote to the start of sales, and in Alaska, where an initiative passed in 2014, a program still hasn't been implemented.
"I don't think that recreational will get implemented anytime soon," said Steve Gormley, managing partner and CEO at marijuana-focused private equity firm Seventh Point LLC. "I think we're looking at a horizon of a few years, potentially."
While states may legalize marijuana for medical and recreational use, it remains illegal federally and is classified as a Schedule 1 drug, the same as heroin and LSD.
Some politicians have pushed for reform, including Democratic Representative Jared Polis of Colorado, Republican Representative Dana Rohrabacher of California, Republican Senator Rand Paul of Kentucky and Democratic Senator Kirsten Gillibrand of New York. Vermont Senator Bernie Sanders called for the legalization of marijuana during his presidential campaign.
Neither Hillary Clinton nor Donald Trump has focused significantly on marijuana policy in their White House bids.
Clinton has said she would reschedule marijuana and would not want the federal government to intervene in states that have legalized it. At a February town hall, she said she has "no doubt there are very real benefits for people."
Trump has offered varying viewpoints on the issue, but two of his advisers -- Alabama Senator Jeff Sessions and New Jersey Governor Chris Christie -- are staunchly anti-marijuana, said Robert Capecchi, director of federal policies at the Marijuana Policy Project, a Washington, D.C.-based organization dedicated to marijuana policy reform.
"You can tell the person by the company the keep, and unfortunately for marijuana policy reform activists, he keeps individuals like Sessions and Christie in his close circle," Capecchi said.
Potential investors should proceed with caution, Gormley said. Investing in marijuana companies can be risky. Legality is an issue as well, especially when it comes to businesses that actually touch the plant.
The question of banking for those in the marijuana industry can be complex as well. Banks and credit unions, which are federally regulated, are prohibited from taking marijuana money. Businesses in the arena therefore required to keep most of their dealings in cash.
"You have to be really judicious about the investments you make in marijuana in general," said Gormley.
Edward Clarizio, founder of cannabis seed company the Cali Connection, said he and others are ready to hit the ground running if and when the floodgates open.
"Most of us are actually doing everything that we can to ensure that we're able to move forward with all the new guidelines that will take place," he said. "It's going to turn into what every other major industry is, a regulated industry."
Technical analyst Bruce Kamich of Real Money, our premium site for active traders, says the charts are high on pot stocks. Click here to see his full analysis.