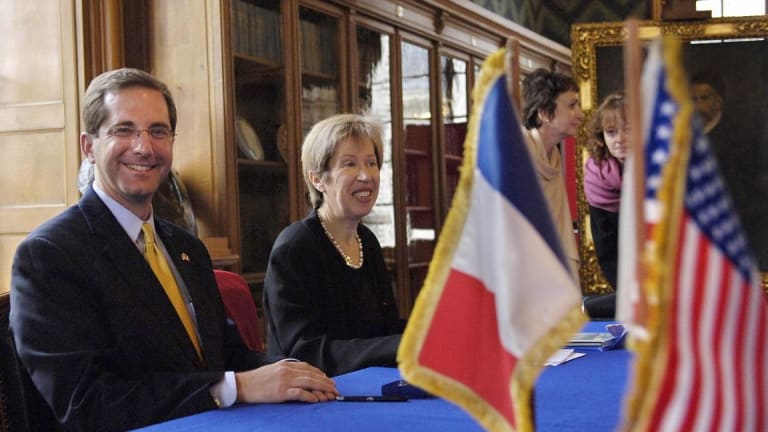 Possible Shift in Medicare Drug Organization May Give Pharma Heartburn
President Trump has been all bluster and tweets when it comes to the pharma industry and drug pricing. HHS Secretary Azar, though, seems to be serious about making changes.
A possible reshaping of how some Medicare drugs are paid for has drug companies feeling sick.
Health and Human Services Secretary Alex Azar's plan to consolidate at least some Part B prescription drugs under Part D could cost pharmaceutical companies real money since while there are no price negotiations under Part B, Part D includes discount, rebates and negotiating tools.
Part B drugs are those that are administered in a doctor's office, clinic, hospital or someplace beyond the patient's home. Generally, the price paid by Medicare for these drugs is the average sales price plus 6%. But Part D drugs are cheaper, reaping an average of almost 24% of the list price, thanks to private insurers bidding and negotiating regarding coverage.
Azar, who caught some flack during the appointment approval process for his background, which included a stint as president of Eli Lilly and Co. (LLY) - Get Eli Lilly and Company (LLY) Report , appears to be right at home now going up against his old industry. In a speech Wednesday, May 16, at the American Enterprise Institute, Azar served notice that the Trump administration may be moving beyond bluster and tweets when it comes to the pharma sector.
Eli Lilly is a holding in Jim Cramer's Action Alerts PLUS Charitable Trust Portfolio. Want to be alerted before Cramer and the AAP team buy or sell LLY? Learn more now.
"The single greatest threat to patient affordability and access to prescription drugs in America is high list prices, set by drug companies and incentivized by today's system," Azar said. "Let me be really clear about this, we are going to bring negotiation to Part B drugs, and we are going to give Part D plans more bargaining power. It's going to happen, so it would be most productive if the pharmaceutical industry came to us with a plan for these changes."
On the campaign trail, Trump was a fan of opening up all of Medicare to drug pricing negotiations, a populist idea that enjoyed support from Democrats in the capitol but one that also bumped up against existing law. It was unclear at the time if Trump understood the legal challenges to the idea, but he has since given that fix up. He and Azar now want to pursue the Part B to Part D shift, which can be accomplished without going to Congress for support, a place where the pharmaceutical industry has spent lavishly.
In the 2016 election cycle, drugmakers spent $22.1 million on federal political contributions, according to the Center for Responsive Politics. Those same companies spent $171.5 million on lobbying last year and so far this year have shelled out $57.3 million.
Moreover, as was demonstrated with the efforts to repeal and replace Obamacare, the Trump administration couldn't get the House and Senate united on a critical move. And while Trump might enjoy support from lawmakers on "Fox & Friends," that backing sometimes disappears on roll call votes.
The move to Part D, referred to in Washington as a "Competitive Acquisition Program", would allow some drugs to move from Part B under a clause allowing a shift for experimental models.
Mike Strazzella, administrative head at lobbying firm Buchanan Ingersoll & Rooney PC, warned that shifting Part B drugs to Part D wouldn't be simple, though.
"The concept of shifting Part B drugs to Part D does not address the full spectrum of the cost continuum, and any proposal should take that into account," he said.
It also didn't take long for trade group Pharmaceutical Research and Manufacturers of America to stake out its position, asserting there were "serious concerns" regarding a Medicare drug shift. PhRMA executive vice president Lori Reilly told a gathering at the Alliance for Health Policy on Tuesday that patients sometimes have less out-of-pocket expense under Part B and a shift could impact affordability and access. The organization also has cautioned that shifting drugs to Part D could undermine the structure of the program.
Azar, however seems unfazed.
"If pharma doesn't come to us with a plan for which drugs to move from Part B to Part D, we'll decide for them," he said.
TheStreet presents on May 22: "How to Stomach Market Volatility." Hosted by Fisher Investments, the exclusive live webinar will give you the tools to successfully navigate market volatility and discuss why having a wealth manager is more critical than ever before. Quickly register for the event here.