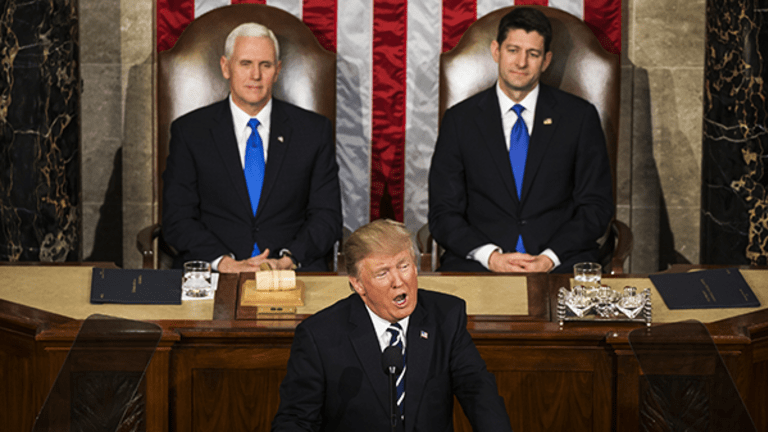 Pharma, Biotech Stocks Fall on Trump Tweets, GOP Health Care Plan
Investors are deciding what to make of an impending overhaul of the American health care system in the wake of legislative progress out of Washington.
Investors are deciding what to make of an impending overhaul of the American health care system in the wake of legislative progress out of Washington.
Investors are deciding what to make of an impending overhaul of the American healthcare system in the wake of legislative progress out of Washington.
House Republicans unveiled the American Health Care Act on Monday evening, introducing their highly-anticipated plan to repeal and replace the Affordable Care Act passed under the Obama administration. The White House offered an initially tepid response to the plan, with President Trump weighing in further via Twitter on Tuesday morning. Wall Street weighed the effect of the activity.
Pharmaceutical and biotech stocks dipped Tuesday when the president said in a tweet he is "working on a new system where there will be competition in the drug industry," promising pricing will "come way down."
Mallinckrodt (MNK) - Get Report shares slipped about 4% in midday trading, and Perrigo (PRGO) - Get Report fell about 2.5%. Allergan (AGN) - Get Report , Gilead Sciences (GILD) - Get Report , Eli Lilly (LLY) - Get Report and Alexion Pharmaceuticals (ALXN) - Get Report fell as well. The SPDR S&P Pharmaceuticals ETF (XPH) - Get Report dipped nearly 2%, and the iShares NASDAQ Biotechnology Index (IBB) - Get Report declined more than 1%.
Tuesday isn't the first time Trump has highlighted drug pricing and in turn rattled stocks. At a January press conference as president elect, he said drugmakers were "getting away with murder" on pricing. He discussed the matter in a meeting with drug company lobbyists early on in his tenure, reiterating his interest in lowering prices and upping U.S. production.
Despite Tuesday's tweet and some off-the-cuff comments on pharmaceutical pricing, Trump has not yet put forth a plan to tackle the matter. The issue is not included in the House GOP's healthcare plan.
A White House spokesman said in an email the president has been "steadfast in his commitment to reducing the regulatory burden on everyday Americans" and as demonstrated in his pharma meeting is "committed to making drugs more affordable while promoting innovation, and cutting regulations to encourage drug companies to bring back operations and jobs to the United States." He did not provide details on the new system for drug industry competition Trump promised on Twitter.
"Biotech and pharma, generally speaking, are safe for now," said Andrew Parmentier, managing partner at Washington, D.C.-based investment firm Height Securities. "Investors have to realize, at this stage, it's a lot of jawboning,"
While drug pricing is an issue lawmakers might someday have to cover, there isn't an enormous amount of political will to do so now, at least among Republicans.
"Republicans have long been champions of managed care companies and the pharmaceutical industry, so the financial straits would have to be fairly severe for drug pricing language to be included in this legislation at some point down the road," said Parmentier.
The ability to sell insurance across state lines, another item Trump has often mentioned, has been left out of the GOP tax plan as well. The president tweeted about it on Tuesday, promising it would come in later phases of healthcare rollout. Brendan Buck, spokesman for House Speaker Paul Ryan (R-WI), confirmed Trump's assertion in a tweet of his own.
Merrill Matthews, resident scholar at right-leaning think tank the Institute for Policy Innovation, expressed skepticism at the notion that "getting rid of state lines," as Trump puts it, is effective.
"Even though Trump still likes it, those of us that have been in this for a while don't think it will do much good at all," he said. Health insurance is tied to local networks of doctors and hospitals, and getting a cheaper plan three states away doesn't do much good.
Beyond Trump's Tuesday-morning tweets is a broader story on Republicans' plan to rework the more than $3 trillion United States healthcare system.
"If they passed it, would it create a viable health insurance market? There, I think the jury is still out," said Roger Feldman, professor of health policy and management at the University of Minnesota.
"We see on balance fewer lives covered under this proposal given tax credits replace more generous subsidies under Obamacare, though likely with more positive margins for managed care as essential benefits are repealed and plans enjoy more flexibility with networks, essential benefits are repealed and there is a bigger move to catastrophic coverage with [health savings accounts,]" said Leerink analyst Ana Gupta in a note on Tuesday. She said the GOP bill is generally positive for Medicare and commercial managed care companies and worse for managed Medicaid and healthcare facilities.
Shares of United Healthcare (UNH) - Get Report , which has largely pulled out of Obamacare exchanges, were up slightly on Tuesday. Cigna (CI) - Get Report , Anthem (ANTM) - Get Report and Aetna (AET) were all marginally positive as well.
Humana (HUM) - Get Report rallied 2%. Parmentier said he believes the company could be a target of acquisitions in the wake of the breakup of its Aetna deal. "They're obviously very heavily involved in the Medicare Advantage market, which has great margins which are largely untouched. I think they'll be a very attractive target for someone," he said.
Parmentier also mentioned Johnson & Johnson (JNJ) - Get Report and Bayer (BAYN) as potential winners tied to the reestablishment of over-the-counter medications as a qualified medical expense. He said in the hospital space, Community Health Systems (CYH) - Get Report is more exposed to the risk of a significant drop in coverage compared to HCA Holdings (HCA) - Get Report . CYH shares fell nearly 5% Tuesday, HCA was down about 1%.
To be sure, healthcare reform is still far from being a reality in Washington.
"Our plan is the first step," said Representative Greg Walden (R-OR), chairman of the House Energy and Commerce Committee that will hold a markup of the bill on Wednesday, in a Tuesday press conference.
Four Republican Senators on Monday drafted a letter to Senate Majority Leader Mitch McConnell calling for the ACA's Medicaid expansion to be maintained (the House GOP plan rolls it back). Conservative advocacy group the Club for Growth announced in a statement its opposition to "Ryancare," calling for a full and repeal of Obamacare. Senator Rand Paul slammed the House plan as "Obamacare Lite." Democrats firmly oppose the bill.
"It's pretty clear that this is the first word in the process and not the last word," said Feldman.
Mizuho Securities analyst Sheryl Skolnick was more cutting in her assessment in a note on Tuesday: "We'll see if this thing has a prayer of passing."