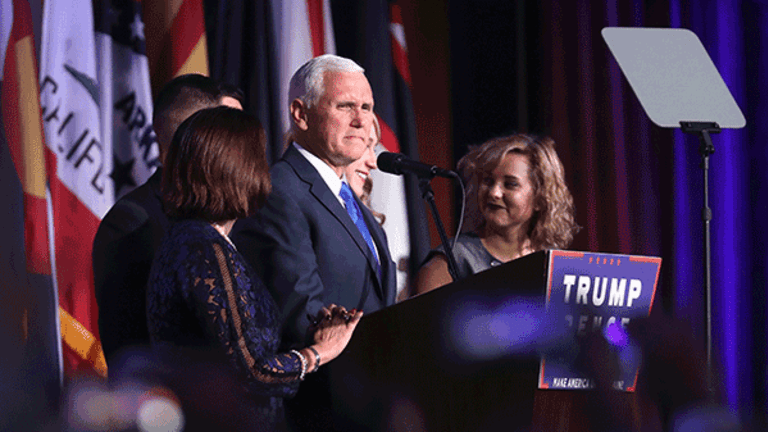 Pence Starts PAC to Fund Travel, Buy Emails as Trump Woes Grow
Mike Pence is starting an unprecedented and awkwardly timed political action committee.
U.S. Vice President Mike Pence is starting an unprecedented and awkwardly-timed political action committee.
Pence filed paperwork with the Federal Elections Commission on Tuesday for the launch of Great America Committee, a federal leadership political action committee he will head. The group will fund Pence's travels for non-official business and support other candidates and elected officials. While organizers say the PAC's launch has been months in the making, no previous vice presidents have taken the same course of action, and it comes a day after a federal special prosecutor was named to probe President Donald Trump and his administration for possible collusion with a foreign power during last year's election campaign.
"[Pence] wants to be able to support people who are supporting the president," said Nick Ayers, a long-time Pence aide who will head the group alongside Pence fundraiser Marty Obst. "Whether it's members of Congress on Capitol Hill who have been champions of passing the president's agenda or candidates who are running on his platform, this entity can directly support those candidates."
Beyond supporting candidates and funding Pence's non-official travel, the PAC will also transfer email addresses and donor information currently trapped in his gubernatorial accounts to a federal one. Election laws bar Pence from using the assets he amassed as governor of Indiana. Great America Committee will be able to buy those assets from his state organizations and share or rent that information to other organizations.
Ayers estimates Pence is in possession of information on more than 100,000 potential donors and supporters, often a powerful and lucrative asset in politics, though it is doubtful his list of Indiana donors would be even close to rivaling the list already amassed by the Trump campaign committee.
"His political assets and database have not been able to be used, this puts us in the position where we can begin to use them and grow them," Ayers said.
Leadership PACs are committees established by current and former members of Congress and other prominent political figures to raise money and support candidates and causes. They can accept $5,000 a year from individual donors or other political action committees. Limits on how much they can donate vary from $10,000 to state parties to about $5,000 to candidates per election.
While leadership PACs have become increasingly commonplace in recent years, leadership PACs by vice-presidents have not, said Larry Noble, senior director at Washington, D.C. watchdog the Campaign Legal Center. "It's a bit odd," he said.
No one contacted by TheStreet could recall such a setup by other vice presidents.
Ayers said that Pence's situation is unique. Joe Biden was already a federal official (a U.S. senator) when he became vice president, and Dick Cheney was sworn in before the Bipartisan Campaign Reform Act regulating political campaign financing was enacted in 2003.
"This is the first time you've had this situation with modern campaign finance law," he said.
Political strategists and campaign law experts in conversations noted that the timing of the group's launch is awkward.
The FEC filing landed on Tuesday, the day after the New York Times reported President Trump asked former FBI Director James Comey to drop an investigation into since-ousted National Security Adviser Michael Flynn. Former FBI Director Robert Mueller has since been appointed as special counsel on the Russia investigation.
"It seems like very weird timing," said one Republican consultant who discussed the matter on the condition of anonymity.
"It's not normal, but nothing is normal with this administration," said Jon Reinish, Democratic strategist at SKDKnickerbocker.
Case in point: on the day of his inauguration, Trump notified the FEC that he qualifies as a candidate for the 2020 election.
To be sure, this isn't the first White House to raise eyebrows with campaign and election activities. President Obama broke new ground when he set up a nonprofit organization and transferred excess campaign funds to it.
Leadership PACs are generally viewed as a way for the politicians and lawmakers who helm them to increase their status as leaders and improve their standing within their parties, something Pence has already achieved. Moreover, Trump already has a presidential campaign committee that is raising money and hosting events of which Pence is assumed to be a part.
Reinish conjectured this could be that Pence is realizing he needs to strike out on his own, or it could be the White House recognizing they need all of the support that they can get. "Pence is less toxic than Trump," he said. "Donors could be way more willing as time drags on to write a check to a Pence-branded organization than a Trump-branded organization."
Great America Committee could be opening itself up to scrutiny if its activities are viewed as a way to sidestep contribution limits and essentially allow the Trump team to double dip from the same pool of donors.
Ayers said the group will ensure its activities are all above-board, and once the 2020 election cycle arrives, it will determine how the leadership PAC can be used and leveraged and follow rules on items such as common vendors and coordination.
As for the timing, the Great America Committee says the organization has been in the works since December and just now has all of its legal ducks in a row to launch.
Editors' pick: Originally published May 18.