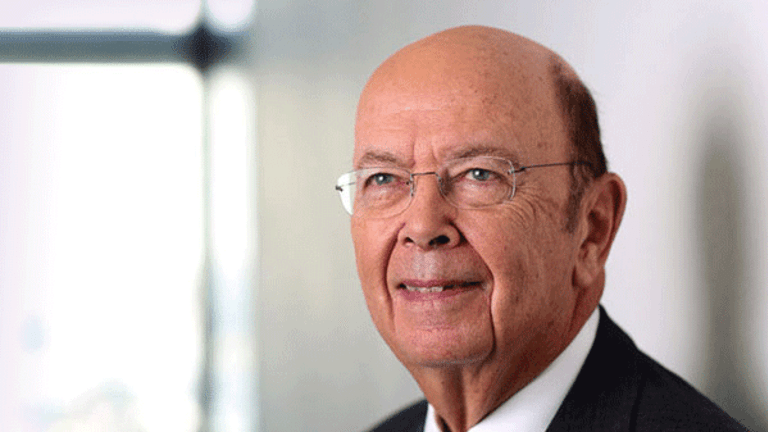 Billionaire Wilbur Ross Wants to Quickly Overhaul One of the Most Controversial Trade Deals Ever
Ross is Trump's pick for Commerce Secretary.
President-elect Trump's pick for Commerce Secretary, Private equity mogul Wilbur Ross, on Wednesday said that one of the first things he will work on if confirmed for the position is renegotiate the North American Free Trade Agreement, a key goal of the incoming administration.
"As to Canada and Mexico... NAFTA is logically the first thing we should deal with," Ross told lawmakers at his confirmation hearing before the Senate Commerce Committee. "We ought to solidify relationships in our own territory before we go off to other jurisdictions."
In addition to NAFTA, at the hearing, Ross said he will seek to "level the playing field" with China, arguing that the country talks much more about free trade than they practice it. The President-elect has frequently taken issue with NAFTA and China's trade policy, arguing that both have cost the loss of millions of U.S. manufacturing jobs. Trump has said he would either seek to renegotiate NAFTA or leave it.
Ross also responded to concerns that he earned a large part of his private equity fortune by running businesses that have moved thousands of jobs offshore. A company Ross created, International Automotive Components Group, for example, closed a factory in Ohio and shifted production of car floor mats to Mexico. Ross defended the move, saying that a key customer of the company moved to Mexico and that it "insisted" that IAC should move its business to Mexico "so he doesn't have to hold any inventory."
The nominee received glowing support from Republican lawmakers, including Sen. Marco Rubio, R-Fla., who gave Trump's Secretary of State pick, Rex Tillerson a difficult time over the outgoing Exxon (XOM) - Get Exxon Mobil Corporation Report CEO's relations with Russia.
Democrats, meanwhile, gave Ross mixed reviews over his plan to divest the vast majority of his personal holdings, but not all. Lawmakers praised his move to resign from a wide variety of public and private corporate boards. According to Ross's filing with the Office of Government Ethics, Ross currently is a director or trustee at 82 organizations, including public corporations, investment funds and non-profit businesses.
"It tells me you are committed to doing the job the right way by placing the public interest ahead of your own," said the top Democrat on the commerce panel, Sen. Bill Nelson, D-Fla., about the Ross plan to divest most assets and step off corporate board.
However, Sen. Maria Cantwell, D-Wash., took issue with a decision by Ross not to divest his stake in privately-held Diamond S Shipping Co. Ltd., a tanker company, arguing that there were many aspects of his position as Secretary of Commerce that that could benefit the business if his doesn't recuse himself from various obligations. She raised as concerns about whether the Ross investment could conflict with the Oil Spill Liability Trust Fund, which shippers pay into, and the broader Oil Pollution Act, which seeks to respond to catastrophic oil spills.
"There are many, many aspects to your new job that will be about the regulation of this [shipping] industry," Cantwell said. "I want to make sure that as these issues are discussed within your organization, are you going to recuse yourself from those issues?"
A few Democrat senators praised Ross for his move to divest more than 90% of his investments and resign from dozens of board positions. However, they questioned why Ross was able to make those divestitures while the President-elect didn't do the same. "The [divestiture] process has been complex and costly to you personally," said Sen. Richard Blumenthal, D-Conn., "Shouldn't the president do the same?"
Sen. Tom Udall, D-New Mexico, said he expects Ross will take a big role in international trade negotiations, adding that he was concerned that the president-elect and his family will have a wide-variety of global assets that "other countries could seek to use as leverage with the U.S. in negotiations. He suggested that it would make his "job negotiating international trade issues easier" if the president-elect divested his financial holdings. 
While Trump's nominee for White House Trade Council, Peter Navarro and his U.S. Trade Representative nominee Robert Lighthizer are rather hawkish on China, Ross' approach is less clear.  Ross sought to clarify his position by suggesting not only that he will seek to level the playing field with China, but that he wants to work in a collaborative process with Navarro and Lighthizer to solve the trade issue. "We will try our best collectively to do what is best for this country," Ross said.
Ross said he isn't anti-trade, but rather that he pro "sensible trade." However, he said that countries that don't play fair when it comes to trade should be punished.
Some observers contend Ross may not be as keen on involving himself in trade talks as anticipated. "Wilbur Ross may end up having a lower role in trade than Trump thinks he'll have," said Matt Gold, adjunct professor of law at Fordham University and former deputy assistant trade representative under the Obama administration. "Once he gets into a room with people that better understand the implications of violating trade agreements and the difficulties of renegotiating trade agreements, Wilbur Ross may not be so excited about being the lead trade policy person for this administration."
Ross sits on the boards of a number of major companies he will have to step off of, according to data gathered by TheStreet's relationship mapping service BoardEx, including ArcelorMittal (MT) - Get ArcelorMittal SA Report , the world's largest steel company, the Bank of Cyprus, Exco Resources Inc. (XCO) , Sun National Bank (SNBC) and Nexeo Solutions Inc. (NXEO) - Get Nexeo Solutions, Inc. Report .
—Emily Stewart contributed to this report