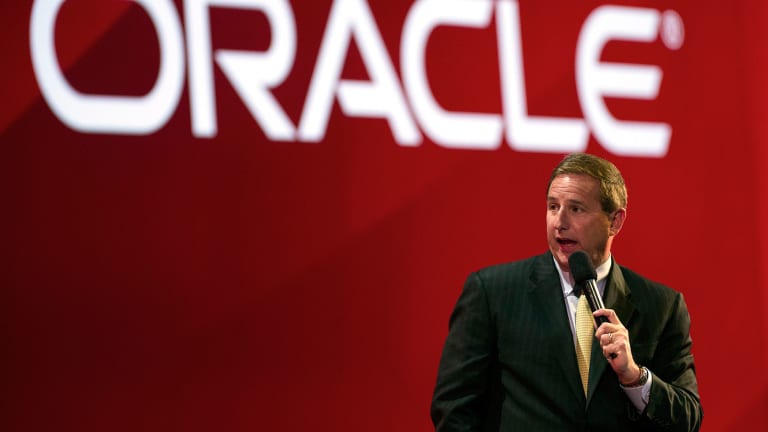 Oracle Falls After Judge Sides With Pentagon in $10B Government Contract Case
The judge allowed the Defense Department to void its $10 billion contract with Oracle, clearing the way for Amazon and Microsoft to compete for it.
A judge sided with the Department of Defense in a case brought by Oracle (ORCL) , allowing the government to void a $10 billion contract that had been awarded for Oracle to build a cloud program specifically for the military. 
Eight months ago, Oracle sued the government after it cancelled the contract, claiming that Oracle could not meet certain qualifying criteria when bids were due late in 2018. 
"Because the court finds that [gate criteria] is enforceable, and Oracle concedes that it could not meet that criteria at the time of proposal submission, we conclude that it cannot demonstrate prejudice as a result of other possible errors in the procurement process," Judge Eric Bruggink's ruling stated. 
The ruling clears the way for the Pentagon to award its contract for the Joint Enterprise Defense Infrastructure (JEDI) to either Microsoft (MSFT) or Amazon  (AMZN) , two companies the government identified last month as being the front-runners for the contract.
"This is a clear win for Amazon and Bezos, as if any major issues went against the company on this ruling it would have been a dagger in our opinion against ultimately winning the JEDI contract," Wedbush analyst Dan Ives wrote in a note after the decision was announced. Ives wrote that he believed Amazon and Microsoft had roughly equal chances of winning the massive government contract. 
JEDI will be a commercially built and operated cloud to host battlefield, tactical and classified data to be analyzed and used to increase the lethality and connectivity of war fighters. 
Oracle shares were down 1% to $59.40 on Friday after the decision, while Amazon shares were up 0.54% to $2,011.82 and Microsoft shares rose 0.25% to $138.74.
Save 45% with our Prime Time Sale. Join Jim Cramer's Investment Club, Action Alerts PLUS, to become a smarter investor! Click here to sign up!
Microsoft and Amazon are key holdings in Jim Cramer's Action Alerts PLUS charitable trust.