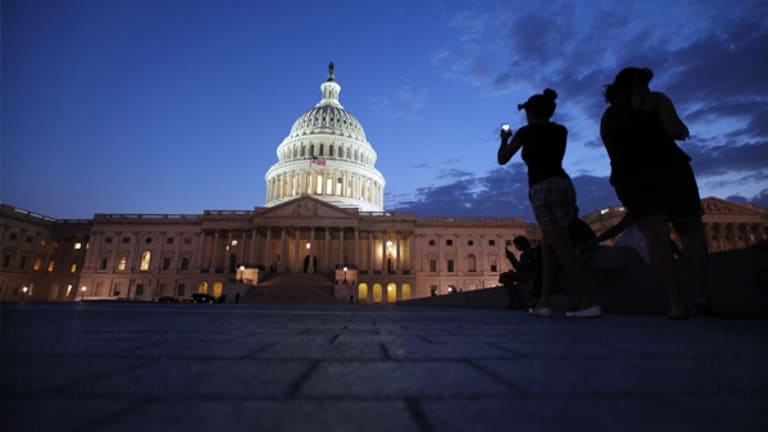 Opinion: McCain Can't Afford to Stand Pat
With three weeks to go to Election Day, the Republican nominee for president is behind in the polls. Why isn't he trying to shake things up?
For more articles like this, check out our Political Pulse section.
Sen. John McCain's (R., Ariz.) recent
has continued on a downtrend, with a
today indicating that likely voters favor Sen. Barack Obama (D., Ill.) by 10%.
With only three weeks left till Election Day, McCain's campaign needs to move quickly. Rumors have swirled about what McCain might do coming into this week, including the possibility of more tax-cut proposals. However, a speech he gave today suggests he'll be taking no new action. But can he afford to stand pat?
One might think that the McCain campaign would be busy devising a strategy to overcome the deficit. However, he started off his stump speech Monday in Virginia Beach, Va., in a familiar fashion -- attacking Obama with the argument he's unprepared for the presidency. McCain said:
"The next President won't have time to get used to the office. He won't have the luxury of studying up on the issues before he acts. He will have to act immediately. And to do that, he will need experience, courage, judgment and a bold plan of action to take this country in a new direction. We cannot spend the next four years as we have spent much of the last eight: waiting for our luck to change. The hour is late; our troubles are getting worse; our enemies watch."
The latest ABC poll indicates the McCain campaign's negative attack ads on Obama are hurting McCain with expected voters.
McCain recognized his poor standing in the polls. He said:
"Let me give you the state of the race today. We have 22 days to go. We're 6 points down. The national media has written us off. Senator Obama is measuring the drapes, and planning with Speaker Pelosi and Senator Reid to raise taxes, increase spending, take away your right to vote by secret ballot in labor elections and concede defeat in Iraq. But they forgot to let you decide. My friends, we've got them just where we want them."
Last week, McCain unveiled his
. McCain seems to believe he's well-positioned even as he trails Obama in the polls. "We have to act immediately. We have to change direction now. We have to fight," McCain said. However, today he offered no new direction -- in terms of proposals or strategy -- to overcome his deficit in the polls.
McCain faced similar long odds last summer in the Republican primaries. However, he had months to recover from the debacle over his support for a comprehensive immigration reform. He has a mere three weeks now. His only remaining opportunity may be this Wednesday's final debate at Hofstra University. The polls indicate that undecided voters have been underwhelmed with his performances in the first two debates. He needs a game-changing performance.
Obama, on the other hand, has decided not to stay pat on his proposals. On Monday, he announced several new economic policies aimed at aiding the middle class. At a campaign stop in Toledo, Ohio, he criticized McCain, saying:
"Last week, Senator McCain's campaign announced that they were going to 'turn the page' on the discussion about our economy so they can spend the final weeks of this election attacking me instead. His campaign actually said, and I quote, 'if we keep talking about the economy, we're going to lose.' Well, Senator McCain may be worried about losing an election, but I'm worried about Americans who are losing their jobs, and their homes, and their life savings."
Obama announced four specific proposals at the rally. He plans a tax cut for employers demonstrating a net increase of new jobs. He also endorsed McCain's idea to stop forced 401(k) withdrawals for seniors and went farther by suggesting a one-time tax-free redemption from 401(k)s (15%, or up to a maximum of $10,000). He recommended a 90-day moratorium on foreclosures for homeowners acting in good faith to make payments. Finally, he would create a lending facility for states and localities that have been adversely affected by tight credit markets.
The campaign is winding down. And McCain may be facing his final chance to score big on Wednesday night in the final debate.