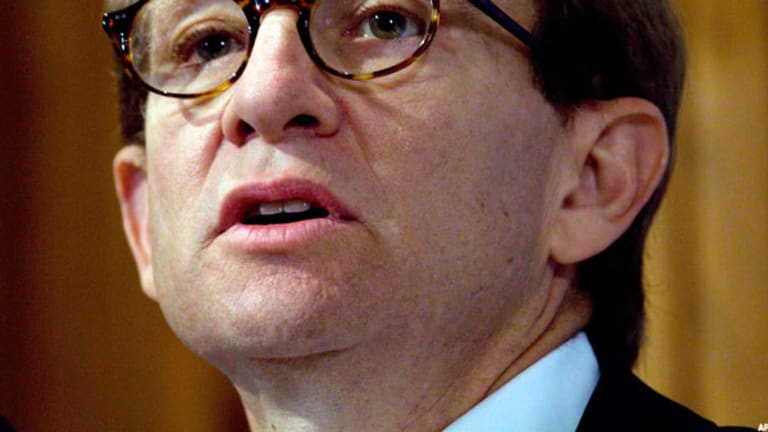 Obama's Legacy Will Be Defined by Deficit Reduction, Says Car Czar
Steven Rattner, Obama's former 'car czar' tells <I>TheStreet</I> that long-term deficit reduction and budget reform will define the president's legacy.
NEW YORK (
) -- Steven Rattner thinks long-term deficit reduction and budget reform will be the Obama administration's biggest issue to tackle in his second term.
Speaking to
TheStreet
after a panel discussion for The Deal Economy 2013 conference held at
The New York Stock Exchange
, Rattner said he believes the president understands that a long-term solution to the country's deficit and other major budgetary matters, such as tax reform, will "define" his legacy as United States president.
Rattner's comments were about broad budget reforms that would come about during the next four years, not specifically about the ongoing negotiations of the so-called fiscal cliff.
During the panel discussion, Rattner was more pessimistic about what Congress and the president will be able to achieve concerning the
-- when tax relief measures and deep spending cuts will automatically go into effect at the beginning of 2013 -- as he said he wasn't "real optimistic" that a "major deal" would happen.
Rattner may be
best known as Obama's appointed "car czar,"
who the administration tapped to lead the team that eventually devised the bailout plan for the America's automotive giants, specifically
General Motors
(GM) - Get Report
and
Chrysler
.
"I think Steve is right; the longer lasting problem is that ... the long-run trajectory is for spending that increasingly outpaces the revenues, and therefore we need to do something about that," said Benjamin Friedman, an economist at Harvard University who has written extensively about fiscal policy. "The reason these measures
automatic spending cuts and tax increases are there is that we have a very significant, long-term fiscal problem."
Early discussions about the fiscal cliff have left investors with very few details from House Republicans staying mum on what avenues they would deem acceptable for generating new revenue and to the lack of details on what spending cuts the White House and Democrats would be willing to make.
The president has outlined new tax revenue streams in his
, which include, among other measures, raising dividend and capital gains taxes, and lifting the marginal rates of the wealthiest 2% of income earners.
Republicans have said they are open to new revenues, but have repeatedly opposed raising taxes on any Americans, regardless of their tax bracket.
"Republicans have taken action to avert the fiscal cliff by passing legislation to stop all the tax hikes, to replace the sequester and pave the way for tax reform and entitlement reform," House Speaker John Boehner (R., Ohio) said Thursday in a press conference.
Various business CEOs met with Obama on Wednesday to discuss the need to generate more revenue from companies and certain individuals, alike.
Asked if he felt like the need for sweeping budget reforms could be compared to the sweeping tax reforms Ronald Reagan's administration implemented for individuals and companies in 1986, the former car czar said: "Reagan got it done."
-- Written by Joe Deaux in New York.
>Contact by
.