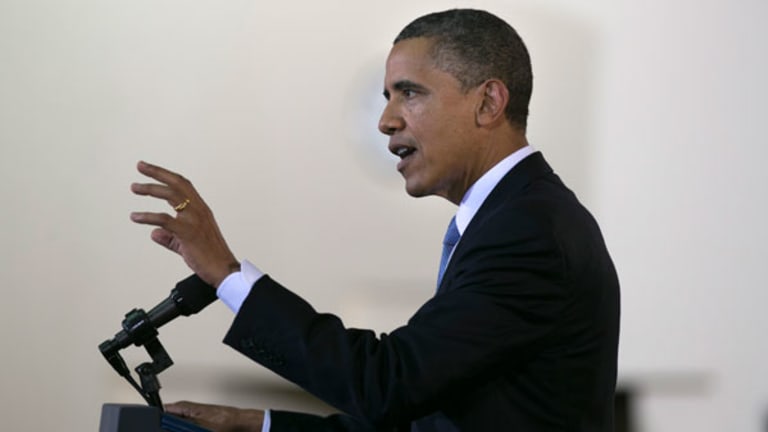 Obama's Campaign Stays Active on Fiscal Cliff
The president emails supporters with details of his budget plan, but adds that he is flexible.
NEW YORK (
) -- While
the president pardons a turkey
for the Thanksgiving holiday, it could be positive news to investors that his campaign is still actively seeking support for a balanced approach to budget reform.
Barack Obama's campaign isn't over; in fact, it's still quite vibrant and was active on Wednesday with an email to supporters that provides details of the president's budget plan to avoid the
.
Members of Congress are set to return to their districts and states for the Thanksgiving weekend to gather constituents' thoughts on the budget crisis as House and Senate leaders continue closed-door negotiations.
But the president's now-ended campaign has used its exhaustive email directory to outline specifics of Obama's 2013 budget from the White House's official Web page.
"Your voice and action helped re-elect President Obama," the email to supporters noted. "Right now, President Obama is working with leaders of both parties in Washington to reduce the deficit in a balanced way so we can lay the foundation for long-term middle-class job growth and prevent your taxes from going up.
The email was heavily focused on the advantages that middle-class income earners could enjoy if Congress passes Obama's budget.
It warned that middle-class taxes could go up $2,200, which likely is a scenario that would occur if the realization of all of the automatic tax increases and spending cuts went into effect at the beginning of 2013.
Though taxes would go up for the majority of income earners in the event of a full plunge over the cliff,
that legislators may push the budget crisis back a few months into 2013 and temporarily extend some tax cuts until the new Congress (Capitol Hill is currently holding lame-duck sessions until new members are sworn in during January) can approve a budget.
The email claimed that the president's plan would extend tax cuts to 98% of Americans and 97% of small businesses, and would cut spending by more than $3 trillion. Interesting to note is that the email said the tax cuts would go into effect "immediately," which would be the case for any budget approved by Congress and signed into law by the president, regardless of whether Democrats or Republicans authored it.
After outlining the advantages to middle-class Americans, the email struck the
bi-partisan tone that investors have quickly gotten used to
this week among leaders in Washington D.C.
"That's the President's plan, but he's not wedded to every detail. He is determined to work with Congress to find compromise and common ground," the email said.
The email also took a jab at House Republicans though as it said the Senate (which is controlled by Democrats) had already passed a bill to keep taxes low. House Republicans have used a similar argument as they've repeatedly argued that the House had passed a budget but the Senate had not.
In other words, the House has refused to accept the Senate's budget proposal, while the Senate has denied the House proposal.
-- Written by Joe Deaux in New York.
>Contact by
.