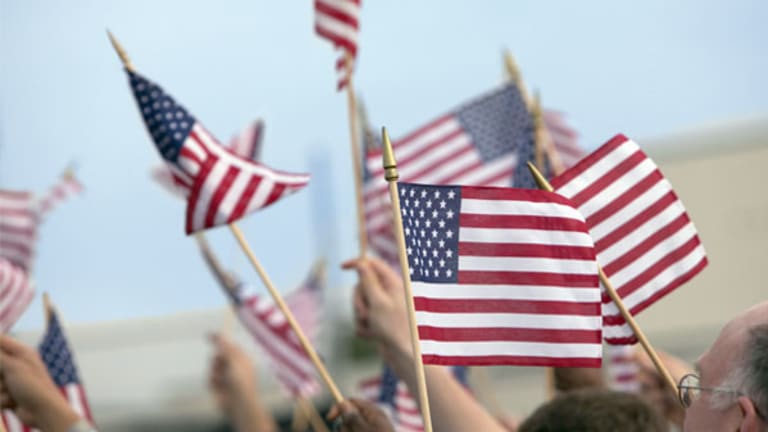 NEW YORK (
) -- Barack Obama should identify with Ronald Reagan's experiences when opponents question the current president's first term.
Three key economic indicators that threaten Obama's hopes in November posed similar problems during Reagan's first four years as commander in chief. Reagan ended up winning in one of the largest electoral landslides in U.S. history.
Ronald Reagan overcame a whole term of economic volatility to win in 1984
Unemployment, gross domestic product and
S&P 500
performance all weigh on investors and voters as they prepare to select a president, so we tracked each indicator's quarterly results during Reagan's and Obama's first-terms.
Election 2012: Facebook Likes Obama More Than Romney >>
Quarterly unemployment was above 10% at the end of four straight quarters during Reagan's first term -- the worst quarter-ending rate under Obama has been 9.9% -- but by May 22, 1984, the rate had dropped to 7.8%, or 0.4 percentage points lower than Obama's current rate.
Quarterly gross domestic product growth shows that Reagan oversaw a massive contraction from the first to the second quarter in 1981. When the former president entered office, the United States reported GDP percent change of 8.6% in the first quarter before a dive at -3.2% in the second quarter.
Obama hasn't seen that great of a drop, but he entered at a GDP bottom -- during his first quarter, it contracted by -6.7%, but slowly crept up to 3.9% growth by the first quarter of his second year.
Whereas Obama has sat on relatively flat quarter-to-quarter change in GDP, Reagan, after two straight quarters (fourth quarter of his first year, and first quarter of his second year) that saw contraction by -4.9% and -6.4%, enjoyed a healthy explosion. December of 1982 showed 0.3% growth, and by March of 1984 there was an 8% jump.
Then there's the health of the stock market as measured by the performance of the S&P 500. A glance at quarter-to-quarter volatility of the index shows a roller coaster of swings for both presidents' first terms.
The worst S&P slump during Reagan's first four years was an 11.5% drop from the June 1981 close to the September 1981 close. But the index gained 16.8% during its most robust period -- the end of September 1982 to the December 1982 close.
Election 2012: The Most Exclusive Political Donor Zip Codes >>
By comparison, Obama's saw the biggest S&P gains early -- it jumped 15.2% during the second quarter of his first year. But the S&P has also experienced double-digit losses in two quarters of Obama's presidency -- an 11.9% drop in the second quarter of 2010 and a 14.3% drop in third quarter of 2011.
The S&P closed on Reagan's Inauguration Day at 131.65 and it rose to 153.88 by May 22, 1984. That's a 16.9% gain.
On Obama's Inauguration Day, the index finished at 805.22. The index closed at 1,316.63 on Tuesday, marking a 63.4% gain.
-- Written by Joe Deaux in New York.