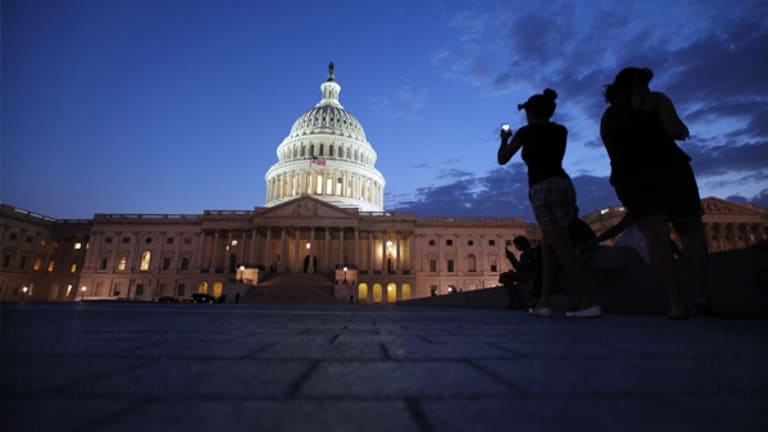 Obama Unveils Financial System Overhaul
The White House at last announced its plan to remake the nation's financial regulatory system.
Updated from 1:32 p.m.
President Obama unveiled Wednesday his long-awaited plan to reboot the country's financial regulatory system.
Chief among the reforms, spelled out in an 85-page draft proposal that the White House will send to Capitol Hill, are the following:
Creation of a so-called Consumer Financial Protection Agency, whose primary task would be to regulate credit-card companies, mortgage brokers and other retail financial-service providers -- a bid, in essence, to protect the average citizen from predatory practices.
Stronger powers for the Federal Reserve. Under the Obama plan, the Fed would gain oversight authority over the giants, those banks and financial institutions considered "too big to fail." Still, the Fed would need to seek Treasury Department approval before offering bailouts.
Creation of what's being termed a "Financial Services Oversight Council," led by Treasury. The group is essentially an umbrella bureau, a regulator of regulators. Its purpose, according to a White House fact sheet, will "help fill gaps in regulation, facilitate coordination of policy and resolution of disputes, and identify emerging risks in firms and market activities."
New rules and "infrastructure" designed to increase the transparency of the over-the-counter derivatives markets, whose most notorious products -- credit default swaps -- served as a kind of gasoline on the fire of the financial crisis last year. The White House has already discussed the creation of an exchange and a clearinghouse system for these kinds of derivatives, which are currently traded privately between big financial institutions.
Stricter liquidity, leverage and capital-reserve requirements for "large, interconnected" financial firms, and the creation of rules that would trigger the "emergency authority" of the government to sweep in and take control should one of these firms find itself in danger of default. The model for this would be the Federal Deposit Insurance Corporation and how it deals with failing depositary banks. The Obama plan also urges stronger regulation of foreign banks in terms of liquidity and leverage.
In his speech at the White House on Wednesday afternoon, Obama repeated many of the ideas he's expressed since last year's campaigning. But he also highlighted the sheer scope of the overhaul: "Today, my administration is proposing a ... transformation on a scale not seen since the reforms that followed the Great Depression."
Copyright 2009 TheStreet.com Inc. All rights reserved. This material may not be published, broadcast, rewritten, or redistributed