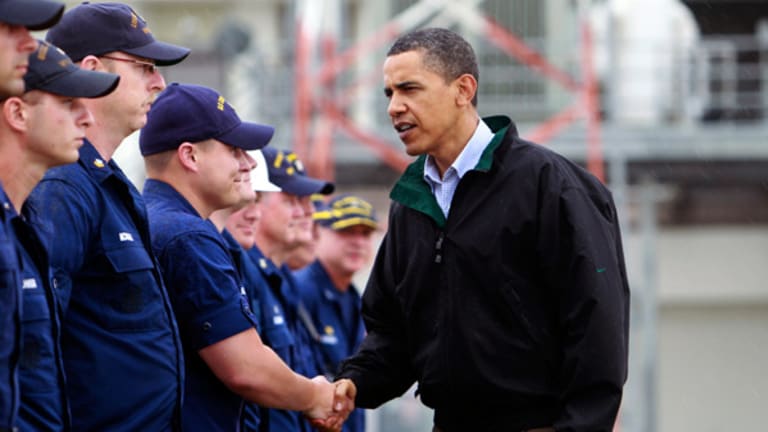 Obama, Romney Skip Campaigning to Monitor Sandy
Barack Obama and Mitt Romney skip campaign events in Florida, Virginia, New Hampshire and Wisconsin to monitor Hurricane Sandy.
Barack Obama and Mitt Romney skip campaign events in Florida, Virginia, New Hampshire and Wisconsin to monitor Hurricane Sandy.
Updated from 10:23 a.m. EDT with the Romney campaign's updated schedule and Obama's latest remarks on the storm
NEW YORK (
) -- President Barack Obama and Republican nominee Mitt Romney are breaking from the campaign trail on Monday to monitor Hurricane Sandy's progress as the superstorm bears down on the northeast region of the United States.
The president's schedule originally included a stump speech appearance in Orlando, Fla., as he and Republican nominee Mitt Romney have been zipping around the various battleground states in the final days of the election season in order to grab votes from those still undecided.
"Due to deteriorating weather conditions in the Washington, D.C. area, the president will not attend today's campaign event in Orlando, Florida," the White House said Monday morning in a statement. "The president will return to the White House to monitor the preparations for and early response to Hurricane Sandy."
Former President Bill Clinton attended the Orlando event without Obama.
Romney's team cancelled events in Virginia and New Hampshire as his campaign said it wanted to ensure that people would not be put in danger.
"We cancelled our Virginia and New Hampshire events to ensure we do not put people in danger and do not tie up first-responders," Romney spokeswoman Andrea Saul wrote Monday in a note to reporters.
The campaign later announced that it would cancel Monday night events for Romney in Wisconsin and Rep. Paul Ryan's appearance in Lakeland, Fla. Further, the campaign cancelled all currently scheduled events for Romney and Ryan on Tuesday.
"Out of sensitivity for the millions of Americans in the path of Hurricane Sandy, we are cancelling tonight's events," Romney Communications Director Gail Gitcho wrote in a note to reporters. "Gov. Romney believes this is a time for the nation and its leaders to come together to focus on those Americans who are in harm's way."
The campaign noted its offices in North Carolina, New Hampshire, Pennsylvania and Virginia would be collecting supplies to deliver local storm relief.
Additionally, the Romney campaign suspended all fundraising emails to the states that would most likely be affected by the hurricane.
The Obama campaign also decided to cancel a campaign event in Green Bay, Wis., on Tuesday in light of Sandy's potential to slam the East Coast long after Monday.
The president held a press conference Monday afternoon, saying officials were certain that the hurricane would be a slow-moving process that would affect millions of people.
The president only took one question from reporters, which was to address how the events would affect the election.
"I am not worried at this point about the impact on the election; I'm worried about the impact on families, and I'm worried about the impact on our first-responders, I'm worried about the impact on our economy and on transportation," Obama said. "The election will take care of itself next week, right now our number one priority is to make sure that we are saving lives."
Romney released a statement Sunday that asked for families to prepare for the storm.
"Ann and I are keeping the people in Hurricane Sandy's path in our thoughts and prayers," Romney said in a statement. "I'm never prouder of America than when I see how we pull together in a crisis. There's nothing that we can't handle when we stand together."
The White House issued multiple alerts of the president having signed emergency declarations for states that would likely be affected by the hurricane. Emergency declarations included Rhode Island, Connecticut, Pennsylvania, New Jersey, New York and Massachusetts, among other areas.
Obama met with Federal Emergency Management Agency officials on Sunday as FEMA prepared for the "serious and big storm."
"So my main message to everybody involved is that we have to take this seriously," Obama said on Sunday. "My message to the governors, as well as to the mayors, is anything they need we will be there."
FEMA released its own statement shortly after the president spoke that told East Coast residents to follow the direction of their local officials. The agency warned that Hurricane Sandy could trigger potential impacts from wind, coastal flooding, inland flooding, rain and snow.
"Be ready for power outages and stock up on emergency supplies of food, water, medications, and other supplies," FEMA Administrator Craig Fugate said in a statement.
Clinton and Vice President Joe Biden would move forward with a campaign rally in Youngstown, Ohio, on Monday, White House Press Secretary Jay Carney said in a statement.
The potential risk of widespread power outages and storm surge caused the
New York Stock Exchange
, the
Nasdaq
and the CME Group in Chicago to close their physical trading floors and electronic trading.
It
marked the first time in 27 years
that the NYSE, a unit of
NYSE Euronext
(NYX)
would close the trading floor due to weather. The NYSE closed its floor on Sept. 27, 1985 as Hurricane Gloria smacked the East Coast.
Stock futures fell Monday after U.S. equity markets shuttered trading.
"History says that hurricanes typically don't trigger market declines," Sam Stovall, chief equity strategist at S&P Capital IQ, wrote in a note. "Individually, the market's performance following major hurricanes has been uneven, as equities are more likely driven by wider-reaching global events than localized natural disasters."
-- Written by Joe Deaux in New York.
>Contact by
.