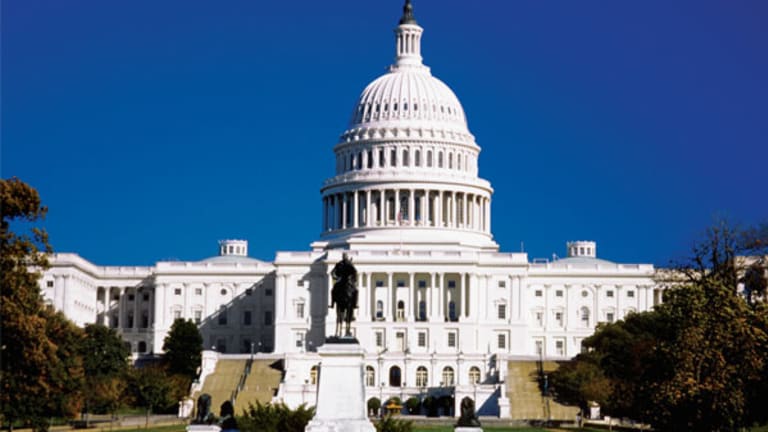 Obama Reiterates Stance on Israel
President Obama Sunday defended his proposal that Israel return to its 1967 borders as a blueprint for peace.
NEW YORK (TheStreet) -- President Obama Sunday reiterated his proposal that Israel should return to its 1967 boundaries as a blueprint for Middle East peace.
Appearing before the American Israel Public Affairs Committee, a pro-Israel lobby, Obama said his endorsement of the idea didn't mean the White House was shifting in a pro-Palestinian direction, the
Associated Press
reported. Rather, he said, he was making clear longstanding U.S. policy.
"If there's a controversy, then it's not based in substance," Obama was quoted saying by the
Associated Press
. "What I did on Thursday was to say publicly what has long been acknowledged privately. I have done so because we cannot afford to wait another decade, or another two decades, or another three decades, to achieve peace."
Also Sunday, Obama said Israel will face growing isolation without "a credible peace process," the
AP
said.
On Thursday, Obama made a
in which he advocated that the borders of Israel and Palestine "should be based on the 1967 lines with mutually agreed swaps, so that secure and recognized borders are established for both states."
The 1967 borders refer to Israel's borders before it took the Gaza Strip, Golan Heights, the West Bank and East Jerusalem in the Six-Day War of June 1967.
> > Bull or Bear? Vote in Our Poll
Obama Sunday reiterated that such a solution required negotiation between Israelis and Palestinians and that it must ensure Israeli border security, the
AP
reported.
"By definition, it means that the parties themselves -- Israelis and Palestinians -- will negotiate a border that is different than the one that existed on June 4, 1967," Obama said.
Israeli Prime Minister Benjamin Netanyahu
on Friday, the same day the two leaders held a tense meeting at the White House.
On Sunday, however, Netanyahu appeared to offer a more measured response to Obama's remarks to the Israel Public Affairs Committee. In a statement, the Israeli leader said he supported Obama's desire to advance peace and was committed to working together to find ways to renew negotiations, the
AP
reported.
Netanyahu is scheduled to speak to the pro-Israel lobby Monday night and Congress on Tuesday, the
AP
noted.
This article was written by a staff member of TheStreet.