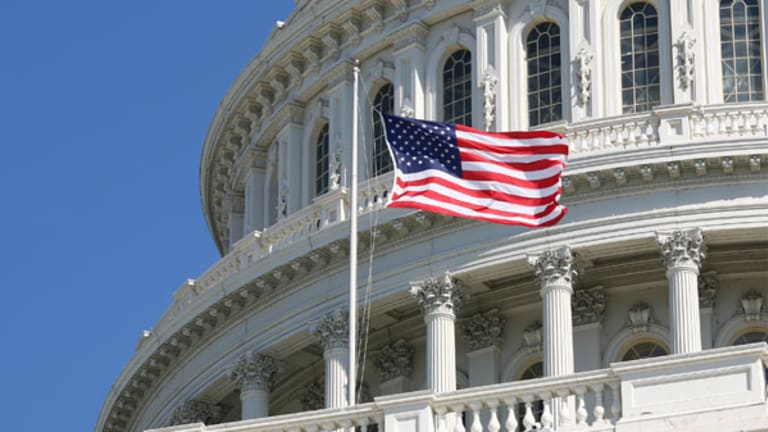 Obama Gets Bold About Economy
The president calls for a minimum tax for multinational companies and a ban on insider trading by members of Congress in his State of the Union address.
NEW YORK (
) -- President Barack Obama outlined his plan for keeping the economy's recovery on track Tuesday, emphasizing the importance of the U.S. manufacturing industry and detailing changes to the tax code to encourage corporations to expand in America.
During the last State of the Union address of his term, Obama pointed to success in stabilizing the car makers, noting that
General Motors
(GM) - Get Report
is once again "the world's number one automaker," and said what's happened in Detroit could happen in other parts of the country and other industries.
"So we have a huge opportunity, at this moment, to bring manufacturing back. But we have to seize it. Tonight, my message to business leaders is simple: Ask yourselves what you can do to bring jobs back to your country, and your country will do everything we can to help you succeed," he said.
He proposed to end tax deductions for outsourcing jobs overseas, and said every multinational company "should have to pay a basic minimum tax," referring to tactics used by many big corporations to shelter their profits overseas.
Obama also said he believes U.S.-based companies should be given preference.
"
If you're an American manufacturer, you should get a bigger tax cut. If you're a high-tech manufacturer, we should double the tax deduction you get for making products here. And if you want to relocate in a community that was hit hard when a factory left town, you should get help financing a new plant, equipment, or training for new workers," he said.
"My message is simple. It's time to stop rewarding businesses that ship jobs overseas, and start rewarding companies that create jobs right here in America. Send me these tax reforms, and I'll sign them right away."
Obama also called the payroll tax cut bill to be passed "without delay" and said tax reform should follow the Buffett rule -- "If you make more than $1 million a year, you should not pay less than 30 percent in taxes" -- and said that American families who make less than $250,000 shouldn't see their taxes go up.
Now, you can call this class warfare all you want," he said. "But asking a billionaire to pay at least as much as his secretary in taxes? Most Americans would call that common sense."
He continued: "We don't begrudge financial success in this country. We admire it. When Americans talk about folks like me paying my fair share of taxes, it's not because they envy the rich. It's because they understand that when I get tax breaks I don't need and the country can't afford, it either adds to the deficit, or somebody else has to make up the difference - like a senior on a fixed income; or a student trying to get through school; or a family trying to make ends meet. That's not right. Americans know it's not right."
Obama also said he will send Congress a plan in the next few weeks that will allow "responsible" home owners to refinance at the current historically low rates that will be paid for by the banks.
"No more red tape. No more runaround from the banks. A small fee on the largest financial institutions will ensure that it won't add to the deficit, and will give banks that were rescued by taxpayers a chance to repay a deficit of trust," he said, adding later that big banks will be required to write out a "living will" that details how they will cover their debts "because the rest of us aren't bailing you out ever again."
Obama also asked Congress to send him a bill that will ban insider trading by the legislators, which was met with some boos in the House of Representatives chamber, noting the cynicism some Americans feel about their government.
"Some of this has to do with the corrosive influence of money in politics. So together, let's take some steps to fix that. Send me a bill that bans insider trading by Members of Congress, and I will sign it tomorrow. Let's limit any elected official from owning stocks in industries they impact. Let's make sure people who bundle campaign contributions for Congress can't lobby Congress, and vice versa - an idea that has bipartisan support, at least outside of Washington."
The president also pledged to do his part to foster cooperation on Capitol Hill but said he wouldn't stand for party politics getting in the way of making legislative progress.
"We can either settle for a country where a shrinking number of people do really well, while a growing number of Americans barely get by. Or we can restore an economy where everyone gets a fair shot, everyone does their fair share, and everyone plays by the same set of rules. What's at stake are not Democratic values or Republican values, but American values. We have to reclaim them," Obama said.
"As long as I'm president, I will work with anyone in this chamber to build on this momentum. But I intend to fight obstruction with action, and I will oppose any effort to return to the very same policies that brought on this economic crisis in the first place,"
The president began the speech by touting the accomplishments of the armed forces during his administration.
"For the first time in nine years, there are no Americans fighting in Iraq, for the first time in two decades, Osama bin Laden is not a threat to this country," he said.
Obama also drew a comparison between between cooperation within the military and dissension among political parties, saying: "Imagine what we could accomplish if we followed their example."
Other policies advanced by Obama during the speech included tax breaks for small businesses, extension of the tax credit for college tuition, and a call for every state to require students to stay in high school until they turn 18.
He argued that he has been strong on illegal immigration, saying there are fewer illegal crossings now than when he took office but also said there should be a path to citizenship.
"We should be working on comprehensive immigration reform right now. But if election-year politics keeps Congress from acting on a comprehensive plan, let's at least agree to stop expelling responsible young people who want to staff our labs, start new businesses, and defend this country. Send me a law that gives them the chance to earn their citizenship. I will sign it right away."
Energy policy was also a big theme for the president, who urged further development of the natural gas and clean energy industries.
"We have subsidized oil companies for a century. That's long enough. It's time to end the taxpayer giveaways to an industry that's rarely been more profitable, and double-down on a clean energy industry that's never been more promising. Pass clean energy tax credits and create these jobs," he said.
Obama added that he was sending a directive for the Department of Defense to make a big commitment to clean energy and said his administration "allow the development of clean energy on enough public land to power three million homes."
On infrastructure, the president also said he plans to sign an executive order to remove "the red tape that slows down too many construction projects."
--
Written by Michael Baron in New York.
>To contact the writer of this article, click here:
Michael Baron
.
Disclosure: TheStreet's editorial policy prohibits staff editors, reporters and analysts from holding positions in any individual stocks.