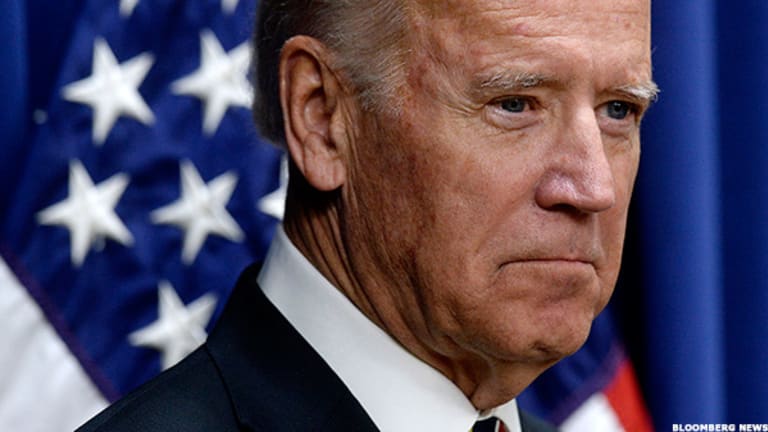 Obama Administration VP Biden Says He Could Run for President but 'Probably' Won't
The ex-Vice President talked about the need to generate a consensus on Capitol Hill and his decision not to run for the Democratic primary.
Obama administration Vice President Joe Biden on Thursday said he could run for president again, but he added that he "probably" wouldn't.
"Could I? Yes. Would I? Probably no," Biden told hedge fund managers at the annual SALT conference in Las Vegas.
Biden had considered running for the Democratic nomination in the 2016 election, but ultimately decided not to run as he focused on being with his son, Beau Biden, a former state attorney general of Delaware, who died in 2015 after battling brain cancer.  "You should never run for president unless you can look the public in the eye, and say 'I give you my word, you'll have all my energy and all my time,'" Biden said. 
He said his priority for now was to focus on his family and concentrate on a few personal financial matters before deciding whether to run for president. "My family has to get back together," he said. "If I get those things done, and I'm healthy and viable, and it looks like I'm the best man to do it, I may very well do it, but my family comes first."
In addition, Biden told the audience that he never thought Hillary Clinton "was a great candidate," which also received claps from the audience. 
"No man or woman should announce for the presidency unless they genuinely believe that for the that moment in the nation's history they are the most qualified person to deal with the issues facing the country," he said. 
Biden added that he plans to give the $200,000 fee he received for speaking to SALT to charity. "I'm not accepting any of it," he said to furious claps from the audience.
Biden implored lawmakers on Capitol Hill to start working together, adding that the level of partisanship and rancor among parties has increased significantly in recent years and has become unhealthy. "It's gotten so personal but it's going to come back because you can't govern this country no matter who you are without generating a consensus," Biden said. "It is impossible. The public is sick of it."
Read More Top News on TheStreet: 
Why Dying Sears Has Lost Nearly $300 Million in Value Inside of Nine Days
Over on Real Money Jim Cramer give advice to investors looking at how to play the Trump Trade. Get his insights or analysis with a free trial subscription to Real Money.