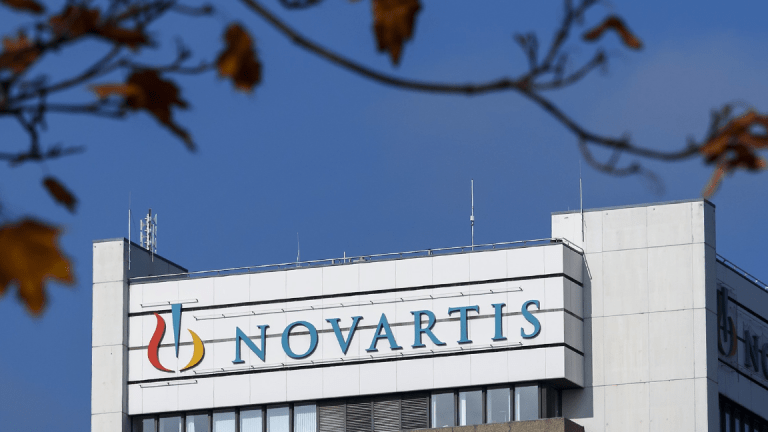 Novartis Ties to Trump Lawyer Michael Cohen Exposed
Pharma giant Novartis is now immersed in the muck that is the Trump-Russia probe thanks to $1.2 million in payments to a shell company created by President Trump's fixer Michael Cohen.
The news about drug giant Novartis'  (NVS) connection to President Trump's long-time lawyer and fixer Michael Cohen keeps getting worse.
First, the company told outlets including TheStreet that it had paid Cohen $500,000 to advise it on "U.S. healthcare matters." Then later on Wednesday, Novartis bumped that figure up to $1.2 million. And subsequently, unnamed company officials told NBC and other news outlets that Cohen had approached former CEO Joe Jimenez to offer Novartis access to Trump and his inner circle in exchange for money, and that Jimenez had ordered associates to get a deal done.
The transaction was funneled through Cohen's shell company Essential Consultants LLC, the same one created just three weeks before the 2016 election as a vehicle to keep a hush money payment to porn star Stormy Daniels quiet. Cohen also ran payments he received from AT&T (T)   and Korea Aerospace Industries Ltd. through the shell firm.
For its part, AT&T said it paid $200,000 in four installments to gain "insights into understanding the new administration. Defense contractor Korea Aerospace said it paid $150,000 for "legal consulting concerning accounting standards on production costs."
Cohen also received about $500,000 in eight payments from investment firm Columbus Nova LLC for advice on raising capital and New York real estate. The firm has been connected to Russian Oligarch Viktor Vekselberg. Columbus Nova has denied that Vekselberg had anything to do with hiring or paying Cohen, while Vekselberg was the subject of sanctions by the Trump administration earlier this year and was questioned by Special Prosecutor Robert Mueller.
In response to questions about its relationship with Cohen, Novartis provided the following statement to TheStreet:
"In February 2017, shortly after the election of President Trump, Novartis entered into a one year agreement with Essential Consultants. With the recent change in administration, Novartis believed that Michael Cohen could advise the company as to how the Trump administration might approach certain US healthcare policy matters, including the Affordable Care Act. The agreement was for a term of one year, and paid Essential Consultants 100,000 USD per month. In March 2017, Novartis had its first meeting with Michael Cohen under this agreement. Following this initial meeting, Novartis determined that Michael Cohen and Essential Consultants would be unable to provide the services that Novartis had anticipated related to US healthcare policy matters and the decision was taken not to engage further. As the contract unfortunately could only be terminated for cause, payments continued to be made until the contract expired by its own terms in February 2018."
The statement continued that: "The engagement of Essential Consultants predated Vas Narasimhan becoming Novartis CEO and he was in no way involved with this agreement. Contrary to recent media reports, this agreement was also in no way related to the group dinner Dr. Narasimhan had at the World Economic Forum in Davos with President Trump and 15 Europe-based industry leaders. Suggestions to the contrary clearly misrepresent the facts and can only be intended to further personal or political agendas as to which Novartis should not be a part."
Novartis also said that it was initially contacted by Mueller's office in November 2017 about its agreement with Essential Consultants and that it "cooperated fully." It now considers the matter closed. 
Novartis did not respond to a request for more information nor did it make anyone available to comment about the payments. Novartis shares fell at the open on Wednesday but recovered later in the day and closed essentially flat at $77.09. Year to date, shares are down about 8%.
The White House declined to answer several questions during its press briefing on Wednesday regarding Cohen and the payments to him from Novartis and other companies.
Novartis spent $8.76 million on lobbying in 2017, so the company hasn't been shy about making sure that elected officials understood what was important to the company. Since the news of the payments broke, there has been speculation that Cohen was using Essential Consultants to peddle access to President Trump.
The pharmaceutical company is no stranger to intrigue. Several years ago in Japan, Novartis was accused of under-reporting side-effects and altering data; the company apologized to the Japanese government. A legal action in Europe kept the company busy last year over allegations that Greek officials had been paid to push the use of Novartis products in public agencies. The Greek parliament ended the probe with no action taken but the investigation and allegations hurt the company's image.
The company also paid a $50 million fine in South Korea last year tied to allegations Novartis had enlisted doctors in a kickback scheme. And Novartis agreed in 2016 to pay $25 million to settle a probe by the Securities and Exchange Commission over allegations that the company had furnished trips to Chinese doctors to encourage them to prescribe company drugs.
It isn't just government officials that have found fault with some of Novartis interactions with doctors. Investors have also told the company to clean up. As a result, Novartis appointed Shannon Klinger to chief ethics, risk and compliance officer on the company's exec committee.
The use of the Essential Consultants shell by Cohen beyond the Daniels payoff is strange. Typically, shell companies are created as vehicles to distance individuals from transactions or to take private companies public. Cohen's shell company, Essential Consultants, was registered in Delaware Oct. 17, 2017 by Cohen.
Until May 8, it was thought to have been used as a payoff vehicle for Daniels, as well as for Cohen's client Elliott Broidy, a former deputy national finance chairman of the Republican National Committee. Cohen represented Broidy in an alleged payoff of a former Playboy model who had become pregnant in a relationship with Broidy.
According to information furnished by Cohen to First Republic Bank in Manhattan, the shell company is involved in real estate consulting and its "clients are U.S.-based high net worth individuals." The records also report that the primary source of funds would be from U.S. or U.S.-based companies.
Cohen paid Daniels $130,000 for her silence regarding an alleged affair in 2006 with Trump. Michael Avenatti is the second lawyer that Daniels hired connected to the alleged tryst. They have brought a lawsuit against Cohen as well as against Trump to nullify the non-disclosure that went with the payoff. The White House has denied any affair took place between Daniels and Trump.
But Avenatti revealed the payments into the shell company. It's presumed that he gained the information by following the money trail from his client's payment from Essential Consultants via banking records. The Treasury Department has opened a probe into whether banking documents were leaked as part of the information Avenatti released.
Avenatti's office did not furnish a comment for the story, while efforts to reach Cohen were unsuccessful.