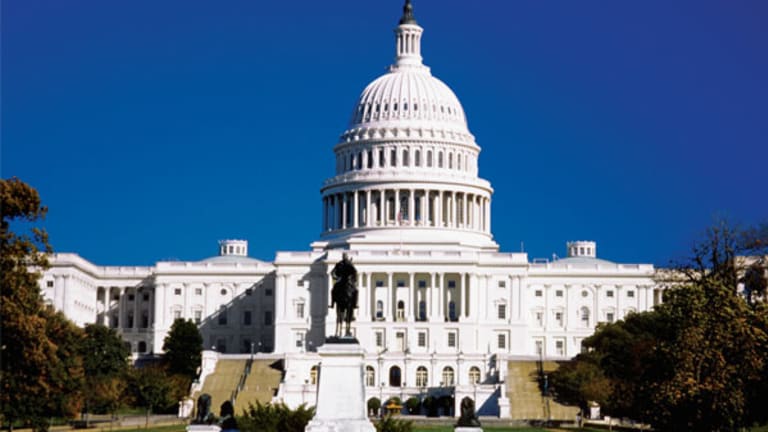 No Surprises in Romney Tax Returns
Buildup and controversy over delayed release of returns are much ado about nothing.
The following commentary comes from an independent investor or market observer as part of TheStreet's guest contributor program, which is separate from the company's news coverage.
By Jonathan Berr
NEW YORK (
) -- Former Massachusetts Governor Mitt Romney's release of his 2010 tax return and details of what he plans to file this year were the public's biggest letdown since Geraldo Rivera came up empty in his quest to find the treasure in Al Capone's vault.
The Romney tax returns didn't tell voters with a pulse anything they already didn't know. First, the presumptive -- at least for now -- GOP nominee is wealthy. In 2010, he reported adjusted gross income of $21.7 million, not too shabby for someone whose full-time "job" for the past few years has been running for president. He earned about the same in 2011. He has set up a $100 million trust for his five sons, which represents prudent financial planning.
Related: Is media ignoring ties between money and politics?
To be clear, Romney isn't just a one-percenter. He is a 0.5-percenter who enjoys a lifestyle that few Americans can imagine. The former financier has clearly benefited from the generosity of the tax code, as Martin Sullivan noted recently in
Tax Analysts,
a trade publication:
"When he left Bain in 1999, Romney negotiated a retirement package that gave him a share of the company's skyrocketing profits for at least a decade after his departure. The bulk of those profits were carried interest -- consulting fees paid to managing partners conditioned on upside gain for investors. The payouts were likely taxed at 15%."
Related: Romney tithed stock to church to receive tax deductions
Romney's $250 million fortune -- though more than most Americans will ever dream of earning -- is dwarfed by other private equity players who didn't go into public service. For instance,
Forbes
pegs the wealth of
Carlyle Group
co-founder David Rubenstein at $2.7 billion. David Bonderman, co-founder of
Texas Pacific Group,
reportedly has a fortune of $1.9 billion.
Much has been made of the fact that Romney paid a tax rate of 13.9%, well below the 35% top rate on ordinary income. People who are mad about this special treatment shouldn't fault Romney. In reality, both parties are to blame. In 1997, then-President Bill Clinton signed the Taxpayer Relief Act, which included the largest capital gains tax cut in history. President George W. Bush took the reductions a step further in 2003, reducing rates (depending on income) from 20% and 10% to 15% and 5%.
Related: Gingrich beats GOP foes to tax return punch
Romney foolishly called the $480,000 that he earned in author and speaking fees as being "not very much." Obviously, to most Americans, that's a lot of money, but not to someone with a fortune of $250 million. But many other celebrities do much better on the speaking circuit. Since leaving office in 2001, Clinton has reportedly pocketed $75 million in fees. Many media and entertainment personalities, including Donald Trump and Ann Coulter, probably earn as much if not more than Romney on the speaking circuit.
The tax documents also indicate that Romney had a Swiss bank account for a time that was closed in 2010. He also holds millions in the Cayman Islands, a well-known tax haven. His form shows $1.53 million in gross income from non-U.S. sources. Having these types of accounts isn't illegal per se, and there's no evidence that the candidate has broken any laws.
He would be foolish to do so anyway, given the IRS's crackdown on rich people who hide assets in overseas accounts. The IRS has collected $4.4 billion from two programs that enable wealthy taxpayers to come clean about offshore accounts. The initiative has been so successful that the IRS is holding a similar program this year.
Overall, Romney's biggest error in the tax return dust-up wasn't anything in his returns, but in delaying their release. He made it seem like he had a secret to hide, which, based on the evidence that's been presented so far, doesn't appear to be the case.
The opinions contained in this column are solely those of the writer.
Want to share your own views on money, politics and the 2012 elections? Drop us a line at letters@investorplace.com and we might reprint your views in our InvestorPolitics blog! Please include your name, city and state of residence. All letters submitted to this address will be considered for publication.
Also See:
The 3 biggest lies the government is telling you
The 5 richest U.S. presidential candidates
Federal Reserve to keep interest rates at zero
This commentary comes from an independent investor or market observer as part of TheStreet guest contributor program. The views expressed are those of the author and do not necessarily represent the views of TheStreet or its management.