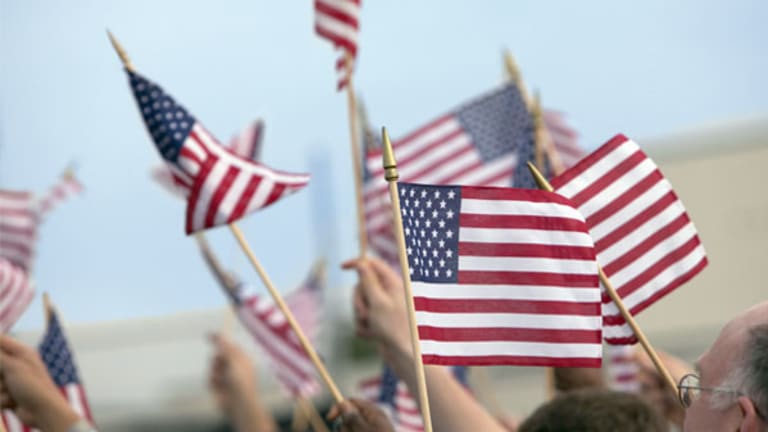 No Money, No Problem - Newt Gingrich Thrives on Free TV
Got no money to advertise? No worries, the television networks have provided campaigns copious free air time.
NEW YORK (
) -- Got no money to advertise? No worries, the television networks have provided campaigns with copious free air time.
After Republicans take the stage Thursday night for their
23rd debate (not including Newt Gingrich's two Lincoln-Douglas engagements) in the primary season, candidates will have clocked close to 38 hours in front of massive audiences.
Super PAC's that support Gingrich and Mitt Romney have
spent more than $10 million combined on ads in Florida, $8.8 million of which are from the Romney-favoring "Restore Our Future."
Funding has been tight for Gingrich's campaign (about $12 million raised through Dec. 31) during the entire 2012 GOP primary, and he trailed front-runner Romney
(about $56 million raised through Dec. 31) -- who was advertising relentlessly against the former House speaker -- ahead of the South Carolina primary. But some attributed Gingrich's unprecedented surge there last week to
strong debate performances.
Which leads one to wonder how much more debates have influenced voters' decisions than advertisements have this season.
Consider the fact that in those 38 free-of-charge hours, Americans have witnessed the debates topple one campaign and resurrect another.
"What is surprising, I think, is how many debates there've been and how much of a winnowing effect in terms of Rick Perry, for instance, or power boost in terms of Newt Gingrich have been," said a pollster, speaking on background. "I think that organization and money means a lot in a presidential
primary, particularly as it gets to more and more states, but it's not the end-all be-all."
Rick Perry imploded at a Nov. 9 debate when he tried to name three agencies of government he would eliminate as president: commerce, education, and, "oops," Perry
famously whimpered. The Texas governor, who had peaked two months prior at near 32% favor in national polls, never again broke above 10% after that debate.
Alternatively, Gingrich has thrived in the debate formats. When most of Gingrich's staff walked out on his campaign in June, it dealt a devastating blow. Gingrich didn't jump ship. One source familiar with Gingrich's campaign said that during the summer the former House speaker told wife Callista he believed he would have a shot at the primary if he could make it to the debates.
As Gingrich and Romney prepare for Thursday's debate in Jacksonville, Fla., Gingrich will likely try to maximize his exposure in order to persuade voters as he did in South Carolina.
"Traditionally, when you don't hear much about candidates and you don't see them, the paid media plays a significant role in shaping people's opinions," said Jim Denton, a Nevada political strategist. "But when you have a situation where you almost seem to have two debates a week -- and the viewership of those debates has been pretty good -- it diminishes the traditional voter movement that accompanies paid media."
Denton said he thinks the abundant number of debates has diluted the financial advantage Romney has had to define his opponents in the race.
That isn't to say that paid radio, television, telephone and mail ads have been fruitless.
Romney unleashed on Monday a heavy barrage of
television and radio (
Spanish- and
English-language) ads in Florida that targeted Gingrich's record.
On Monday and Tuesday, fresh off his South Carolina victory and another debate, Gingrich held a lead in
three major polls. By Wednesday morning, a
Florida Chamber of Commerce poll found Gingrich and Romney in a statistical dead heat. By Wednesday afternoon, Romney had regained a narrow lead in two more Florida polls.
Thursday revealed
three new state polls that showed Romney had opened his lead against Gingrich to about seven to eight percentage points. It's possible that the former Massachusetts governor's gush of paid advertising has reversed Gingrich's momentum.
But Thursday brings the Republican survivors back to the debate stage, where Gingrich will likely look to reinvigorate his numbers.
Proof that Gingrich might see this debate as crucial to his chances in Florida -- where his overall nomination hopes could hang in the balance -- came Tuesday when the former House speaker said he thought it was wrong for
NBC News
moderator Brian Williams to keep Monday's debate audience silent.
"We're going to serve notice on future debates, we're just not going to allow that to happen. That's wrong," Gingrich told
Fox News.
"The media doesn't control free speech. People ought to be allowed to applaud if they want to."
On Jan. 19, Gingrich
received a standing ovation after
CNN's
John King asked if the he wanted to respond to ex-wife Marianne's claims that Gingrich wanted to have an open marriage. "No, but I will," Gingrich coolly said to a round of cheers.
Gingrich has skillfully motivated debate crowds throughout the GOP race, which has seemingly been reflected in his rise in national and state polls. After a huge November surge that made him the national GOP front-runner, Gingrich's numbers began to slump after a Dec. 15 debate. This happened for a few reasons: First, Gingrich had late, tightly funded organization in Iowa, where retail campaigning is absolutely crucial in order to win. Next, Romney levied in mid-December some heavy attacks against Gingrich. Also, there wasn't another debate until Jan. 7, which was four days after the Iowa caucuses (Gingrich finished fourth).
Gingrich's performances in the back-to-back debates in New Hampshire didn't do much to his numbers, and the former House speaker lacked strong organization in the state.
Gingrich saw his numbers jump from 22% poll averages on the Jan. 14 debate date to winning 40.4% of the votes on the Jan. 21 primary date.
Romney outspent him on the airwaves during this span, but Romney failed in the debates to explain why he hadn't released his tax returns. Gingrich railed on this mistake, and even released his own tax returns during the Jan. 19 debate. Romney's hesitance resounded negatively among voters. Romney went from 26.7% favor in the polls on Jan. 14, and finished flat with 27.8% of the primary votes.
To make up for his lagging airwave-spending gap in Florida, Gingrich has crisscrossed the state swiftly and he has
grabbed some huge crowds.
Though Romney has displayed resilience this week thanks to a formidable attack campaign, GOP voters will likely clamor to see Thursday night how well Gingrich manages his free airtime at
CNN's
debate.
-- Written by Joe Deaux in New York.
>Contact by
.
Readers Also Like:
Cramer: CEO Change Is Too Late for RIM