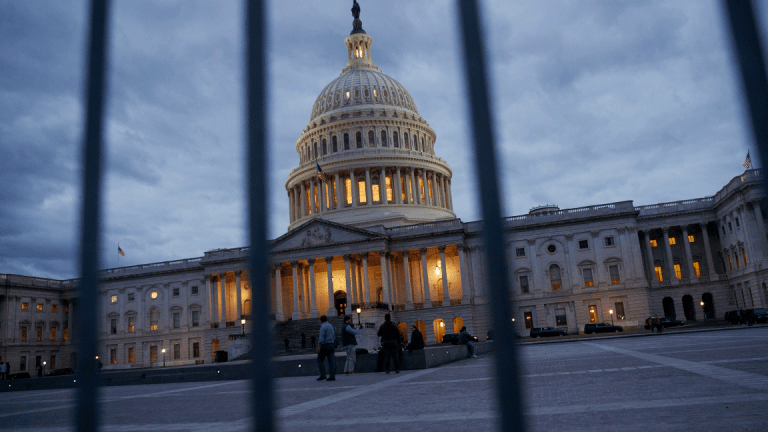 Shutdown Could Go Into New Year
Blame game continues over weekend into shutdown that will leave 800,000 federal workers uncertain about their jobs and services over the holiday season.
The livelihood of some 800,000 federal workers and the services they provide have been thrown into uncertainty as the budget battle between President Donald Trump and U.S. lawmakers is expected to extend at least until Dec. 27, and possibly longer. 
"It's very possible the shutdown will go beyond the 28th and into the new Congress," said Mick Mulvaney, the White House's budget director and acting chief of staff, during an interview with Fox News Sunday, after saying he met Saturday with Vice President Mike Pence and several lawmakers. 
A quarter of the U.S. government shut down at 12:01 a.m. on Saturday when budgetary authority for several major agencies expired, leaving federal employees without pay and some federal libraries, parks and other institutions across the nation closed. 
Hopes of a resolution were dashed on Saturday when the Senate adjourned at around 3 p.m. with no deal. Lawmakers won't meet again until Dec. 27, though a pro-forma gathering is expected Monday at 11 a.m.
"Roughly twenty five percent of the government shut down because of one person and one person alone: President Trump," Senate Minority Leader Chuck Schumer (D-N.Y.), said on Saturday.
Trump is demanding that a funding measure include over $5 billion to build a border wall between Mexico and the United States -- a central promise of his 2016 presidential campaign when he said he would force Mexico to pay for a barrier between the two nations to stop illegal immigration.
 "I won an election, said to be one of the greatest of all time, based on getting out of endless & costly foreign wars & also based on Strong Borders which will keep our Country safe," Trump said on Twitter on Saturday afternoon, after earlier indicating negotiations on the budget were progressing: "We are negotiating with the Democrats on desperately needed Border Security (Gangs, Drugs, Human Trafficking & more) but it could be a long stay."
Senate Majority Leader Mitch McConnell (R-Ky.), however,  indicated earlier Saturday that nothing would happen in the Senate until Trump and Democrats come to a consensus.
"We've pushed the pause button until the president, from whom we'll need a signature, and Senate Democrats, from who we'll need votes, reach an agreement. No procedural votes. No test votes. Just a meaningful vote on a bipartisan agreement when one is reached. And it's my hope that it's reached sooner rather than later," said McConnell in a statement.
Republicans have a 51-seat majority in the Senate, but need 60 votes under parliamentary rules to avoid a Democratic filibuster that would block a continuing resolution to keep the government fully open.
Earlier this month, Trump told Schumer and House Minority Leader Nancy Pelosi (D-Calif.) that he would be proud to shut down the government over the border-wall funding, but then blamed the Democrats for the shutdown.
Schumer and Pelosi, however, released a joint statement after the shutdown, saying, "Regrettably, America has now entered a Trump Shutdown."
Before the Senate left Friday, the body passed a bill to make sure furloughed workers get paid during a shutdown, although the House and Trump must agree for the measure to become law.
"The Senate has passed our bill to make sure our federal workforce will still get paid if there's a shutdown. The House should pass it immediately," said Sen. Chris Van Hollen (D-Md.).
This marks the third time the federal government shut down non-essential operations this year.
(This story has been updated.)
Save 66% with our '12 Days of Holiday Deals' Sale.Join Jim Cramer's Action Alerts PLUS club for investors and get our best deal of the year. Click herefor details or to sign up.