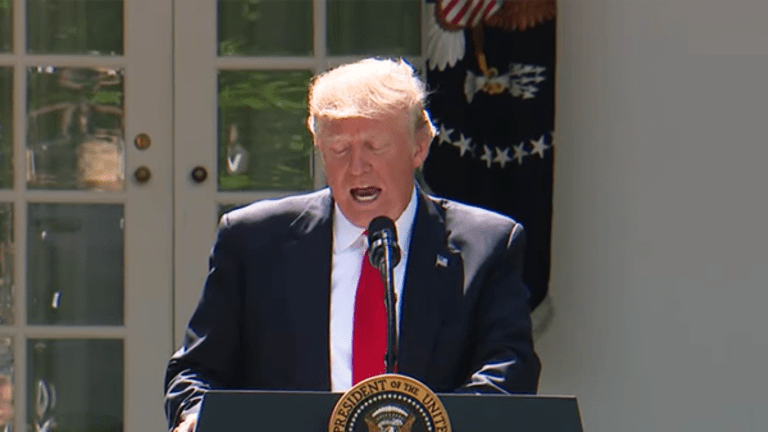 Nike, Monsanto, Intel Among Companies to Suffer Effects of Trump Trade Pullout
You can't lose what you never had, but that doesn't stop some from wondering what might have been had the United States not withdrawn from the Trans-Pacific Partnership.
Retailers including Nike Inc. (NKE)   and companies in the agricultural sector including Monsanto Company (MON)  are among the U.S. businesses that are potentially losing out from the effects of President Donald Trump's decision to withdraw from the Trans-Pacific Partnership.
Since Trump abandoned the 12-country trade agreement negotiated under the Obama administration, the 11 other TPP countries have launched 27 separate trade agreements with each other, the European Union and China, according to a piece from Politico. The article explores how Pacific nations are taking a closer look at alternatives to U.S. exporters.
The U.S. agriculture industry is among the hardest hit by Trump's decision to scrap the TPP. According to estimates from the U.S. International Trade Commission, U.S. agricultural exports would have increased by $7.2 billion under the TPP over a 15-year period, through new market access to Japan, Vietnam, Malaysia, New Zealand and Brunei, and total U.S. agricultural output would have risen by $10 billion.
Losing the TPP was a "missed opportunity" for the agricultural sector, including companies such as Tyson Foods Inc. (TSN) , Monsanto, Syngenta AG (SYT) and Deere & Company (DE)  , said Height Securities analyst Stefanie Miller. "All of those companies were in favor of the TPP," she said.
Beyond agriculture, Miller pointed to retailers and apparel companies that also stood to benefit from the TPP -- Nike Inc. (NKE) , Gap Inc. (GPS) , Walmart Stores Inc. (WMT) and Columbia Sportswear Company (COLM) , for example. "None of them have gone off the rails because it didn't happen, but it certainly would have been a benefit to them," she said.
The ITC estimated apparel imports to the United States would increase by $1.9 billion over 15 years. It also noted expanded e-commerce protections under the agreement would have been a boost to online retailers as well as manufacturers, service providers and other tech companies that depend on the internet.
The semiconductor industry was also a major proponent of TPP. The Semiconductor Industry Association, whose membership includes Intel Corporation (INTC) , Advanced Micro Devices Inc. (AMD) and Qualcomm Inc. (QCOM) , said the deal would "promote free and open trade upon which our industry has thrived."
"The absence of the TPP is a little bit hard to measure in that it could have provided benefits to some sectors and would have been potentially detrimental to others," Miller said, noting the pharmaceutical industry, auto parts companies and the steel industry had expressed concerns about the agreement. "Because it was never in effect and removed, it's not like there's any one industry that is looking back and saying they've greatly benefited or been greatly harmed."
The ITC forecast the TPP would have had small but generally positive effects on the U.S. economy, boosting U.S. GDP by $42.7 billion over 15 years, expanding employment marginally and increasing U.S. real income by $57.3 billion. But the potential effects of the TPP go far beyond business and the economy, said Matt Gold, law professor at Fordham University and former Deputy Assistant U.S. Trade Representative for North America under Obama.
Intel CEO Brian Krzanich Reveals Some of His Best Leadership Tips
"The loss of TPP is the loss of future economic and strategic gains throughout the Pacific," he said. "It's not moving us backwards from where we were, it's a failure to move us forward to where we should have gone. We've just been left behind with this complete lack of a policy or a plan."
Gold, who in a 2016 op-ed lauded the TPP as a "great achievement in economic diplomacy," emphasized the importance of the deal as a strategic asset that was expected to expand in membership over time and could have been used as a tool to "put the Chinese and the Russians deeply, deeply in a corner" and leverage their compliance with preexisting trade obligations.
He acknowledged the TPP, which not only Trump criticized during the election but also Bernie Sanders and, more moderately, Hillary Clinton, was going to face a tough battle in Congress to be approved and implemented even without Trump. But he still lamented the fallout of the decision to pull out.
"All those countries moved ahead without us," he said. "We're getting burned left and right, we're being left behind."
More of What's Trending on TheStreet: