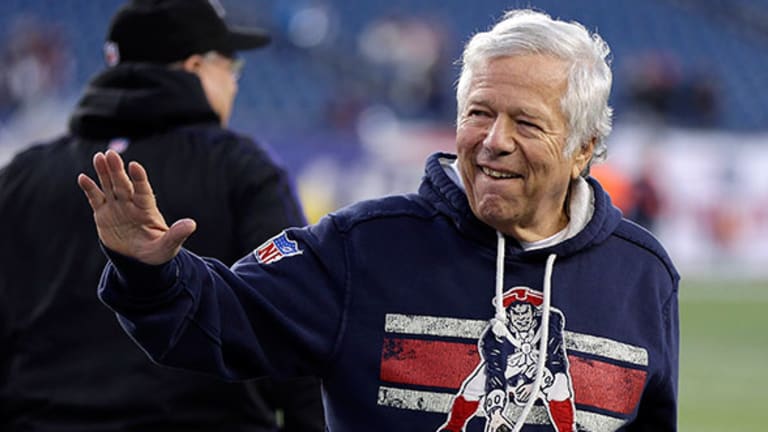 Some of Trump's NFL Owner Friends Side With Players in Dispute With President
Even Patriots owner Bob Kraft and Jets owner Woody Johnson, the president's friends and donors, condemned his remarks about protesting football players.
Following President Trump's remarks and subsequent tweets condemning football players who kneel during the national anthem to protest racism, many NFL owners, some businessmen and personal friends of the president's, expressed support for their players and criticized Trump's remarks.
The New York Jets, whose players linked arms in a show of self-described unity on Sunday, are owned by Johnson & Johnson (JNJ) - Get Free Report heir Woody Johnson. Johnson, a Trump supporter, became the U.S. ambassador to the United Kingdom on Aug. 29.
Shahid Khan, the owner of both the Jacksonville Jaguars and British soccer's Fulham F.C., linked arms with his players at a game against the Baltimore Ravens played in London Sunday morning.
Khan, owner of the privately held auto parts maker Flex-N-Gate, gave $1 million to Trump's inaugural committee, but a month after the inauguration criticized the president's executive order banning citizens of seven predominantly Muslim countries from entering the United States. Khan
the New York Times that the order contradicted the "bedrock[s] of this country," immigration and separation of church and state.
The New England Patriots are owned by another Trump backer, Bob Kraft, who's a close-enough friend of the president that he gave Trump a Super Bowl ring. Kraft said in a statement Sunday morning that he's "deeply disappointed by the tone" of Trump's remarks and supports his players' "right to peacefully affect [sic] social change and raise awareness in a manner that they feel is most impactful." He added, "I think our political leaders could learn a lot from the lessons of teamwork and the importance of working together toward a common goal displayed in sports."
Patriots quarterback Tom Brady, another Trump supporter, seemed to support the kneeling players in a comment on an Instagram post by Green Bay Packers quarterback Aaron Rodgers. Brady also linked arms with his teammates.
A number of Buffalo Bills and Denver Broncos were kneeling at their game Sunday. Bills owners Terry and Kim Pegula said in a statement that the players, coaches, staff and ownership team had met to discuss the issue. "President Trump's remarks were divisive and disrespectful to the entire NFL community, but we tried to use them as an opportunity to further unify our team and our organization," they said. "Our players have the freedom to express themselves in a respectful and thoughtful manner and we all agreed that our sole message is to provide and to promote an environment that is focused on love and equality."
Pegula paid $1.4 billion for the Bills in 2014, outbidding Trump himself, who took to Twitter to condemn Pegula for over-paying for the team and calling NFL games "boring" and "soft." Trump was also outbid by Jon Bon Jovi for the team. Pegula, an energy magnate, and minority investor KKR & Co. LP (KKR) - Get Free Report sold Pegula's company, East Resources Inc., to Royal Dutch Shell plc (RDS.A) for $4.7 billion in 2010. The Broncos are owned by the Bowlen family. 


At Ford Field in Detroit, while the Detroit Lions linked arms, the national anthem's singer himself ended the song on one knee. The Lions are owned by Martha Firestone Ford, widow of William Clay Ford Sr., a Ford Motor Co. (F) - Get Free Report heir.
John Mara and Steve Tisch, co-owners of the New York Giants, said Saturday that the president's remarks were "inappropriate, offensive and divisive," praising most NFL players' desire to "use their NFL platform to make a positive difference in our society." Mara is a third-generation giants owner, while Tisch's father, former Loews Corp. (L) - Get Free Report chairman Preston Tisch, bought a 50% stake in the team in 1991.
Similarly, Pittsburgh Steelers head coach Mike Tomlin said Sunday that his players would not "participate in the anthem today, not to be disrespectful to the anthem, [but] to remove ourselves from the circumstance." Tomlin said he would "be supportive" of any players who "felt the need to do anything." The Steelers are owned by the Rooney family.
Actress Kate Mara, a former star of Netflix Inc.'s (NFLX) - Get Free Report "House of Cards" and whose maternal and paternal families own the Steelers and the Giants, respectively, also expressed support for the kneeling players.
Some Miami Dolphins players wore T-shirts praising Kaepernick during their warmup. Stephen Ross, who like Trump is a New York real estate developer, acquired the team and its stadium for $1.1 billion in 2009. His privately held real estate company, Related Cos. LP, boasts a property portfolio worth over $50 billion.
The president's comments angered other professional athletes too, including Oakland Athletics rookie catcher Bruce Maxwell and former Minnesota governor and wrestler Jesse Ventura.
Go Inside PayPal's Big Reinvention: TheStreet's Full interview with CEO Dan Schulman
Don't miss these top stories on TheStreet: