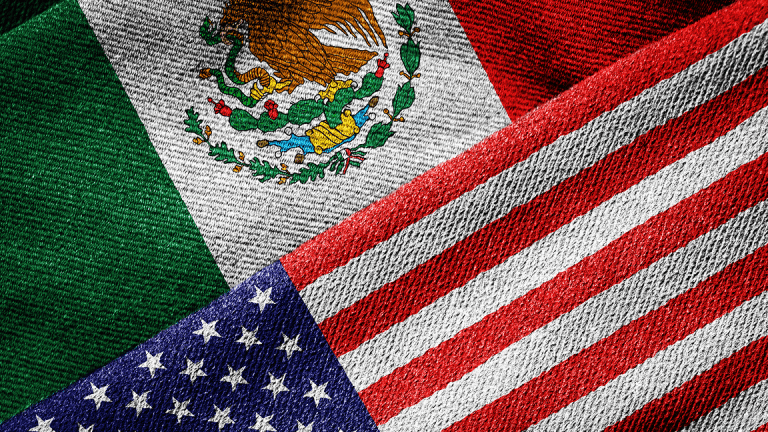 What Is NAFTA? History, Purpose and What It Means in 2019
NAFTA is the North American Free Trade Agreement -- an agreement between the United States, Canada and Mexico to keep trading costs low and bolster the North American market.
You've almost certainly heard of NAFTA recently. With President Trump's threats to renegotiate trade agreements with countries like Mexico and China, NAFTA has become a controversial issue. But what is NAFTA, why was it created, and how has the world's largest trade agreement worked so far?
What Is NAFTA?
NAFTA stands for the North American Free Trade Agreement, which was negotiated by former U.S. President George H.W. Bush, and went into effect under President Clinton in 1994. The agreement is between the United States, Canada and Mexico, and was initially created to help lower costs of trade and bolster North American trade. The agreement eliminated almost all tariffs and taxes on imports and exports. The agreement also rid the three countries of trade barriers.
But how did the monumental and controversial NAFTA get its start? 
Jump ahead to its impact in 2018.
History of NAFTA
Back in 1984, President Ronald Reagan passed the Trade and Tariff Act, which allowed the president special authority to negotiate free trade agreements more quickly. Going off of Reagan's initiative, Canadian Prime Minister Mulroney supported the president and the Canada-U.S. Free Trade Agreement was eventually signed in 1988; it went into effect one year after.
When George H.W. Bush became president, he began to negotiate with Mexican President Salinas to generate a trade agreement between Mexico and the U.S. The trade agreement was part of President Bush's three-part plan called the Enterprise for the Americas Initiative, which also included debt relief programs. 
After Mexico lobbied for a trilateral trade agreement in 1991, NAFTA was created as a way to open up free trade between the three, not just two, superpowers in North America. President H.W. Bush signed the NAFTA agreement in 1992, which was also signed by Canadian Prime Minister Brian Mulroney and Mexican President Salinas.
The agreement went into effect under Bush's successor President Bill Clinton, who signed the agreement himself on Dec. 8, 1993. By January of 1994, the trade agreement was in effect.
Despite a joint effort, NAFTA was considered  one of President Clinton's first victories as president.
What Is NAFTA's Purpose? 
According to NAFTA's article 102 of the agreement, there are 6 declared objectives of the treaty.
Eliminate barriers to trade in, and facilitate the cross-border movement of, goods and services between the territories of the parties.
Promote conditions of fair competition in the free trade area.
Increase substantially investment opportunities in the territories of the parties.
Provide adequate and effective protection and enforcement of intellectual property rights in each party's territory.
Create effective procedures for the implementation and application of this agreement, for its joint administration and for the resolution of disputes.
Establish a framework for further trilateral, regional and multilateral cooperation to expand and enhance the benefits of this agreement.
However, in simpler terms, NAFTA was designed to encourage economic growth and integration among the North American countries, and was thought to actually stimulate job growth, boost the three countries' respective economies, and increase imports.
According to the Council on Foreign Relations, "the deal also sought to protect intellectual property, establish dispute-resolution mechanisms, and, through side agreements, implement labor and environmental safeguards."
Before the treaty, Mexican tariffs on U.S. imports were a couple hundred percent higher than U.S. tariffs on Mexican imports. NAFTA combined the near $6 trillion economies and helped build up North American competitiveness globally in the market.
NAFTA also serves to help resolve trade disputes, especially investor-state issues, by way of tribunals. President Trump has criticized the system for allegedly giving non-U.S. citizens "a veto over U.S. law," according to the Council on Foreign Relations. However, there is still debate over whether NAFTA provisions have actually helped resolve trade disputes by eliminating trade barriers. 
Additions to NAFTA
Two principle additions to NAFTA - the North American Agreement on Labor Cooperation and the North American Agreement on Environmental Cooperation - have had significant impacts on the agreement's efficacy. 
The NAALC was established to "improve working conditions and living standards in the United States, Mexico and Canada" via "oversight mechanisms to ensure that labor laws are being enforced in all three countries" which "are aimed at promoting a better understanding by the public of labor laws and at enhancing transparency of enforcement," according to the United States Department of Labor. For example, with the addition of the NAALC, any Mexican civil society group can bring complaints of Mexican non-compliance to the Department of Labor in either Canada or the United States to ensure labor provisions in NAFTA are being met. The NAALC provides for things like the protection of migrant workers and children and equal pay for women and men.
On the other hand, the NAAEC allows for complaints to go directly to the Commission on Environmental Cooperation, or CEC, which is a trilateral commission between the three countries in NAFTA. According to the CEC website, the addition's purpose is to "promote sustainable development based on cooperation and mutually supportive environmental and economic policies" and ensure the trilateral cooperation with laws and policies sustaining and protecting the environment. The commission can initiate reports about complaints and acts as a way to maintain NAFTA standards. 
Additionally, the North American Industry Classification System (NAICS) was developed by the NAFTA countries in 1997 as a business classification system that allows comparative analysis of business statistics across the three countries. The system is maintained by Mexican, Canadian, and American organizations - the Instituto Nacional de Estadistica y Geografia in Mexico, Statistics Canada, and the United States Office of Management and Budget respectively. 
Still, the Most Favored Nation (MFN) clause has played a large role in NAFTA. Through NAFTA, all co-signed countries are given MFN status - meaning that they must treat all parties equally regarding trade. Through the MFN, the countries may not show favoritism to investors from non-NAFTA countries or show more favor to domestic investors over foreign ones. Basically - they have to treat everyone in the agreement equally. 
What Has NAFTA Accomplished? 
While there is ample debate as to the long-term benefits of NAFTA, the agreement has accomplished several things since its implementation in the 1990s.
Apart from expanding consumer choice for the past 20 years, NAFTA has multiplied trade between the three countries by about 3.5 times compared to 1994, according to an Associated Press report back in 2013.
Additionally, all three countries have enjoyed increased trade, economic growth, and higher wages since NAFTA was approved in 1994, but whether these are the result of NAFTA remains a question for experts. In fact, a 2010 Congressional Research Service report claimed that "Most studies after NAFTA have found that the effects on the Mexican economy tended to be modest at most."
Still, NAFTA has lived up to its aims in some fashion, increasing U.S.-Mexican trade to $481.5 billion in 2015 and U.S.-Canada trade totaling $518.2 billion. That's a 255% and 63.5% increase respectively, according to the Mexican Embassy in Canada. Although the jury is out as to if these phenomenal increases are due solely to NAFTA (which they are almost certainly not), experts believe the treaty has certainly helped.
As of 2017, Mexico and Canada are the second and third-largest exporters to America, behind China in the number one spot. However, current threats to withdraw the United States from NAFTA could have significant impacts on tariffs. Without NAFTA keeping tariffs between the three countries at around 0%, tariffs would revert to those set by the World Trade Organization, which, according to The New York Times, average at about 7.1% for Mexico, 3.5% for the United States, and 4.2% for Canada.
Still, NAFTA has intellectual property (IP) provisions that help protect and give rights to the countries involved in relation to their intellectual property. However, recent discussions over the protection of data under current provisions have called NAFTA to increase protection levels for IP. 
Additionally, through the NAFTA Certificate of Origin, exporters can often waive tariffs if they "certify that goods qualify for the preferential tariff treatment accorded by NAFTA" - which would receive reduced duties. The application must be completed by the exporter, but would reduce duties on exports between the three countries. 
How Has NAFTA Impacted the Economy?
NAFTA's impact on the economy is seemingly mixed. When President Clinton first signed the treaty in 1993, he predicted an enormous economic benefit.
"NAFTA will tear down trade barriers between our three nations, create the world's largest trade zone, and create 200,000 jobs in [the U.S.] by 1995 alone," President Clinton claimed. "The environmental and labor side agreements negotiated by our administration will make this agreement a force for social progress as well as economic growth."
However, the successfulness of the treaty in accomplishing these goals is up to debate.
Since its implementation, NAFTA has benefited the economy through increasing overall trade to well over $1 trillion between the countries.
Additionally, the treaty has helped protect foreign investors by allowing them to bypass courts with complaints of government regulation negatively impacting their businesses. According to USA Today, Mexico and Canada paid out around $350 million in damages to foreign investors - but the United States hadn't paid any as of 2013.
Some estimates suggest NAFTA has only benefited U.S. GDP by around 0.5%, or around $80 billion, according to the Council on Foreign Relations. 
Still, apart from the financials, NAFTA has had a certain impact on supply-chain-related sectors including transportation. The provisions in NAFTA allow for liberal regulation of land transportation regarding streamlining licensing and processing for truckers through an open U.S.-Mexico border. Moreover, NAFTA's history with the environment has largely helped maintain environmental data across the three countries in North America, but recent concerns center around this aspect of the treaty being cut for budget purposes.  
NAFTA In 2019 and Trump's Impact
NAFTA is under attack.
President Trump has been a key advocate of renegotiating or abolishing the treaty, claiming that the agreement is unfair to the United States.
Currently, the president does not intend to withdraw fully from NAFTA, according to Larry Kudlow, Director of the United States National Economic Council in 2018.
"His preference now - and he asked me to convey this - is to actually negotiate with Mexico and Canada separately," Kudlow told The Washington Post this year. "He prefers bilateral negotiations."
But despite the assurance that Trump doesn't intend to utterly abolish the treaty, experts are still skeptical of the consequences.
"I don't think there's many ways that the rules of origin can be changed to expand U.S. production and jobs because tighter rules would lead to higher production costs and have adverse effects on U.S. competitiveness," Jeffrey Schott, senior fellow at the Peterson Institute, told Politico.
Additionally, The New York Times reported that even if the United States withdrew from the treaty, Mexico and Canada might not - putting the United States at a disadvantage in North America.
United States-Mexico-Canada Agreement
On September 30, 2018, an agreement was reached during re-negotiations on changes to NAFTA. The next day, a re-negotiated version of the agreement was published, and referred to as the United States-Mexico-Canada Agreement (USMCA). In November of 2018, at the G20 summit, the USMCA was signed by President Trump, Canadian Prime Minister Justin Trudeau and then-Mexican President Enrique Peña Nieto.
When the USMCA was first announced the day after the agreement was reached, it was claimed that the deal would remove tariff risks from approximately $1.2 trillion worth of goods every year.
Included in the USMCA agreement, sometimes colloquially referred to as NAFTA 2.0, are:
Allowing American farmers access to American dairy products, which had previously been more restricted
Automobiles have to have at least 75% of its components made in the United States, Canada or Mexico, an increase from NAFTA's requirements of 62.5%
By 2023, 40-45% of automobile components must be made by North American workers making at least $16 an hour
The terms of copyright increase to 70 years after the life of the author, an increase from the current limit of 50 years after the life of the author
Prohibition on duties for products like music or e-books purchased electronically
Scrapping parts of Chapter 11, the NAFTA provision also known as the Investors-State Dispute Settlement (ISDS) that allowed investors of companies to sue governments
A "sunset" clause, in which the terms of the agreement expire after 16 years. The USMCA would be reviewed every 6 years, during which it can be extended for another 16 year term
While the leaders of all 3 countries have signed the agreement, it cannot go into effect until the governments of all 3 countries pass it. However, the United States has yet to pass the USMCA as a bill. House Democrats have urged additions to the USMCA that, among other things, strengthen labor laws and add environmental protections.
Criticism of NAFTA
Over the course of its duration, there have been many critics of NAFTA and what it has accomplished. Many critics blame NAFTA for a decrease in manufacturing workers, which CNN reported to be down from 17 million in 1994 to 12.4 million in 2017 - claiming to be sending those jobs to Mexico, which is lower-cost employment.
Additionally, critics claim that the maquiladora programs implemented in Mexico exploit Mexican workers, and that workers who did keep U.S. manufacturing jobs must accept lower wages due to competition.
President Trump has been vocal about his harsh stance on trade with other countries, leading up to the current trade war with China. The president has also been a notable critic of NAFTA. President Trump allegedly wants to terminate NAFTA, as per his agenda opposing free trade with Mexico, and also reportedly wants to put a 35% tax on goods, like Ford (F) - Get Ford Motor Company Report cars, that are made in Mexico, according to CNN.
In fact, the president has been critical from the beginning.
"NAFTA is the worst trade deal maybe ever signed anywhere, but certainly ever signed in this country," Trump told then-candidate Hillary Clinton during a debate in 2016.
However, Trump isn't the only one criticizing the agreement.
Former President Obama reportedly blamed NAFTA for an increase in unemployment during his 2008 Presidential campaign. Criticizing the treaty during his presidency, Obama proposed the Trans-Pacific Partnership deal (which is similar to the Trump presidency's changes to NAFTA), calling on U.S. trading partners to "adhere to strict labor and environmental standards," according to Politico.
However, the Trump administration's wishes to alter NAFTA are causing experts to scratch their heads - especially in reference to the TPP.
"It is ironic that they want to fix a 'terrible' agreement by including provisions from the TPP, one deal that the administration claims is even worse," Bill Reinsch, a fellow at the Stimson Center, told Politico last year.
Regardless of the debate over its long-term effects, NAFTA is undoubtedly one of the most important trade agreements in recent history.