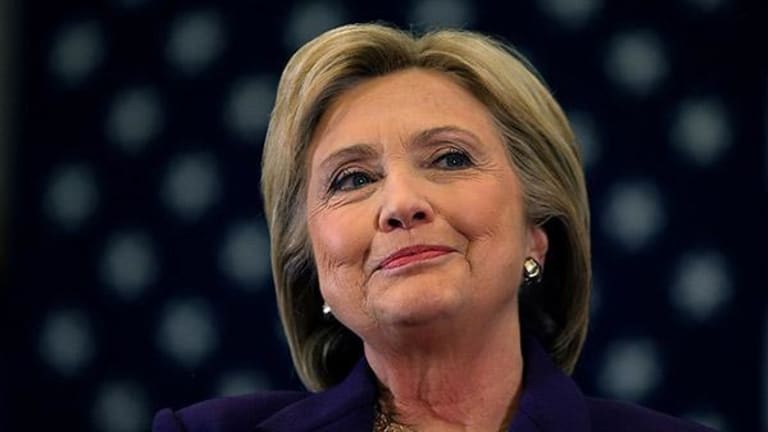 Mylan, Trump and Tons of Huge Corporations Have Donated to the Clinton Foundation
Pretty much every company you can think of has donated to the Clinton Foundation. So has Donald Trump. Should it matter?
Think you've got no ties to the Clinton Foundation? Think again. Chances are, you're invested in or a customer of a number of corporations that have sent the charity money over the years.
The public charity has come under enormous scrutiny in recent months over concerns it represents a conflict of interest for Democratic presidential candidate Hillary Clinton. The foundation, which was founded in 2001 by President Bill Clinton after he left the White House and has been widely praised for its work in treating millions of Africans with AIDS, announced last week that it will no longer accept donations from corporations or foreign entities if Hillary is elected to the presidency. It would mean nixing a number of big-name companies from the donor list.
Dozens of Fortune 500 companies are among those listed as contributors to the Clinton Foundation since its 2001 launch. Leslie Lenkowsky, expert on philanthropy with Indiana University and former CEO of the Corporation for National and Community Service under the George W. Bush administration, noted that the Clinton Foundation's corporate donor reach is not exactly common, but then again, neither is the foundation's founder.
"The thing about Bill Clinton is that it's been well known that he has an extremely broad network," he said.
Coca-Cola (KO) - Get Coca-Cola Company Report  is one of the Clinton Foundation's corporate donors, giving in the $5-to-$10 million range to the charity (according to the foundation's website), with its latest contribution coming as recently as the second quarter of this year. Prepaid wireless service provider TracFone Wireless is in the same donation level category, as is the Elton John AIDS Foundation, the government of the Netherlands and German racecar driver Michael Schumacher.
In the $1-to-$5 million donation level are names like ExxonMobil (XOM) - Get Exxon Mobil Corporation Report , Yahoo! (YHOO) , Cheniere Energy (LNG) - Get Cheniere Energy, Inc. Report , General Electric (GE) - Get General Electric Company (GE) Report and Boeing (BA) - Get Boeing Company Report . Microsoft (MSFT) - Get Microsoft Corporation (MSFT) Report falls in the same donor-level range. The charitable organization headed by the software company's founder, the Bill & Melinda Gates Foundation, has given the Clinton Foundation more than $25 million.
Alibaba (BABA) - Get Alibaba Group Holding Ltd. Sponsored ADR Report , Alphabet's (GOOGL) - Get Alphabet Inc. Class A Report Google, Nike (NKE) - Get NIKE, Inc. (NKE) Report , Visa (V) - Get Visa Inc. Class A Report and Citigroup (C) - Get Citigroup Inc. Report have contributed $500,000-to-$1 million to the Clinton Foundation, and Bank of America (BAC) - Get Bank of America Corp Report , Delta Air Lines (DAL) - Get Delta Air Lines, Inc. Report , PepsiCo (PEP) - Get PepsiCo, Inc. Report , Hertz (HTZ) - Get Hertz Global Holdings, Inc. Report and Qualcomm (QCOM) - Get QUALCOMM Incorporated Report are among those having giving at least $100,000.
The number of corporations giving money to the Clinton Foundation, and the levels at which they are donating, is not entirely unusual, experts say. Despite its name, the entity is not a private foundation (which generally acts as a pass-through for private donations to other charitable organizations) but is a public charity, much like the United Way or the American Red Cross.
"To have corporations giving either directly or through their corporate foundations to the Clinton Foundation, that is not at all uncommon," said Miranda Fleischer, a professor at the University of San Diego School of Law.
Some of the companies listed as having donated to the Clinton Foundation have, in different contexts, caused headaches for the Clintons. Goldman Sachs (GS) - Get Goldman Sachs Group, Inc. (GS) Report , where Secretary Clinton delivered much-discussed high-paid speeches, is in the mix, as are a number of banking entities her enemies often say indicate she has too close of a relationship to Wall Street.
But less-than-friendly entities to Bill and Hillary have donated to their foundation as well. Conservative news website Newsmax in 2015 pledged over $1 million to the charity. Pfeizer (PFE) - Get Pfizer Inc. Report , whose proposed inversion deal Clinton decried last year, is a Clinton Foundation donor. So is Mylan (MYL) - Get Mylan N.V. (MYL) Report , whose EpiPen pricing practices Clinton blasted just this week.
Despite the controversy swirling around the Clinton Foundation, it appears that plenty of companies and business leaders have had no qualms about giving the organization some money. Heck, even Clinton's Republican rival, Donald Trump, is a donor.
With Clinton and Trump both generating strong feelings from supporters and detractors, will consumers or investors care that a company they might patronize or invest in has donated to the Clinton Foundation? They shouldn't. 
"In and of itself, the fact that corporations are supporting this public charity is no different than looking at the list of corporations that support the Metropolitan Museum of Art," said Richard Marker, philanthropy adviser and founder of NYU's Academy for Grantmaking and Funder Education.
GE, GOOGL, Visa, Citigroup and PepsiCo are holdings in Jim Cramer's Action Alerts PLUS Charitable Trust Portfolio. See how Cramer rates the stock here. Want to be alerted before Cramer buys or sells GE, GOOGL, V, C or PEP? Learn more now.