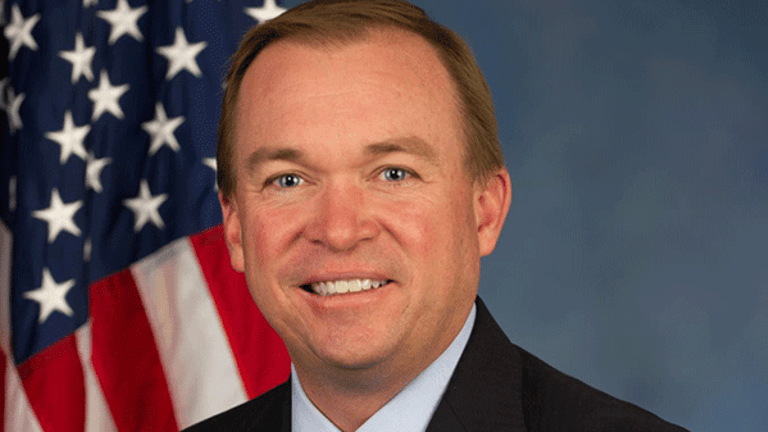 Mulvaney, Trump's Budget Chief Pick, Compares U.S. Debt to Family Finances
Donald Trump's choice to head the Office of Management and Budget, is set to tell lawmakers that "it will take tough decisions today in order to avoid impossible ones tomorrow."
Updates with details from the hearing.
Donald Trump's choice to head the Office of Management and Budget, Rep. Mick Mulvaney, a prominent deficit hawk, told lawmakers on Tuesday that the U.S. government's soon-to-be $20.1 trillion debt is a problem that "must be addressed sooner, rather than later."
"We can turn this economy, and this country around...but it will take tough decisions today in order to avoid impossible ones tomorrow," Mulvaney told the U.S. Budget committee at a hearing for his confirmation. "Our gross national debt has increased to almost $20 trillion. That number is so large as to defy description."
Mulvaney calculates that if the U.S debt were distributed among the U.S. population it would translate "to a credit card bill of $260,000," adding that "families know what that would mean for them. It is time for government to learn the same lesson." However, his comments don't deal with some of the differences between the finances of the U.S. government and a typical American family, including the government's ability to print money.
However, Mulvaney, a Republican lawmaker from South Carolina, didn't clearly address whether he would support or oppose raising the federal debt ceiling, which is due to be reinstated in March.
Opposition by Mulvaney, who has spoken vocally against raising the debt ceiling in the past, could set up what could become a major policy challenge for the Trump Administration. As OMB chief, Mulvaney, 49, would hold an influential position, raising concern among regulatory observers that he could bolster support from the president-elect and Republican House members to oppose raising the limit and set the stage for heightened political and economic risk.
At the hearing, in response to questions from two Democrat senators, Mulvaney said he would council the president on the "ramifications" of raising the debt ceiling and not raising the debt ceiling. He added that he feels like he has a "a grasp of both sides of that issue and look forward to convey all of the arguments." In addition, he noted that the debt ceiling debate has been used to try and pass reform legislation to help "solve some of the issues" around the debt.
That's a different response to comments Mulvaney has made in the past during his stint as a congressman. In 2011, Mulvaney told Fox Business in 2011 that he had "no difficulty in" voting against the debt limit and that it was worth it to "force a discussion" about spending. Mulvaney also said he was not sure what would happen if the debt ceiling wasn't raised. He added at the time that if the U.S. didn't make structural changes to send a message that the U.S. was going to be fiscally responsible that he would vote against the debt ceiling increase. 
Most recently, the government's borrowing limit, which was raised significantly in the wake of the 2008 financial crisis, was suspended in November 2015 and is set to be reinstated on March 16, according to the Bipartisan Policy Center. The BPC projects the nation's debt will be at about $20.1 trillion at the time the limit is due to be reinstated. After that, if the ceiling isn't raised, the U.S. could engage in some extraordinary measures to allow the U.S. Treasury to continue to borrow to meet its financial obligations until at least mid-summer 2017 or later, before default happens. 
Mulvaney also squabbled with Sen. Chris Van Hollen, D-Md., over a 2011 Government Accountability Office report that suggested that battles over raising the debt ceiling cost tax payers cost, including roughly $1 billion during a 2011 impass. The GAO estimated that a 2011 squabble over the debt ceiling cost the government $1.3 billion that year.
"Do you dispute the GAO finding that it cost taxpayers over $1 billion the last time we had a real showdown on this issue?" asked Van Hollen. "We didn't even breach it there. Obviously if you breached it you will have a huge cost to taxpayers."
Mulvaney said that even though he didn't dispute that there was a short-term cost over the prolonged impasse, he doesn't agree with the exact conclusion.
Experts estimate that the market reaction to congressional delays in raising the U.S. debt limit has cost the U.S. government and taxpayer "hundreds of millions of dollars," over the past decade, when considering the spike in interest rate payments and uncertainty that the squabbling has created.
Sen. Angus King, who caucuses with Democrats, said he hasn't seen any data or studies that indicating that violating the debt ceiling would be good for the U.S. economy.
The prospect of a possible default on the U.S. debt is something opponents have suggested could send U.S. interest rates soaring -- costing hundreds of millions of dollars in higher debt costs -- cause future debt payments to become unsustainable and threaten the dollar's role as the world's most important reserve currency.
Nevertheless, the possibility of a possible default had already weakened after Trump's pick for Treasury Secretary, Steve Mnuchin, firmly committed last week at his own confirmation hearing to "absolutely" working with Congress to raise the nation's debt ceiling "sooner rather than later" so that the U.S. doesn't default on its debt. "I would like us to raise the debt ceiling sooner rather than later so we don't run a risk of defaulting," Mnuchin said. "I will commit to absolutely work with Congress, the House and Senate, so we don't get to the last minute and run out of money."
A key topic of discussion involved concerns around Mulvaney's recent revelation that he had failed to pay payroll taxes for a nanny, who took care of his children between 2000 and 2004. Senate Minority Leader Chuck Schumer, R-N.Y., has said that the failure should disqualify Mulvaney from the position of budget chief.
At the hearing, Mulvaney said he did not consider her a household employee for the purposes of tax withholding because she didn't live or cook for his family, nor did she educate his children. However, during the transition vetting, Mulvaney said "for the first time" he realized he had made a mistake and that the Internal Revenue Service viewed what he considered a babysitter as a household employee.
"We paid the taxes and notified the IRS of what we were doing and why and I told everyone in this committee, the Senate and apparently told the media as well," Mulvaney said. "We made a mistake and as soon as it was brought to my attention and I took every step to fix it and will pay any penalties any interest and late fees and abide by law to the best of my abilities."