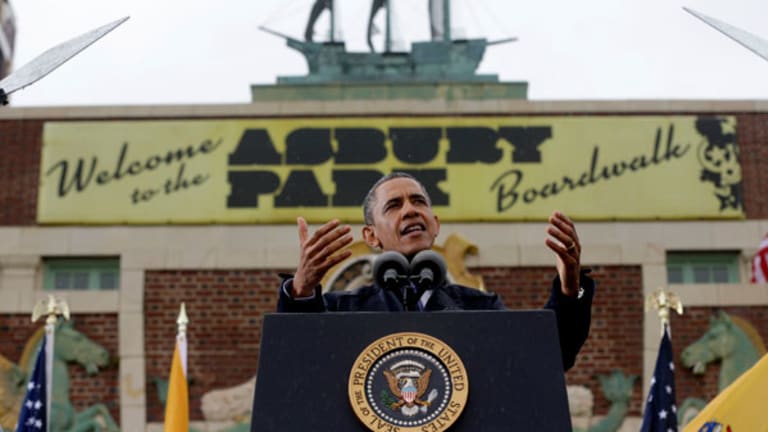 Move Over Springsteen, Obama Rocks Asbury Park
President Obama told a rain-soaked crowd that the Jersey Shore is back, 'stronger than the storm' and promised to continue efforts to rebuild after Hurricane Sandy.
ASBURY PARK, N.J. (TheStreet) -- President Obama got a warm, if wet, welcome at this New Jersey Shore town's boardwalk Tuesday afternoon, wearing his FEMA jacket and standing alongside the New Jersey Republican Governor Chris Christie. With his usual charm, the president addressed a dedicated and delighted crowd outside on the boardwalk at Asbury Park's Convention Hall.
More than 1,200 people lined up Sunday for a limited number of tickets to the event, and all ticket holders were admitted on Tuesday. Crowds of people without tickets stood near the entrance area lining the blockades on the streets and boardwalk that kept pedestrians and cars blocks away from site.
Governor Christie introduced the president from a podium set up in the light rain from which Obama spoke of his visit earlier in the day to the Point Pleasant boardwalk, where he and the governor and the governor's family played some games, including the classic "Frog Bog."
"Gov. Christie's kids taught me the right technique for hitting the hammer to get those frogs in those buckets the way I was supposed to," the president said.
Also see: Dicker: Elon Musk Driving Force on Solar City >>
But the president quickly moved into the rebuilding of the Shore after Sandy and hammered away at the theme that his administration and the American people will not stop until all rebuilding is complete. Noting that there was still much to be done, the president praised the residents for their accomplishment and their determination.
"You are stronger than the storm," he said, to cheers. "After all you've dealt with, after all you've been through, the Jersey Shore is back and it is open for business and they want all Americans to know that they are ready to welcome you here."
Also see: Fannie and Freddie Continue Rocket Ride: Financial Winners >>
The president alluded to Asbury Park's most famous export, Bruce Springsteen, "I think a friend of mine from here probably put it pretty well," he said. " 'Down the Shore everything's all right.' He's the only person that the president has to call 'The Boss' -- except the First Lady."
As if to stave off criticism that his administration was trying to take credit for work not yet completed, the president several times reiterated his message that much remains to be done, that some remain under hardship from the effects of Hurricane Sandy.
"We're not done yet, I want to make sure everybody understands that . . . " the president said. "We're going to keep on going until we finish.
"But if anybody wonders whether the Shore can ever be all right again, you got your answer this weekend," the president said.
The quote actually comes from a Tom Waits song, "Jersey Girl," covered by Bruce Springsteen. But nobody was quibbling.
The crowd of mostly locals stood three hours in the continuing rain for a once-in-a-lifetime view of the President of United States in their hometown and his remarks were consistently met with enthusiastic cheering. Among the attendees were a few teachers and children selected by lottery from Asbury Park's school elementary, middle and high schools.
Outside the blockade, a small group carrying signs that sported the Sierra Club logo had gathered to protest President Obama's energy policies, including the Keystone Pipeline, and calling for a greater emphasis on clean energy and action to counter climate change. A homemade sign held by one protester read, "Your energy policy is drowning the Shore."
State police had blocked off the motorcade route, a long stretch of a main North-to-South artery running parallel to the beach and about five blocks of the East-to-West-running Fifth Avenue that leads to the boardwalk. As a result, during the time that president was in town, frustrated residents and visitors found it impossible to cross into or out of an area roughly 10 blocks long and five blocks wide, whether by auto or on foot.
The president's speech lasted less than 10 minutes. The worst of the traffic disruption lasted about an hour, from the time the motorcade approached until it left.
But those few frustrations aside, the town appeared to welcome the president's visit as a shot in the arm for its summer tourism business, which officially kicked off over weekend.
Also see: Dow Scores 20th Tuesday Win >>
In a phone interview about the president's visit after the event, Tom Gilmour, Director of Commerce for the City of Asbury Park, said, "That was just awesome. That was amazing."
The town is ready for the summer, Gilmour added, and said that word of its readiness and its attractions is growing. But rain and wind on Saturday made for a disappointing holiday weekend, he said.
"It hurt us," Gilmour said. "We had a major ribbon cutting on Friday and a radio station was broadcasting, which should have brought a couple thousand people into the area and it brought a couple hundred."
But a visit from the governor and better weather Sunday and Monday helped to offset that slow start somewhat, he said. More importantly, those that did come are spreading the word.
"Everybody that I talked to said, 'Wow, things in Asbury Park were really good.' So I think word is starting to get out. I think we're off to a great start."
Editor's note: Details of the president's speech were acquired using outside media sources.
-- Written by Carlton Wilkinson in Asbury Park