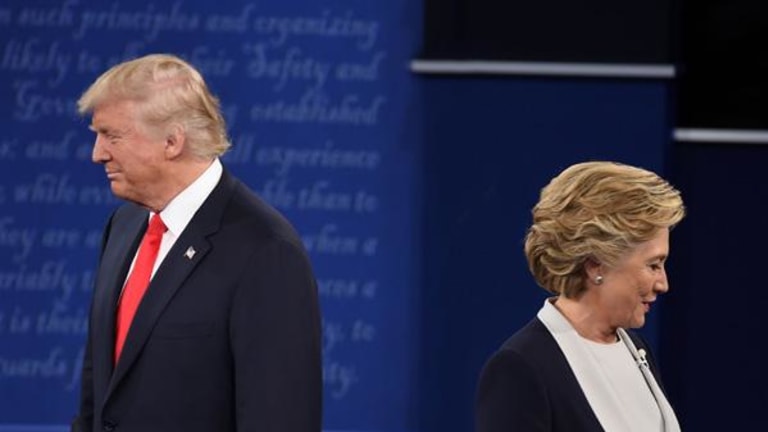 Most CEOs Pick Clinton, Plead the Fifth Over Backing Trump
Starbucks CEO Howard Schultz would really rather you didn't vote for Donald Trump. And even if you do, he figures you'll probably still need your morning coffee fix, anyway.
Starbucks (SBUX) - Get Free Report CEO Howard Schultz would really rather you didn't vote for Donald Trump. And even if you do, he figures you'll probably still need your morning coffee fix, anyway.
Schultz, who reportedly toyed with the idea of a presidential bid of his own this year, over the weekend penned a letter to employees urging "civility and dignity" in the days leading up to the presidential election and calling for them to "rise above this moment." He endorsed Democratic nominee Hillary Clinton in September.
The 63-year-old executive has seen his $80-billion-dollar coffee empire caught in the political crosshairs this election cycle. Starbucks' plain red 2015 holiday cup sparked outrage among some religious consumers, and Trump on the campaign trail suggested boycotting the company in return. The company recently revealed a limited-edition green cup featuring a mosaic of over 100 people, which has bothered some customers again.
Coffee fanatics didn't abandon Starbucks last holiday season, and chances are, they won't this one either, despite its CEO's politics and a potential Cupgate 2.0.
"I don't think the majors risk much," said Bob Phibbs, a New York retail consultant, referring to big multinational corporations such as Starbucks and Target (TGT) - Get Free Report , which has faced backlash over its transgender bathroom policy, as examples.
Schultz isn't the only CEO to say #ImWithHer in Election 2016.
Dozens of current and former executives have come out in support of Clinton, including Netflix's (NFLX) - Get Free Report Reed Hastings, Alphabet's (GOOGL) - Get Free Report Eric Schmidt, Delta's Richard Anderson and Costco's (COST) - Get Free Report Jim Sinegal. Reid Hoffman, cofounder of LinkedIn (LNKD) , is a Clinton supporter. He has also put $5 million into a push to get Trump to release his tax returns.
Berkshire Hathaway BRK.A BRK.B head Warren Buffett has been a vocal Clinton supporter (and Trump detractor) and has joined her on the campaign trail. Just this week, hedge fund billionaire David Tepper said he supports the former secretary of state's presidential bid after having made major donations to super PACs backing Republicans Jeb Bush and John Kasich during the primaries.
To be sure, there are a fair share of big names in business backing Trump. Perhaps the most vocal is PayPal (PYPL) - Get Free Report cofounder Peter Thiel, who spoke on Trump's behalf at the Republican National Convention. Activist investor Carl Icahn is in Trump's corner, as are billionaire investors Wilbur Ross, John Paulson and T. Boone Pickens.
Many others have kept quiet.
TheStreet contacted several asking their leadership's stance on Election 2016, and the vast majority declined to weigh in.
"Dunkin' Brands (DD) - Get Free Report doesn't favor any particular candidate over another, and we will let the American people decide on Election Day. No matter who is elected as our next president, we encourage him or her to support policies that help small businesses like our franchisees to grow and thrive," a spokesperson said in a statement.
Harley Davidson (HOG) - Get Free Report CEO Matt Levatich has not publicly endorsed anyone for president and according to a spokeswoman will not be sharing who he is voting for. He has previously been outspoken on his views and in April said he believes the election is "damaging the American brand."
Avon (AVP) - Get Free Report , Newell Brands (NWL) - Get Free Report , Clorox (CLX) - Get Free Report , Container Store (TCS) - Get Free Report , Under Armour (UA) - Get Free Report , General Mills (GIS) - Get Free Report , Honeywell International (HON) - Get Free Report , Boyd Gaming  (BYD) - Get Free Report and Fitbit  (FIT) - Get Free Report  declined to comment or weigh in. Lockheed Martin (LMT) - Get Free Report and Northrup Grumman (NOC) - Get Free Report , both of which could benefit from Trump's policies, said they have not endorsed a presidential candidate.
The Geo Group (GEO) - Get Free Report , the private prison operator whose immigration plans would give Trump a boost, did not return a request for comment on the matter. The company has, however, donated to a pro-Trump super PAC.
A Las Vegas Sands  (LVS) - Get Free Report said no one was available to discuss the topic but pointed to a September story on the company's CEO Sheldon Adelson support for Trump. Adelson last week put $25 million into an anti-Hillary Clinton super PAC.
Adelson's peer in the gaming business, MGM Resorts  (MGM) - Get Free Report CEO Jim Murren, is a lifelong Republican and this summer in an op-ed announced he would be backing Clinton. An MGM spokesperson said the company has not taken a position on the presidential election but noted that Murren "did do several interviews about his private choice."
General Motors (GM) - Get Free Report , which Trump has criticized for its investments in Mexico, said through a spokesperson that neither the company nor CEO Mary Barra have endorsed a candidate. Ford (F) - Get Free Report , which has also been a Trump target for moving small car production to Mexico, has not endorsed a candidate, nor has CEO Mark Fields. The company has done a series of blog posts and media alerts defending itself from the real estate magnate's critiques.
Tesla's (TSLA) - Get Free Report Elon Musk has not done a full endorsement but on CNBC last Friday said of Trump, "I feel a bit stronger that he is not the right guy."
Apple's (AAPL) - Get Free Report Tim Cook has not publicly endorsed Clinton, but he has donated to her campaign and hosted a fundraiser for her over the summer. His aversion appears to be to Trump specifically and not the Republican Party -- he also hosted a fundraiser with GOP House Speaker Paul Ryan.
Facebook's (FB) - Get Free Report Mark Zuckerberg has offered thinly-veiled critiques of Trump but has also come out in defense of Thiel, his company's first outside investor. Dustin Moskovitz, who cofounded Facebook with Zuckerberg, has committed $20 million to defeating Trump.
Goldman Sachs GS executive Lloyd Blankfein said in a recent interview he is backing Clinton, though he has previously been coy about his leanings. "I don't want to help or hurt anybody by giving them an endorsement," he told CNBC in February.
It's common for CEOs and business leaders to weigh in on politics, and there is often a clear correlation between the interests of their business and the candidate and party they support, said Julian Zelizer, professor of history and public affairs at Princeton University. This year is different.
"Among parts of the business community, there is a genuine fear about what happens if Donald Trump is president to the economy...not because his policies are wrong, but literally it will create a kind of instability that will then reflect itself in markets," he said.
There are several estimates a Trump presidency would be bad for the U.S. economy and global markets.
Others are taking a stand because of Trump's divisive rhetoric and policies they believe are against the American ethos.
"The alliance between business and finance and the GOP is much tenser with Trump at the top of the ticket," Zelizer said.