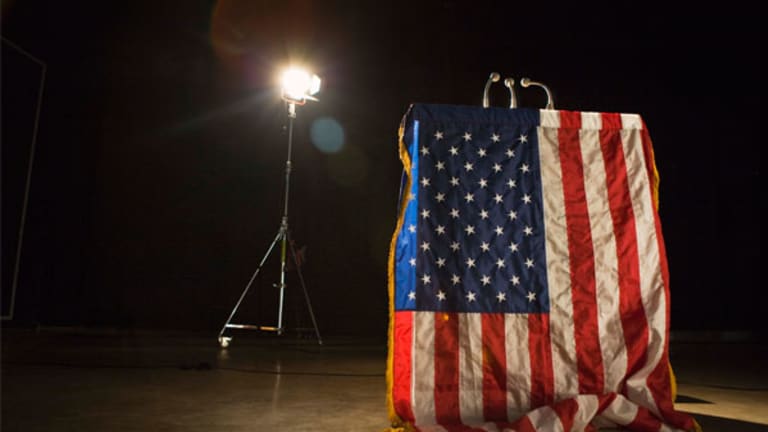 Morsi Declared Winner in Egypt
Muslim Brotherhood candidate wins narrow victory.
NEW YORK (TheStreet) -- The Muslim Brotherhood candidate has won the presidential runoff election in Egypt by a narrow margin, according to published media reports Sunday.
Mohamed Morsi was declared the winner over Ahmed Shafiq, the former prime minister under ousted President Hosni Mubarak, with nearly 52% of the vote vs. slightly more than 48%, news reports said. Voter turnout was reported at 51%.
The results of the runoff had been delayed for days as each side accused the other of fraud.
As the polls closed a week ago, the military stripped the president's office of most of its major powers. A court had earlier dissolved the parliament, which held a Muslim Brotherhood majority.
Tens of thousands were celebrating the election results in Cairo's Tahrir Square Sunday, where the Muslim Brotherhood had promised to continue its occupation if Shafiq were declared the victor.
A future for Egypt under the American-educated Morsi remains unclear.
CNN
has quoted Morsi as saying, "There is no such thing called an Islamic democracy. There is democracy only. ... The people are the source of authority."
Critics meanwhile fear he will move to create a strict Islamic state. However the recent moves by the military and the courts, plus the narrow victory over Shafiq, point to a continuing struggle for power.
In an attempt to show he was a leader for all Egyptians, Morsi on Sunday resigned from his positions in the Brotherhood and its Freedom and Justice Party, a move announced by the Brotherhood on Twitter.
The release of the votes is the last stage of the first democratic elections in Egypt's history, the culmination of a political upheaval that began with the uprising against Mubarak over a year ago. Mubarak has since been sentenced to life in prison over the deaths of protesters during the uprising.
This article was written by a staff member of TheStreet.