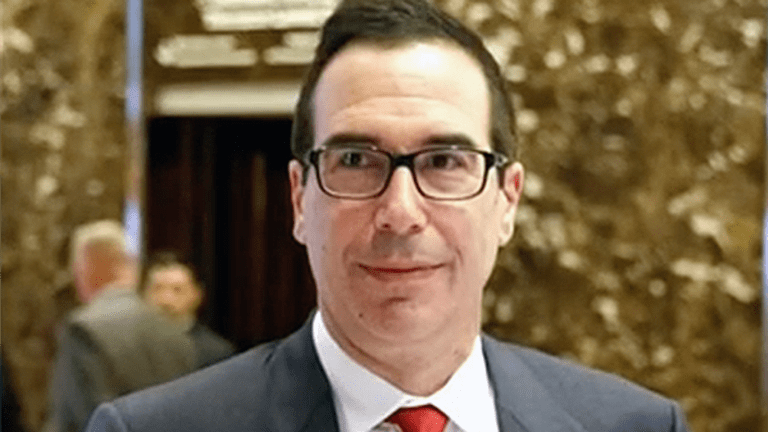 Mnuchin Omits $100 Million in Assets, Says It's 'Quite Complicated'
Steven Mnuchin waded into an unexpectedly murky swamp on Thursday: answering for undisclosed interests and millions of dollars in assets.
Updated to include Mnuchin's views on the Volcker Rule, debt ceiling.
Steven Mnuchin walked into his Senate confirmation hearing expecting to spend much of his time defending his financial crisis-era foreclosure practices. Instead, he waded into a perhaps even murkier swamp: undisclosed interests in a tax haven investment fund and millions of dollars in assets.
Mnuchin, who President-elect Donald Trump has nominated to be Treasury Secretary, initially failed to disclose almost $100 million of his assets to the Senate Finance Committee and omitted his role as a director of an investment fund located in the Cayman Islands, Democratic committee staff members revealed in a memo first reported by the New York Times on Thursday.
"I think as you can all appreciate, filling out these government forms is quite complicated," he said when pressed on the issue by Michigan Democrat Debbie Stabenow on the matter.
Mnuchin blamed his failure to list $95 million worth of real estate, including a co-op in New York City, a residence in Southampton, New York, a residence in Los Angeles and $15 million in real estate holdings in Mexico, on his lawyer, who he said is "quite sophisticated in this stuff" and believed the forms were filled out correctly.
The former Goldman Sachs executive who headed fundraising efforts for Trump's presidential campaign said he sought to turn in his paperwork to the Senate committee early and admitted that "perhaps it was a mistake" to do so.
"It doesn't take a rocket scientist to understand the words 'all positions,'" Senator Tom Carper, a Democrat from Delaware, shot back.
Mnuchin, 45, also omitted nearly $1 million in artwork owned by his children.
Mnuchin's failure to initially disclose that he is the director of Dune Capital International, an investment fund incorporated in the Cayman Islands, was a major point of discussion. (He also belatedly disclosed management positions in seven other investment funds.) Senate Democrats hit Mnuchin not only for leaving the tax haven entity off of his first round of paperwork but also utilized it to press him on tax loopholes in general. As Treasury Secretary, he would oversee the IRS.
Mnuchin insisted he did not use the Cayman Island in any way to avoid taxes himself but instead set it up for the benefit of pensions, nonprofits and some foreign entities.
"This was done so that different entities could invest," he said. "Sometimes it had nothing to do with taxes."
He told Caper that if he wanted him to dive fully into the entire hedge fund and pension fund, "we should have an IRS session to go through these issues," which he noted are "very complicated."
When pressed by Stabenow as to whether he would seek to close tax loopholes like those his Cayman Islands fund has taken advantage of, he said, "I would support changing the tax laws to make sure that they're simpler and more effective."
In a somewhat surprising turn, Mnuchin said at Thursday's hearing that he supports the Volcker Rule, which prohibits proprietary trading by the largest U.S. banks. 
"I do support the Volcker Rule," Mnuchin said. "I think the concept of proprietary trading does not belong mixed with [Federal Deposit Insurance Corp.] insurance."
He qualified the statement, noting that he would want to take a closer look at the rule after a discouraging December Federal Reserve report that said the measure has a "deleterious effect on corporate bond liquidity."
Also on the regulatory front, Mnuchin said the Consumer Financial Protection Bureau, which was set up after the 2008 crisis to write rules for mortgage products, should be retained. However, he said the agency should be funded out through a congressional appropriation process, rather than from the Federal Reserve, where it currently receives funding.
Mnuchin firmly committed to "absolutely" working with Congress to raise the nation's debt ceiling "sooner rather than later" so that the U.S. doesn't default on its debt.
The U.S. debt ceiling is due to be reinstated in mid-March and could become a major policy challenge for the incoming administration if Republicans in Congress seek to block efforts to reinstate and raise it. A possible opponent is the Trump administration's pick for the Office of Management and Budget, Representative Mick Mulvaney, a deficit hawk who is known for his opposition to raising the nation's debt ceiling.
"I would like us to raise the debt ceiling sooner rather than later so we don't run a risk of defaulting," Mnuchin said. "I will commit to absolutely work with Congress, the House and Senate so we don't get to the last minute and run out of money."
Prior to Thursday's hearing, Democrats focused much of their criticism of Mnuchin on OneWest, a mortgage lender he headed during the financial crisis that faced allegations of questionable practices and foreclosed on thousands of homes.
"In the press, it has been said that I ran a 'foreclosure machine," he said in prepared remarks delivered Thursday. "This is not true."
Mnuchin in 2009 led a group of investors that bought mortgage lender IndyMac from the government for $1.6 billion. They renamed it OneWest.
According to data from the Treasury's Home Affordable Modification program, OneWest extended roughly 100,000 offers to modify loans to help reduce monthly payments for delinquent borrowers. 
"Unfortunately, not all of the homes could be saved through these programs, and despite my best efforts, some were, sadly, subject to foreclosure," Mnuchin said.
OneWest was sold to CIT Group (CIT) - Get CIT Group Inc. Report in 2015 for $3.4 billion. Bloomberg estimates Mnuchin may have made $380 million on the deal.
There were many critics of the deal among Democrats, including Senators Sherrod Brown and Ron Wyden, who argued that a foundation Mnuchin chaired employed tax-exempt dollars to fund a campaign pushing for the deal's approval. According to Politico, 14 groups that sent letters to the Fed to back the merger received a combined $2.5 million from the OneWest Foundation in the four years leading up to the merger.
Republican Senator Orrin Hatch, chairman of the Senate Finance Committee, defended Mnuchin, arguing that after participating in the purchase of IndyMac, Mnuchin's company offered loan modifications to the "vast majority of its delinquent borrowers" to reduce foreclosures.
The disproportionate amount of time Senate Democrats have spent on Mnuchin's history at OneWest might ultimately prove unwise, said Kara Ward, legislative and government affairs counsel at law firm Venable LLP and former attorney at the U.S. Department of Treasury.
"[It will be] perhaps to the detriment of other major policy issues that the Treasury will be facing over the next four years," she said.
The Treasury Department performs a variety of functions related to the economy and finance. The Inspector General, the IRS, the Financial Crimes Enforcement Network and the Alcohol and Tobacco and Trade Bureau fall under its umbrella, among other bureaus.
Mark Zandi, chief economist at Moody's Analytics, said that in Mnuchin's testimony he will be looking out for indications of prioritization.
"I'd really like to know about their priorities, because they've got a lot of stuff on the agenda -- corporate tax reform, China and currency manipulation, Dodd-Frank repeal, Fannie Mae and Freddie Mac privatization. These are big things, so what's first?" he said.
Tension was high early on at Thursday's hearing, as senators squabbled over opening statement procedures. After criticism from Wyden, Republican Senator Pat Roberts cut off his opening comments, saying tersely, "Fine, Ron, I'm done."