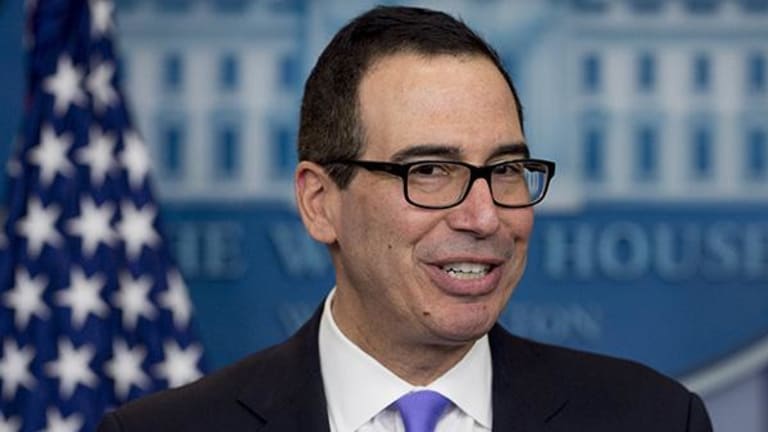 Mnuchin Touts Trump Tax Proposal as 'Biggest' and 'Largest' in U.S. History
Treasury Secretary Steven Mnuchin is touting the soon-to-be-unveiled White House tax plan as the "biggest tax cut" and "largest tax reform" in United States history.
Treasury Secretary Steven Mnuchin is touting the soon-to-be-unveiled White House tax plan as the "biggest tax cut" and "largest tax reform" in United States history.
The former Goldman Sachs (GS) - Get Goldman Sachs Group, Inc. (GS) Report executive confirmed that Trump will propose a 15% corporate tax rate on Wednesday while speaking with The Hill's editor-in-chief Bob Cusack in an event sponsored by the American Bankers Association on Wednesday. While he declined to go into significant detail on the blueprint the White House is expected to release later in the day, he said tax reform is the center of Trump's plan to boost the economy.
"This is going to be the biggest tax cut and the largest tax reform in the history of our country," Mnuchin said. The last time Washington enacted meaningful tax reform was during the Reagan administration in 1986, the largest simplification of the U.S. tax code in history.
Trump will propose to drop the corporate tax rate to 15% from 35%, Mnuchin said, reiterating the number Trump put out while campaigning. The rate will also apply to pass-through businesses, which are currently taxed at the individual rate. Mnuchin emphasized the measure is targeted at helping small businesses and "won't be a loophole" for rich people.
Observers have noted a steep reduction in the pass-through rate would boost Trump's businesses as well.
The controversial border adjustment tax, a measure proposed by House Republicans that taxes imports and exempts exports, won't be included in Wednesday's proposal. The White House has yet to weigh in definitively on the matter, though it's not entirely convinced on it as it stands today.
"There's many aspects of it we like, there's certain things that we're concerned about," Mnuchin said. "We don't think it works in its current form."
He said the White House has been in contact with Speaker of the House Paul Ryan (R-WI) and Ways and Means Committee Chairman Kevin Brady (R-TX) on the border adjustment tax.
Ryan, speaking at a legislative seminar at law firm BakerHostetler Wednesday morning, said the GOP doesn't want "severe disruptions" as a result of its tax plan.
"If you're an importer or retailer heavily dependent on imports, we don't want to shock the system so much that [you] are at a huge disadvantage," he said. "That's the debate we're having -- how to manage the transition so that industries dependent on the status quo are not so disrupted when we switch to a better system."
The Trump administration initially put out a tight timeline on tax reform, with Trump promising a "phenomenal" package within weeks in February and other officials -- including, previously, Mnuchin -- saying they expected to get something done by August. They've since rolled back that timeline.
"We want to move this as fast as we can," Mnuchin said. "We're committed to working, getting this thing done."
"We're not going to put some kind of artificial deadline," Ryan said. "We want to get this right."
To be sure, the White House won't be submitting an actual legislative proposal to Congress today. Mnuchin said he's hopeful Democrats would work with the GOP on taxes as well.
Lawmakers are likely to use budget reconciliation, which requires just a simple majority vote in the Senate, to get tax reform through. The Byrd Rule prohibits the use of reconciliation for provisions that would increase the deficit beyond 10 years, which is why the Bush tax cuts expired.
Analysts say Trump's proposal would slash federal revenues by trillions of dollars over the course of a decade, and while the White House insists that could be made up for by growth, it might be inclined to go with a plan that ultimately expires.
"The goal is to make it permanent, but there's lots of levers here," Mnuchin said. "If we have them for 10 years, that's better than nothing."
Ryan on Wednesday downplayed the White House's apparent indifference towards revenue neutrality and argued its plan won't bust the deficit open because of dynamic scoring.
"We will have to live with budget reconciliation rules, but we believe in reality-based scoring," he said.
Mnuchin in March called on Congress to raise the debt ceiling, the suspension of which expired on March 16. Lawmakers have yet to make a move on the matter, and they don't need to right away, given that the Treasury Department has cash to make it to the fall.
"One of the fun parts of my job is I get to use the super-human powers to manage the debt ceiling," Mnuchin said. "In the near term, there's nothing we're concerned about, we have the cash flow to manage the government."
He said Treasury had one of its best days ever collecting tax receipts on April 18 and is comfortable into the summer.
"From my perspective, we're going to raise [the debt ceiling]," he said. "This is something that both Democrats and Republicans understand."
As the Trump administration approaches the 100-day mark this Saturday, it is this week putting out a blitz of activity, including on taxes.
"We're in agreement on 80% and on the other 20% we're in the same ballpark," Ryan said of Congressional Republicans' take on the Trump blueprint.
"We should call this the '2017 Tax Reform for Economic Growth and Jobs to Make America Great Again," Mnuchin said, chuckling along with the audience.
Updates with comments from Ryan.